'It was – and still is – very easy'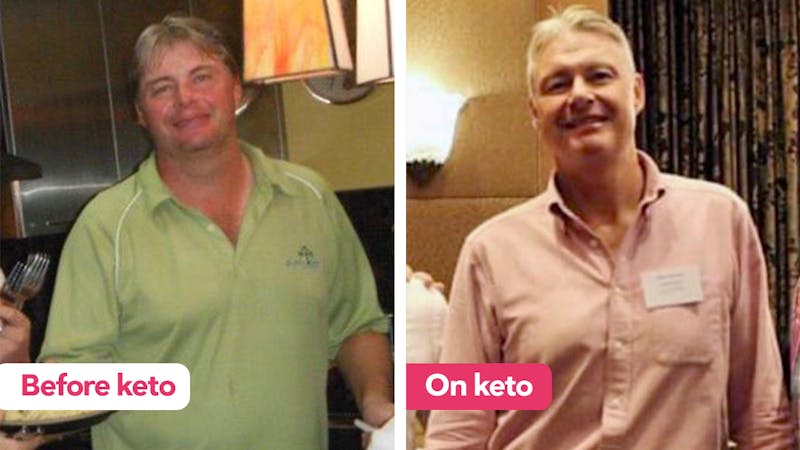 Peter first discovered 
the keto diet
 back in January of 2019. At the time, he was completing a cross-trainer workout when he stumbled upon YouTube videos about what it means to be in ketosis — and why restricting carbs can be beneficial.
Not long after, Peter decided to throw out the carbs altogether. And after just three months on the diet, he'd lost 35 pounds (or 16 kilos).
Since then, Peter's lost a total of 73 pounds (or 33 kilos). To his great surprise, a medical checkup also revealed that he'd completely reversed his fatty liver disease.
When describing his keto experience, Peter says that "It was – and still is – very easy," an account which may surprise those who haven't tried the keto diet.
Here, Peter shares his full story, which has been lightly edited for length and clarity.
Peter's keto journey
I'm a Swede who's lived and worked in Asia since 1985. I spent two years in Taiwan, eight years in Hong Kong, and 25 in Bangkok, Thailand (where I still live and work).
In 2018, just after Christmas, my two sons (then 22 and 26) teased me about my weight and referred to pictures from when I had previously lived in Hong Kong. Back then, I was playing rugby regularly and was physically fit. They said I should try to get back to the weight that I was then.
Since I never had any health issues due to my weight, I never saw a real problem with it. But when I compared those pictures with what I saw in the mirror, I noticed a huge difference.
When I lived in Hong Kong, I weighed just 194 pounds (or 88 kilos), and by December of 2018, I weighed 260 pounds (or 118 kilos). Without thinking things through, I bet my children that I would lose 22 pounds (or 10 kilos) in three months. I wasn't sure how to pull this off, but I thought exercise would be the way to go.
And so, on January 1, 2019, I went to buy a cross-trainer and decided to exercise for 30 minutes every day. On my new cross-trainer, there was an iPad holder. And so, I started to look for YouTube videos to watch while I did my workouts.
Before long, I came across expert presentations about the ketogenic diet and thought that I would give it a try. The diet seemed doable, especially since it included foods I really enjoy eating, such as salads, cheese, nuts, meat, and fish.
On my newfound diet, I stopped consuming all sugar, rice, pasta, bread, and potatoes overnight — and have never looked back. I never measured any of my meals; I just excluded certain food types. It was – and still is – very easy.
In the first three months, I lost 35 pounds (or 16 kilos), and since I loved my new lifestyle, I thought to myself, 'why not just continue?' 
After 8 months, I lost 66 pounds (or 30 kilos) and returned to the same weight as when I got married in 1991. Since then, I've dropped another 7 pounds (or 3 kilos). These days, my weight fluctuates between 187 to 191 pounds (or 85 to 87 kilos).
Now, I feel great, and when I went for a medical checkup in August of 2019, all of my values were fantastic. My fatty liver disease was gone. Since then, I've started intermittent fasting on occasion.
During the COVID-19 lockdown, I started to cook recipes from Diet Doctor and am really enjoying the variety of meal options. When people ask me how I managed to lose weight and keep it off, I always refer them to Diet Doctor. I say just look at all the information available on the website and go from there.
When it comes to exercise, I still go on the cross-trainer for 30 minutes at least five days per week.
What I've learned — at least from my perspective — is that following a ketogenic lifestyle isn't difficult; it's a mindset. Life is now, so let's enjoy it and make the most out of it in a healthy way.
Keep up the good work, Diet Doctor!
Best,
Peter
Comment
Congrats on all your success, Peter. I guess you better thank your kids for making the challenge to you! We are thrilled that Diet Doctor helped play a role in your success. Keep up the great work.
Best,
/ Dr. Bret Scher
Most popular success stories
All success stories
More
Keto
Weight loss