'Without Diet Doctor, I couldn't have done this'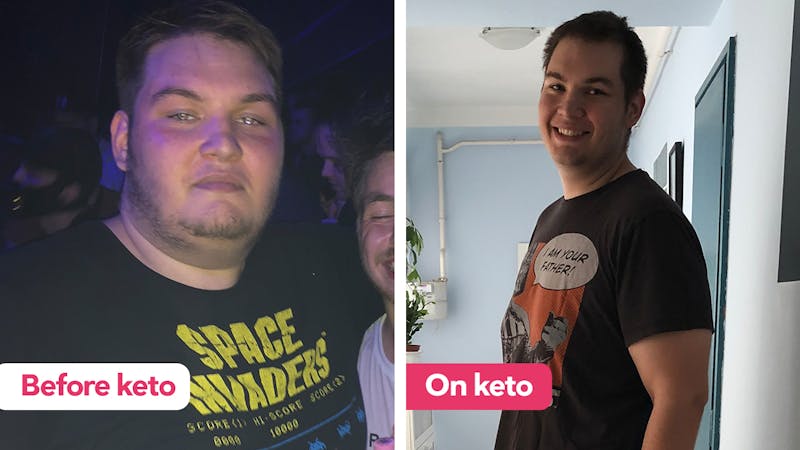 Improved mood, a new desire for exercising, and a remarkable 88 pounds (or 40 kilos) lost. Mihály achieved all this within just six months of starting keto and fasting.
He says that without keto and Diet Doctor, "it wouldn't have been possible."
These days, Mihály continues to enjoy his improved health, but now that he's lost the weight, he feels he doesn't have to be as strict. Instead, he simply eats natural, moderately low-carb foods to maintain his results.
Here, he shares his full story, which has been lightly edited for length and clarity.
Mihály's story
My name is Mihály and I am from Hungary.
In just six months, I lost 88 pounds (or 40 kilos). Without the keto diet, it wouldn't have been possible.
In December of 2019, I decided to make personal changes. Back then, I weighed 353 pounds (or 160 kilos). I don't know how I was able to live like that. Thanks to Diet Doctor, I discovered the keto diet. Now, I want to share my experience with others.
Beginning this new lifestyle was not easy. I have a big family and we like eating really indulgent food. So, while everyone was having pizza, hamburgers, and other tasty stuff, I had to stick with my keto meals — which was made easier by Diet Doctor and its delicious meal plans.
After a couple of weeks, though, I will admit that I started to find some of the keto meal options to be boring. This fact made sticking to the diet even more difficult at times.
From my experience — and this may not apply to everyone — the keto diet requires you to be very strict with your goals in order to succeed. In my case, I had to eat close to zero carbs per day.
Even if I ate just a tiny amount of a carb-rich food on a given day, I would go out of ketosis. Then, it took me three to four days to get back into ketosis.
Right now, I weigh 258 pounds (or 117 kilos). I feel a lot better, and I think I look better, too.
After six months, I stopped doing a strict keto diet because I started exercising. I just didn't feel like I could keep both things going.
These days, I try to eat as healthy a diet as possible. Based on what I learned during my time eating keto, I still aim for fewer carbs, but my body is no longer in ketosis.
When I lost the weight, my go-to meals were salads with some kind of protein, such as meat, fish, or eggs. I also tried to mix up the salads with sauces, extra veggies, and other toppings so they wouldn't become boring.
Here are some typical recipes that I made and loved:

Ever since starting keto, I've skipped breakfast — and continue to do so to this day.
Without Diet Doctor, I couldn't have done this. You've provided recipes, inspired me with success stories, and I had access to all of the resources and information I needed to know. I am truly grateful.
Comment
Congrats on your weight loss and progress, Mihály. Your story is a wonderful example of how we all have our own journey. Some find they want to stay in ketosis long term, and others find starting in ketosis and transitioning to a more liberal low-carb diet works better. The key is finding what is sustainable and successful for you. Congrats on finding your path!
Best,
/ Dr. Bret Scher
Most popular success stories
All success stories
More
Keto
Weight loss