'It's been life-changing for me — to say the least'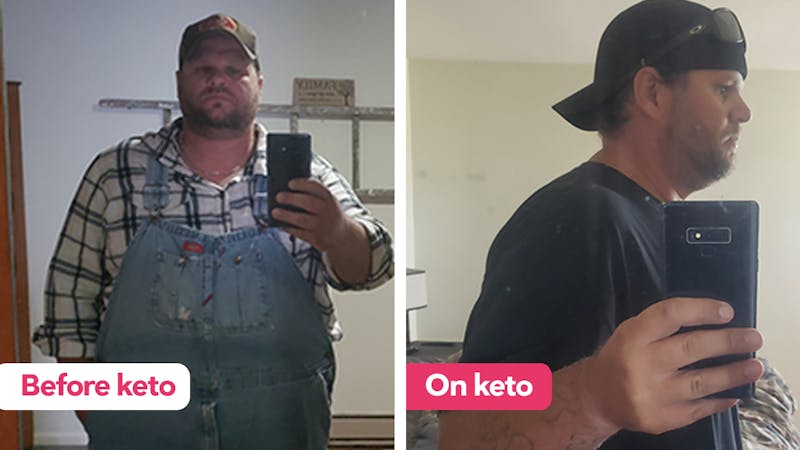 When Joseph's weight hit an all-time high of 385 pounds (or 175 kilos), he decided enough was enough. To turn his health around, he started following a keto diet and intermittent fasting.
In just eight months, Joseph lost 137 pounds (or 62 kilos). Not only did he lose the weight, but he also noticed the pain he formerly experienced in his joints had largely disappeared.
Here, Joseph shares the inspiring results he's gotten since starting keto and fasting. He describes his low-carb journey as "life-changing."
Joseph's story
Hello Diet Doctor!
My name is Joseph, I'm 41, and I'm from Indiana, USA.
As of October 22, 2019, I weighed a whopping 385 pounds (or 175 kilos). At that point, I had trouble just moving around and putting my shoes on was a chore in itself.
Growing up, I was always fit. I played sports and was also in the marines. Years later, I found myself never watching what I ate or drank — and the weight just piled on.
Before I knew it, I was at 385 pounds (or 175 kilos). I saw that 400-pound (or 181-kilo) mark coming soon. I just couldn't believe it and finally refused to live like that anymore.
I read and listened to podcasts with keto and fitness experts. For example, I listened to "FoundMyFitness" by Dr. Rhonda Patrick, as well as, those featuring Dr. Dominic D'Agostino, one of the leading researchers in the field of ketosis.
From October 22, 2019, to June 22, 2020, I lost 137 pounds (or 62 kilos) with keto and intermittent fasting. I'll keep going to my goal of reaching 200 pounds (or 91 kilos). It's been life-changing for me — to say the least.
Eating keto has helped me to feel so much better! I used to have inflammation in all of my joints, especially in my shoulders, and I could hardly raise my arms above my head without experiencing pain. Now, my lower back pain, knee pain, and feet all feel tremendously better.
What Joseph ate before and what he eats now
What I ate before keto was, well … everything. I couldn't count how many Mountain Dews I drank a day. Had I attempted to keep track, I'm sure the intake of sugar from soda alone would have scared me. For food, I ate pretty much all fast food and pizza — and everything I ate was full of carbs.
These days, with fasting, I start eating around noon and stop around 8 pm. Surprisingly, with fasting, my hunger and cravings have gone down a lot. My go-to is usually eggs, steak, ground beef, or slow cooking chicken in a crockpot. Usually, I prepare batches of food that will last me for a few days.
I drink about half a gallon (or two liters) of water a day as well.
Comment
Congrats on your amazing progress, Joseph! Thank you for sharing your story with us and I am glad we can help you on your journey. Keep up the great work!
Best,
/ Dr. Bret Scher
Most popular success stories
All success stories
Share your story
Do you have a success story you want to share on this blog? Send it (photos appreciated) to success@dietdoctor.com, and please let us know if it's OK to publish your photo and name or if you'd rather remain anonymous. It would also be greatly appreciated if you shared what you eat in a typical day, whether you fast etc. More information:
Share your story!
More
Keto
Weight loss