'I am blessed to have discovered the keto lifestyle'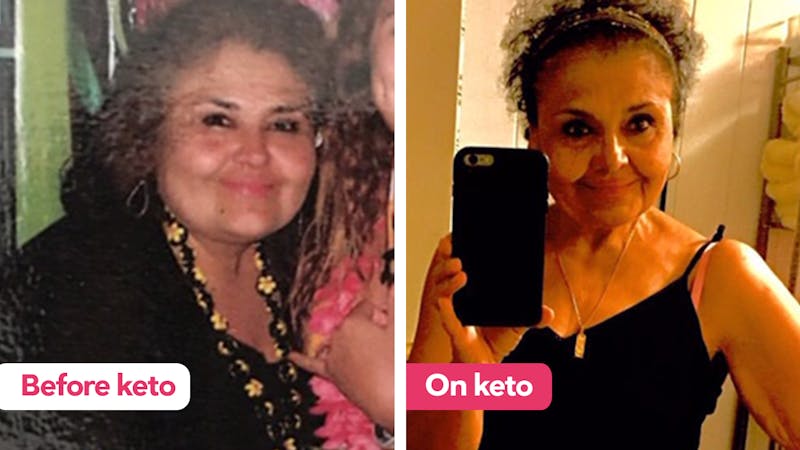 Is there any hope when trying to combat a lifelong struggle with obesity? Bonnie certainly thinks so.
Since starting a keto diet in 2016, Bonnie has lost 68 pounds (31 kilos) and has come to realize that cutting out carbs is what works best for her.
"I am blessed to have discovered the keto lifestyle," Bonnie says.
Here, Bonnie shares her full story, which has been lightly edited for length and clarity.
Bonnie's keto journey
Hello!
My name is Yolanda "Bonnie" Gallegos. I'm 62 years old and I live in Vado, New Mexico, with my husband of 45 years.
My journey toward a keto lifestyle began in 2016. I was sent to see my doctor, Dr. Gómez, who introduced me to a low-carb lifestyle. Before that, most of my diet consisted of carbs.
I'd managed to keep off the 111 pounds (50 kilos) I had lost after gastric bypass surgery, but I was never able to get below the 200-pound (91-kilo) mark.
Over time, stress came my way post-surgery and emotional eating started to creep back into my routine. As a result, I gained 21 pounds (10 kilos) and my primary care physician became concerned. I was heading in the wrong direction.
By the time I went to see the doctor in 2016, my weight had reached 228 pounds (103 kilos). Feeling this "heavy" was nothing new. I'd struggled with my weight for most of my youth and reached my highest weight of 320 pounds (145 kilos) in 2008. Since I'd been there before, I surely didn't want to go back.
On my first visit with Dr. Gómez, she had me write down what I'd eaten the day before. When she saw what I'd written down, she said, "Girl, you are eating too many carbs!"
She handed me some papers filled with keto recipes and instructed me to do online research on the keto diet to understand how it works.
Right after my first office visit to Dr. Gómez, I was sent straight to the ER because of swelling in my left foot and leg. It looked like my toes were going to burst. Dr. Gómez was concerned I might have a blood clot.
Luckily, though, eating keto ended up helping with both my swollen limbs and weight issues. Truly, it's been a "fix-all" for me.
Life after keto
Ever since I first learned about the keto lifestyle, my health has been great.
Today, I experience no more swelling of my ankles or legs, I have great blood pressure and blood work, and becoming active again has been the greatest reward on my journey toward good health.
I learned how to eat to live a healthy life. I used to live to eat everything in sight, especially carbs. Since going keto, I've also learned how carbs trigger you to eat more.
Keto has also helped me manage my emotional eating and made me realize that food shouldn't be the most important thing in life. There's so much more to experience and enjoy.
I've also learned that it takes less food to nourish your body if you follow a healthy diet. By simply eating healthy fats, moderate protein, and 20 grams of carbs daily, you can find the balance you've been after all along.
Like most low carbers, I've made mistakes along the way, especially after my emotional eating crept back on Jan. 13, 2020, when my husband had a heart attack.
This was a stressful time, to say the least. When he suffered his heart attack, I gained 20 pounds (9 kilos). I was at 163 pounds (74 kilos) before his heart attack. Now, I'm back on track again and am working my way back toward feeling healthy by eating keto.
Thankfully, my husband, who's now 65, is now doing well and has also lost 38 pounds (17 kilos). I consistently urge him to be strict with his plant-based lifestyle. I'm keto and he's on a plant-based, no-fat, and no-salt diet. Both lifestyles have worked wonders for us. We have both found our individual success.
As for me, since going keto, I've learned the hard way that it's truly carbs that derail my journey toward better health. Eating them makes me ill — and I've found that it's truly not worth it.
These days, I usually eat one meal a day after 2 pm. If I'm hungry after that, I snack on sunflower seeds, pumpkin seeds, and almonds. Although I love fruit, I've realized that consuming it slows down my weight loss.
Additionally, exercise was not a part of my journey for the first three years. However, it's important to exercise and keep moving. Once you see your body shrinking you can't sit still.
I was morbidly obese most of my life. I am blessed to have discovered the keto lifestyle as a senior citizen. As they say: "better late, than never."
Bonnie's advice for beginners
If I were to offer advice to other people struggling with their weight, it would be to find a low-carb doctor. With a physician's guidance, many people can follow a keto diet, consisting of a high-fat, moderate-protein, and less-than-20-grams-of-carbs-per-day diet.
Once you reach your goal, many people find that they can increase their carbs and consume around 30 to 50 grams of carbs while still maintaining their weight.
This lifestyle is all about eating real foods — and typically, there are no shortcuts. I lost 68 pounds (31 kilos) on keto, going from 228 pounds (103 kilos) to 160 pounds (73 kilos) between 2016 and 2020.
Another piece of advice is to find inspiration from sources like Diet Doctor on Instagram and the Diet Doctor YouTube channel. KetoConnect's Instagram account also helped me stay focused along with some other keto accounts.
Thank you, Dr. Gómez. You helped save my life. Thank you to the Diet Doctor team for helping us on our journey toward a healthier lifestyle. Also, thank you to my Instagram keto family. ❤️
Respectfully and forever grateful,
Yolanda "Bonnie" Gallegos
Instagram: @bonnie_lives_keto2019
Comment
Congrats on all your success Bonnie! And a big congrats to Dr. Gomez for helping you get started on your journey. I appreciate how you and your husband have each found your own path that works for you. There isn't one diet that is best for everyone, and you each have found one that "works." Keep up the great progress!
Best,
/ Dr. Bret Scher
Most popular success stories
All success stories
More
Keto
Weight loss