Keto and fasting: "I feel as good as I haven't felt in years"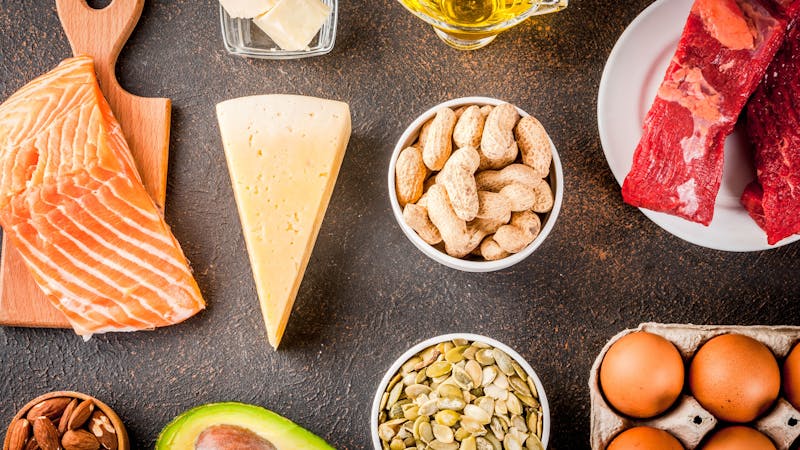 Ute got started with intermittent fasting after hitting an all-time high weight-wise. It helped her shed some weight, but she continued to struggle with hunger.
She didn't do anything to change her diet until her mother had a heart attack. That's when she realized that she had to do something about what she ate, or else she was heading towards the same future.
After researching on the web, she decided to give keto a try. This is her experience after only a few months on the diet:
Hi Andreas,

Thank you for your inspiration and the work you're doing! I would like to share my (still quite short) low-carb story with you to motivate other people to change their diet.

I'm a 50-year old woman from the Southern part of Germany and I have been on the overweight side since my early twenties. Weight went slowly up from year to year and in January 2015 I had reached 88.7 kg (196 lbs) (I am 173 cm – 5 foot 7). I have never eaten big amounts of sugar and nearly no processed foods. I cooked regularly with fresh ingredients but I had always been a real bread lover (being a German having the choice of dozens of delicious sorts of breads in every bakery – no surprise!).

I was quite unhappy with this "all time high" of nearly 90 kg (198 lbs) and decided to give intermittent fasting a go after I had seen the Michael Mosleys BBC documentary "Eat, fast and live longer".

Being an engineer I need to be convinced by facts and logical arguments and there were a lot of good ones in this program. So in January 2015 I started by fasting 2 days a week with around 500 – 600 calories per day and my weight went down to 80 kg (176 lbs) in October 2015.

My family doctor was quite happy with my weight loss and told me, in her opinion intermittent fasting was the only way to lose weight with a long-term effect. As I didn't change my diet in other ways, the problem was, that I often felt very hungry and weak on the fasting days and I had severe cravings. Not long after having reached the 80 kg (176 lbs) mark, I went to one day of fasting per week and after another while I stopped fasting completely because I felt quite uncomfortable feeling so hungry on these days.

Until the end of last year I had put back on nearly 6 kg (13 kg) and felt quite frustrated.

In November 2017 my 81-year old mum had a heart attack and nearly died. I'm so glad that she has recovered very well since then, but I was shocked and I realized that it was time to look after myself and to take responsibility for my being healthy. In both of my parents' families there are histories of heart diseases and in my mum's family there is a history of diabetes. I started to try and find information about prevention measures. Parallel to this I saw a program on German television called "Die Ernährungsdocs". I was fascinated by the dramatic changes in health people experienced by changing their diet to low carb and more healthy fats. Even type 2 diabetes could be reversed.

Shortly after that I bought a book by Dr. Anne Fleck, one of the doctors of the television program and read it in one afternoon – afterwards convinced that this was the right thing to do. The day after I eliminated around 95% of the sugar and starchy foods from my diet.

During the first two weeks I cheated a bit by eating "Brezeln" for weekend breakfasts – a very loved tradition for the last decades. But I cut them out piece by piece and meanwhile I'm clean…

The following weeks I kept on searching the internet for information about low carb and keto and found the Diet Doctor page. I love the information given, the way it is presented and it is a great motivation to keep on reading and watching. I do hope that a lot more people start to eat differently and change their lives, because that is what it feels like – a life change.

Each week I was feeling better. The first thing that really astonished me was the fact, that I felt so much less tired and lethargic. Having been quite a couch potato for years I now decided to go to the gym and have been working out there twice a week since then. I'm full of energy and I haven't had any mood swings which I suffered from quite regularly during the last one or two years. Another surprise for me: there are no cravings anymore! It is a great feeling of independence and doing the right thing!

On normal days I have (milk) coffee in the early morning and then I have a late breakfast at around 9 to 10 am (a very yummy and big portion of "Quark"* (20% fat) with berries, lin seeds, walnuts and almonds that makes me feel very satisfied for at least 4-5 hours). For a late lunch I have a generous sized "low-carb/high-fat" meal at around 3 to 4 pm. Quite often I don't need another meal until the next morning.

This is a completely new experience for me and fasting for 14-16 hours is not a problem anymore. I don't miss the carbs and I wasn't even tempted by the German bakeries within the last 2 months. I feel as good as I haven't felt in years and I always eat when I am hungry. So far I've had no trouble at all sticking to the new diet. I can easily imagine to stick to it for good because the results speak for themselves:

I started with 86.4 kg (190 lbs) beginning of January 2018 and this morning I was down to 80.9 kg (178 lbs) – feeling better than ever!

Four weeks ago, on 9th of February 2018 I was given a blood test at my doctors'. Back then I had a fasting blood sugar of 110 mg/dl (6.1 mmol/L). This morning it was down to 100 mg/dl (5.6 mmol/L)!

Thanks to you, Andreas and all the other people at Diet Doctor – I'm very grateful!… and good luck to everybody who wants to try it – give it a go!

Ute
Comment
Best of luck on your continued journey with keto and fasting Ute!! :-)
Get started
Do you want to try what Ute has done? Sign up for our free 2-week keto low-carb challenge!
DD+ MEMBERSHIP
Keto
Intermittent fasting
Weight loss
More success stories
Share your story
Do you have a success story you want to share? Send your information, plus before and after photos, to success@dietdoctor.com. It would also be greatly appreciated if you shared what you eat in a typical day, whether you fast etc. More information:
Share your story!