'Keto for the Holidays' book review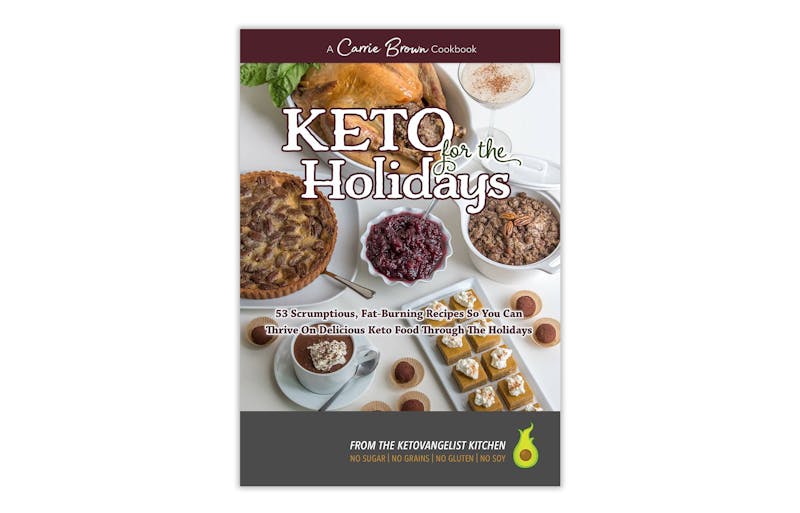 Carrie Brown is the culinary creator working tirelessly behind the scenes in the Ketovangelist Kitchen. If you haven't met her, Carrie's story is quite compelling. She struggled with severe depression and bipolar disorder until she finally found a medication that worked – food!
Carrie took her love and talent for cooking and now uses that to help others follow a very low-carb diet. Her most recent self-published cookbook, Keto for the Holidays, gives readers 53 recipes to help you navigate the next few months of the overly focused food frenzy time we call holidays. Her recipes are not complex, but they are very much worthy of celebrating.
Recipes I made from this book: Smoky Bacon and Tomato Dip tastes even better than it sounds! This was one of those dishes that I made sure to try before anyone else came to the table. I look forward to making it as a dish to share over the holidays. For the carbivores, I will provide crackers for dipping, but I will need only a spoon or additional baking for dipping. We also enjoyed warm turkey and almond slaw although I have to admit that I liked it better cold than warm. The crunch from the broccoli slaw and the almonds reminded me of a high-carb salad that my family used to enjoy. In the future, I look forward to making the Orange Pecan Brussels and Cabbage as well as the Mini Cheeses and Leek Quiches since leeks are among my favorite vegetables.
What I really appreciate about this book: Carrie does a really nice job of describing each recipe and each step in the process. She also often details why she included certain ingredients and what flavors or textures those contribute to the dish. I really appreciate her attention to texture in the finished product. Also, she frequently provides a "Top Tip" which provides additional insight such as how to serve a dish, describes various substitutions, or cautions the reader about common cooking mistakes. Last, Carrie's cooking instructions for each recipe are informal and personal. I can almost hear her over my shoulder guiding me through her recipe and cautioning me about baking something too long or not stirring a dish frequently enough. Her voice is that of a benevolent aunt who wants to see you be successful.
The family-friendly factor: The dishes in Keto for the Holidays don't use a lot of strong spices. Her dishes are not fussy and feature fairly common ingredients. The serving sizes vary, but are generally appropriate for a family of four. If you are entertaining for large crowds over the holidays, then you may need to double some of the recipes.
You can learn more about Carrie and order electronic or paper versions of her book, Keto for the Holidays, at her website www.carriebrown.com. You can also catch up with her and explore more of her recipes at www.ketovangelistkitchen.com/.
More
Holiday recipes
Video recipes
Top keto videos
Earlier with Kristie