New Team Diet Doctor favorite's meal plan
Our popular
low-carb meal-plan tool
gives you everything you need to succeed on low carb. Meal plans, recipes and shopping lists – no planning required! Adjust and skip any meal – and the recipes and shopping lists adapt.
We now have 37 low-carb meal plans available – including keto, moderate, vegetarian, dairy-free and favorites – we're adding at least one new plan every week. Here's this week's new plan:
Jill's tasty meal plan includes a delicious mix of poultry, fish and vegetarian dishes and contains between 14 to 25 grams of carbs per day.
Here's what Jill has to say about it: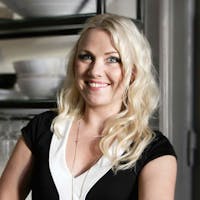 Cooking has always been a great interest of mine (especially the eating part) and I am very happy that I now can enjoy my hobby even during working hours. Personally, I do not usually follow recipes, I create my own. Actually, I often do not even know what I'm going to cook before the food is on the table. I just go with the flow, using the ingredients I have available at home and adding flavors that I crave for the moment. On the other hand, I can be inspired by other recipes, but above all I get really inspired by really appetizing food photos.

In 2009, I started eating a gluten-free low-carbohydrate diet and I have enjoyed every moment of it. And like icing on the (low-carb) cake, I lost some weight and have felt really good and healthy ever since. To the maximum extent, I try to use as natural and organic ingredients as possible for a sustainable environment and body. Personally, I have chosen not to eat red meat, mainly for "emotional reasons". But I do eat poultry, fish, seafood and also a lot of vegetarian food as I am convinced that you do not have to eat animal protein at each meal to stay healthy.

My diet is very varied and for me it's important that my food looks as good as it tastes. On some days I eat very few carbs and sometimes I eat more, depending on the occasion and how hungry I am, simple as that. Normally, I do not eat breakfast on weekdays because I usually do not get hungry for lunch and for me it's not necessary to eat just for the cause of it. However, I recommend most people to eat three times a day just to give the body a chance to absorb all the nutrients it needs. On weekends, when I like to sleep in, I usually enjoy a late breakfast or brunch at 12 am and, as a little treat, I sometimes make a sugar-free dessert or snack.

This week's menu contains a really tasty mix of what I enjoy the most and is between 15–24 g carbs per day.

To put it simple: Eat well and feel good!
More
Our low-carb meal plan service is free to try out for a month
Learn more about the low-carb meal plan service
Are you interested in knowing how the team members of Diet Doctor enjoy low carb on typical days? Then look no further – here are our personal favorites.

Alex works with IT, improving the performance, speed and functionality of the Diet Doctor site. His meal plan will help you stay around 20 g of carbs per day.
---
Anne Aobadia is the creator of many of our recipes here at Diet Doctor, here's how a week of eating looks at her house.
---
Britta is Diet Doctor's Community Manager and follows a liberal low-carb diet. You may have got to know Britta well through her very active leadership on Facebook and insightful filming of Diet Doctor Develops.
Come along for a week of eating Britta's way. This low-carb meal plan will keep you below 37 grams of net carbs per day.
---
This meal plan contains the low-carb favorites of Dr. Andreas Eenfeldt. The meal plan will keep you under 25 grams of carbs every day. You'll skip breakfast on weekdays, but have really nice breakfasts during the weekend.
---
Franziska Spritzler is a registered dietitian and certified diabetes educator who loves low-carb living. Now 50-something, she feels better and more energetic than she did in her 30's. Let her meal plan be an inspiration to you to live your healthiest, best life.
---
Frida works as an editor at Diet Doctor and she brings you all kinds of content — everything from guides to daily news posts. One thing you need to know about Frida is that she loves eating. And she loves her breakfasts! Her hearty low-carb meal plan will provide you with three meals a day with flavors from all around the world, while staying under 35 g carbs per day. Enjoy!
---
This meal plan is low carb with the addition of intermittent fasting and will help you stay around 25 grams of carbs or below.
---
Jill's tasty meal plan includes a delicious mix of poultry, fish and vegetarian dishes and contains between 14 to 25 grams of carbs per day.
---
Karl's meal plan is well-balanced and does not include breakfasts, except on weekends. That's because he uses intermittent fasting to promote greater fat burning after his morning workouts. This eating plan is recommended for people who like to cook, appreciate diversity over convenience, and love to use fresh produce.
---
Kristins meal plan offers a variety of dishes and helps you stay below 25 g carbs per day.
---
Rickard Lindroth is a developer, mountain bike enthusiast, climber and one of the most joyful characters in the Diet Doctor office. He prefers easy-to-prepare vegetarian dishes and his absolute favorite ingredients are halloumi, eggs and broccoli. It's not a surprise that this is what you'll be eating this week. According to Rickard, everything is better with garlic and you should devour the whole broccoli — even the stalk! Oh, and did we mention garlic…?
---
More