"This is our new life and we are looking forward to this year"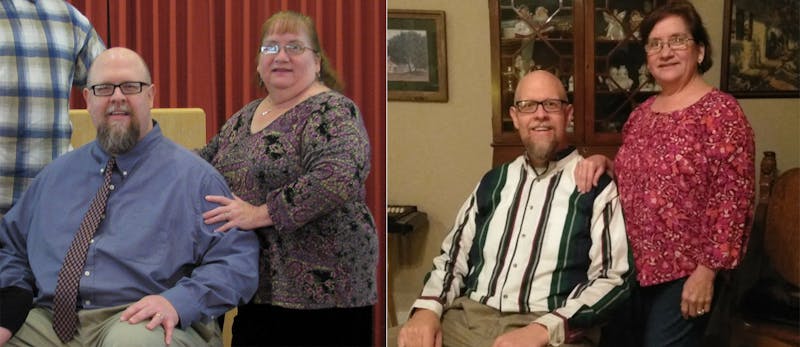 In just one year, Lisa and Darren have been able to drop 69 lbs (31 kg) and 95 lbs (43 kg) respectively, and healed quite a few ailments.
They did not have to go hungry or feel deprived at all. They simply followed a keto diet. Here's their inspiring story:
Dear Dr Andreas,

For the last 15 years (since my children were born) I was very fat and very unhealthy. I dealt with terrible back pain and knee pain, daily headaches and weekly migraines, GERD, depression, and was exhausted 24 hours a day. My husband was very heavy too, but wasn't as miserable as I was. December 23rd 2016 I was desperately afraid that as my children were getting older they would feel like they had to stay home and take care of me instead of going out and living their lives. I was also afraid I might need them to. I prayed for guidance because everything I tried did not give me the results I needed and I was at a loss what to do.

The answer to my prayer was an article I read in a newsletter about Dr. Jason Fung's book — The Complete Guide to Fasting. Through his book I found your website. I became a member and on Jan. 2, 2017 we started eating LCHF and implemented intermittent fasting. On that date I weighed 203 lbs (92 kg) at 4' 11" (150 cm). My husband weighed 297 lbs (135 kg) at 6' 1" (185 cm).

In just a couple of weeks, I noticed my energy level was amazing. I felt happier and less easily frustrated. My migraines were also gone. Even if we had not started losing weight, the health benefits were starting to show and we would have kept eating this way just for that reason alone. In a few more weeks I noticed that my back pain was not as severe. I also noticed that I could go upstairs easier. By March we were going for long walks to the park and back. I cannot express how huge this was for me. My husband was also happier and healthier and more energetic. The only really hard part of this was weaning myself off of the Nexium, but by May 1st I was able to say that I no longer used any GERD medication. I have not had to take painkillers but a couple of times since the middle of January. Amazing.

We took our family on a vacation in November, and I could walk the battleship we toured, all the way up and down the ladder-type stairs and see everything. I did all the walking touristy things with my family, and it was so amazing to know that a year before I would have just had to sit down and wait for them to have all the fun.

2017 was a life-changing year for us, and the information we get from your website is a major part of that. I thank you for making all of this information available at such a reasonable cost.

Today, Jan 3, 2018 – I weigh 133 lbs – 61 kg (still just 4' 11" – 150 cm tall) and my husband 202 lbs (92 kg). In one year, we had lost 69 lbs (31 kg) and 95 lbs (43 kg) respectively. We eat when we are hungry until satiated. We do not feel deprived at all. We do not have cravings or get "hangry". This is our new life and we are looking forward to this year.

You may post our story and pictures to your website in hopes that it will help someone else.

Thank you,

Lisa and Darren
Comments
Thank you for sharing your story – so inspiring to read about couples supporting each other on a keto journey.
Get started
Do you want to try what Lisa and Darren have done? Sign up for our free 2-week keto low-carb challenge!
DD+ MEMBERSHIP
Keto course
Keto
Intermittent fasting
More success stories
Share your story
Do you have a success story you want to share? Send your information, plus before and after photos, to success@dietdoctor.com. It would also be greatly appreciated if you shared what you eat in a typical day, whether you fast etc. More information:
Share your story!