Keto meal plan: Dairy-free (16:8) #2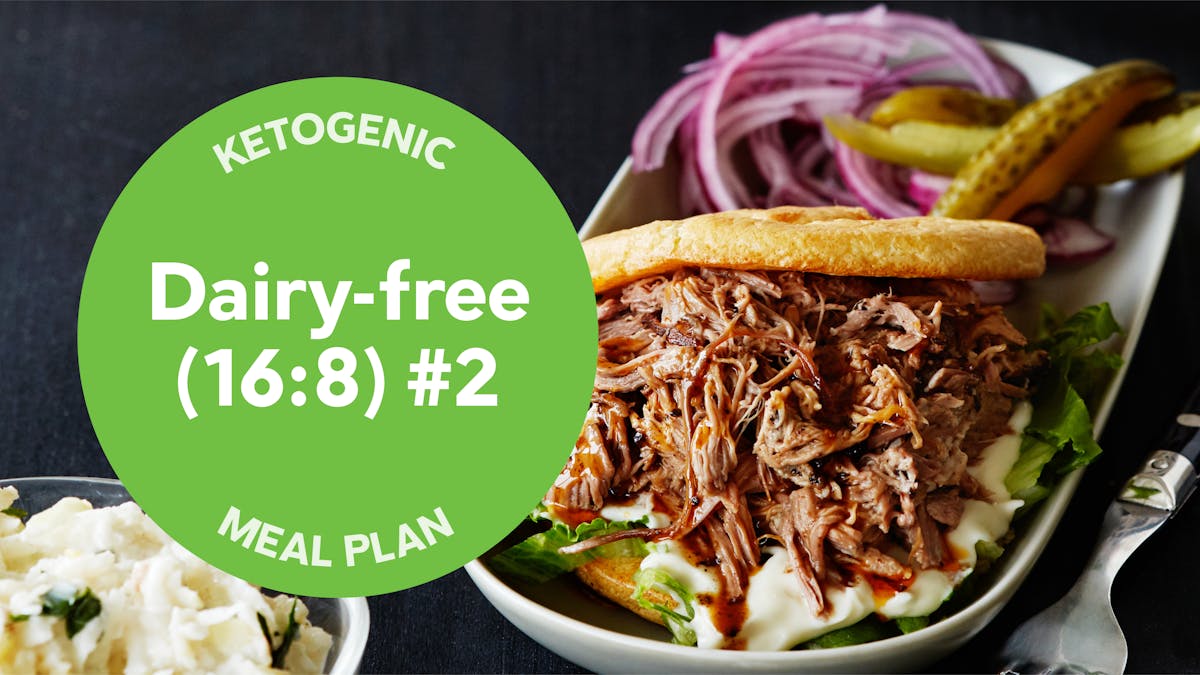 Could dairy products be slowing your weight loss or interfering with your potential to make health gains? Try a week of dairy-free meals and see how you feel. Some people are sensitive to dairy and make more progress without it.

This week's delicious lineup is the second in our series of keto dairy-free meal plans, which incorporate intermittent fasting (or 16:8). On this meal plan, when you fast, you'll skip breakfast, which is a dietary tactic some people take when they want to overcome a weight-loss plateau.

Intermittent fasting can also help to improve blood sugar levels and, in some cases, has proven helpful in reversing diabetes.

Among this week's star dishes, you'll enjoy Diet Doctor's flavorful keto chicken garam masala, succulent pulled pork, and keto crispy Chinese pork with cabbage.

And remember: With this week's lineup, you can feel free to adjust, change, or skip any meal. It's completely up to you!
More meals ideas
Looking for more recipes? We now have 158 low-carb meal plans available – including keto, quick & easy, budget, vegetarian, and Team DD favorites. With so many options, there's no need to feel bored with your keto diet.

DD+ MEMBERSHIP

Could dairy products be slowing your weight loss or holding you back from your potential health gains? Try a week of dairy-free meals and see.

This meal plan also introduces intermittent fasting (16:8), meaning you'll skip breakfast each day. These two dietary adjustments can speed up weight loss, help to reduce insulin resistance, and can potentially result in the reversal of type 2 diabetes.

With this meal plan, you won't go hungry. You'll enjoy protein-packed meals, such as Diet Doctor's flavorful keto chicken garam masala, succulent pulled pork, and keto crispy Chinese pork with cabbage.

This meal plan will keep you below 17 grams of net carbs per day.

This keto meal plan is filled with deliciously simple and no-cook, time-saving meals. And it all keeps you below 17 g net carbs per day.

Try out for free 1 month
Top keto recipes
What is everyone else eating? Check out some of our most popular keto options that thousands of readers come back to, time after time. These tasty dishes are keto favorites for a reason:
Latest keto meal plans
DD+ MEMBERSHIP
---
---
---
---
---