What active Katy gained by going on the keto diet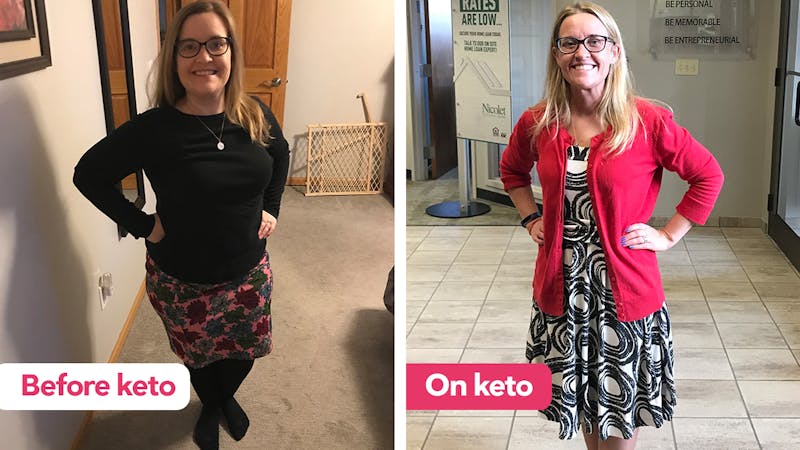 Katy was a very active person, always biking and moving, and still, she was overweight. She couldn't figure out why. She felt fine, not tired or any other health issues, but she kept gaining weight. She tried out the two-week challenge and now, less than one year later, she tells us her story:
I have had the most incredible experience, I have lost over 60 pounds (27 kilos) and found myself again.

In September 2018, I rode in a Century Bike Ride my work had sponsored only to realize that all the training and miles did not help me to lose weight. In fact, I actually gained 2 pounds (1 kilo), ugh. So after the ride and victory party, I was so happy but couldn't help but wonder what on earth I was doing wrong. I was biking like a crazy person, very active with my one-year-old and I didn't have any problems doing anything from walking miles to paddle boarding around the lake but I was overweight and by the charts you see online I was obese. I felt fine and was rarely tired but I was a sugar addict. I realized later that processed sugary stuff was ruining my body.

I started keto with the two-week plan and stuck to it and lost my first 10 pounds (4.5 kilos). From there, the weight loss was slower but steady and now, 10 pounds below my goal weight and 60 pounds (27 kilos) lighter, I am feeling amazing and exercise daily.

I love biking and taking the time for myself has been a huge struggle for me with my now two-year-old daughter but doing that makes me a better mom, wife, and boss lady. From this point, I am looking to stay this way. I see the health benefits not only in myself, but also in my family and the behavioral difference in my sweet daughter from eating different things is eye-opening. In addition, my skin has never been clearer, and I have struggled with acne my whole life and my skin might not be perfect but it is better than it has ever been. I have so much to be thankful for and finding this way of life is another reason.

Thank you to the creators of Diet Doctor and all the employees. You make it easy to get the answers to the questions that I have had through this change of life.
Comment
Thank you on behalf of the whole team, I'm happy we could help. Thank you for sharing your story!
Best,
/ Andreas Eenfeldt, MD
Get started
Do you want to try what Katy has done? Sign up for our free 2-week keto low-carb challenge!
DD+ MEMBERSHIP
Most popular success stories
All success stories
Share your story
Do you have a success story you want to share on this blog? Send it (photos appreciated) to success@dietdoctor.com, and please let me know if it's OK to publish your photo and name or if you'd rather remain anonymous. It would also be greatly appreciated if you shared what you eat in a typical day, whether you fast etc. More information:
Share your story!
More
Low carb and exercise
Keto
Lose weight