How Ricardo lost 240 pounds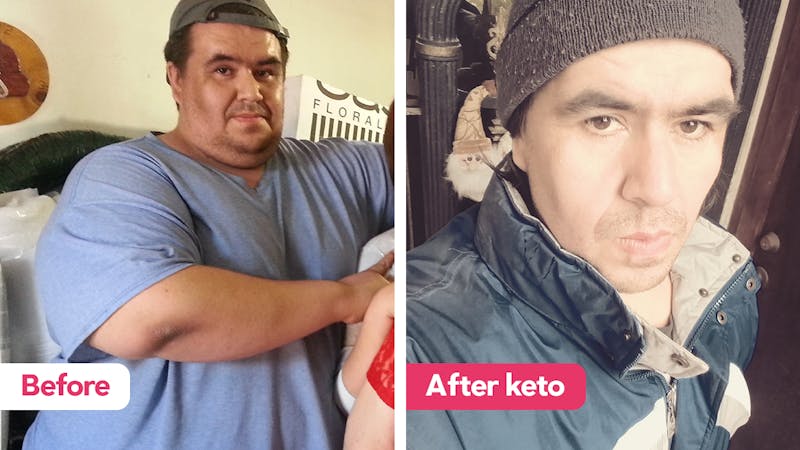 Ricardo was morbidly obese with a range of metabolic issues and was seriously depressed. He started looking for answers to turn his life around and he found a video about the keto diet on YouTube:
My name is Ricardo, I'm 37 years and I'm from Hermosillo city in Mexico. I was 443 pounds (200 kilos), but right now my weight is 203 pounds (92 kilos). I lost 240 pounds (110 kilos) using keto and intermittent fasting.

In my health, I always felt tired and I suffered a few symptoms of metabolic damage like psoriasis (on the face and neck), pain in the lower back, swelling of the ankles and few others. Emotionally, I felt like a failure because I tried a lot of diets and products to lose weight but I never had success. People always talked about my weight, made fun of it or condemned me.

I always had to be careful with my body, with every move I did. I tried no to break chairs, beds, sofas and even car seats. It was really hard to find clothes because I was waist 54 and used 4XL shirts.

But the most painful was to be accused of "not loving myself" because I could not lose weight even when I tried in a lot of ways. A few things happened that changed my life (all of them related to my weight). I entered a major depression and almost committed suicide… and by accident, I found a video about keto on Youtube video where a person talked about how he lost 88 pounds (44 kilos) in 6 months. I had never heard about keto before, so I decided to read about it and study it, and then try it. I wanted to show myself that I am worthy — that I was not a failure.

Actually, my health is very good now and all my health problems have gone away. I always have a lot of energy, with a lot of self-confidence and tons of clothes that fit and a completely different mood.

Follow keto and intermittent fasting in my experience has been easy. The only problems I had in the beginning were that there is not much info in Spanish (my native language) and that for me, it has been a little difficult to find certain foods where I live (mostly organic vegetables).

I wish had known about keto a few years earlier, my life would have been a lot different if I had known about it before. That's actually why I'm writing a blog in Spanish and English (ketopicht.com) where I talk about these things. I am writing a book too about the human/emotional aspects of losing weight and I am thinking of creating a YouTube channel in Spanish to help people because there is little info in this language.
Ricardo's blog: KETO PICHT
Comment
That's an amazing story, Ricardo, I'm so happy to hear you're feeling way better now!
Regarding trustworthy and inspirational low-carb content in Spanish, we're also trying to help out. Most of our entire Diet Doctor site is now available in Spanish, and our amazing Spanish team is growing quickly. We now have three amazing people working full-time, and we're hiring for two more positions: One recipe team member, and one for written content.
Get started
Do you want to try what Ricardo has done? Sign up for our free 2-week keto low-carb challenge!
DD+ MEMBERSHIP
Most popular success stories
All success stories
Share your story
Do you have a success story you want to share on this blog? Send your information, plus before and after photos, to success@dietdoctor.com. It would also be greatly appreciated if you shared what you eat in a typical day, whether you fast etc. More information:
Share your story!
More
Keto
Lose weight
Type 2 diabetes