Isabella on keto: "I feel rejuvenated"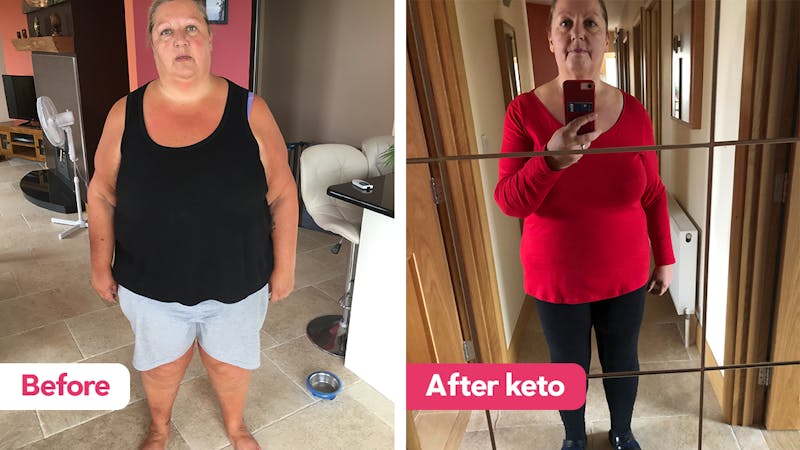 Isabella had tried every diet in the book but nothing would stick. She heard about the keto diet from an old friend, and she and her husband decided to give it a go. This is her story:
My name is Isabella and I'm 52 years old. I live in Kerry, Ireland.

I have tried lots of diets over the years and been successful lots of times but have always ended up going to extreme lengths to keep losing and always ended up putting the weight back on.

I met up with an old school friend in June 2018 and she told me about her success on keto. For the first time, the science actually made sense. My husband and I decided to commit to it and started on June 10th.

My biggest challenge when we started was eating fat. It had become so ingrained that eating fat made you fat.

He lost 30 pounds (13 kilos) and has kept it off easily.

I have lost 109 pounds (49 kilos) so far and would like to lose 31 (14 kilos) more.

I have osteoarthritis and couldn't walk much because of the pain in my knees. I now walk at least 5 miles (8 km) every day. My IBS is gone and I feel rejuvenated.

My husband hasn't used indigestion remedies since he started and hasn't had a migraine either.

This way of living has given us a new lease of life and we are loving life!
Comment
Congratulations Isabella, that's a fantastic achievement!
None of the health benefits you mention are very surprising though, losing weight, reducing pain from osteoarthritis, improving IBS, less indigestion and a reduction in migraine headaches are all commonly reported benefits on low-carb diets, with varying levels of scientific support.
Get started
Do you want to try what Isabella has done? Sign up for our free 2-week keto low-carb challenge!
DD+ MEMBERSHIP
Most popular success stories
All success stories
Share your story
Do you have a success story you want to share on this blog? Send your information, plus before and after photos, to success@dietdoctor.com. It would also be greatly appreciated if you shared what you eat in a typical day, whether you fast etc. More information:
Share your story!
More
Keto
Lose weight
Type 2 diabetes