Maureen ditched the carb-loaded food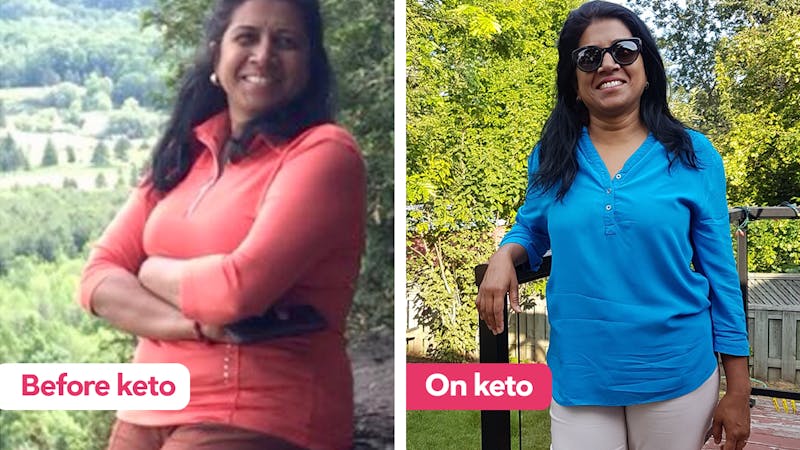 Maureen had gained weight over the years and at 51 she found herself at the same weight she was at when she was pregnant some 20 years ago.
Coming from a big East Indian family, carbs were a huge part of her diet. She was looking for a way to lose weight and keep it off and that's when she heard about low-carb and intermittent fasting. She decided to try it. Read on to find out what happened.
My name is Maureen Gomes and I am post-menopausal, 52 years old. One year ago, I weighed 155 pounds (70 kilos) (the same weight as when I was pregnant 23 years ago!) I live in Mississauga, Canada. NO shortage of various ethnic food here.

I was looking for a way to lose weight and keep it off. I am East Indian and come from a big family. Our food includes wheat, rice and more carbs including frequent family get-togethers.. a perfect mix to put on weight.

Last year while attending a friend's wedding, my husband and I were placed at a table with two other couples… 20 minutes after our introductions, both couples began talking about LCHF and Dr. Jason Fung's videos covering intermittent fasting. My husband encouraged me to look up LCHF and Dr. Jason Fung and that is how I got onto dietdoctor.com! My husband and I watched the videos and read all the information that is on the site.

I tried out a few of the recipes from the site and then began the 2-week challenge which was so much fun because I enjoyed preparing the meals and lost about 8-9 pounds (3-4 kilos) in the first 2 weeks. My family and friends have been very supportive and encouraged me to keep on this path and share my secret with them. In order to help them I started up a WhatsApp group with about nine members and we have shared our progress and setbacks there.

One of my challenges was when my weight loss hit a plateau and that is when staff at dietdoctor.com suggested reducing dairy and try intermittent fasting. I am now down 22 pounds (10 kilos) and am working on losing more. I eat one meal a day which and fast about 24-36 hrs 2-3 times a week.

I do wish I had known about this years ago but, I am really happy to be here and share my experience. My doctor is very pleased with my progress annd has asked me to continue on this journey as it is helping me stay healthier and slimmer.

Thanks!

Maureen
Comment
Congratulations Maureen! And if anybody wants help and support, beyond the guides and video courses on this site, welcome to our members-only community free trial available.
Best,
/ Andreas Eenfeldt, MD
Get started
Do you want to try what Maureen has done? Sign up for our free 2-week keto low-carb challenge!
DD+ MEMBERSHIP
Most popular success stories
All success stories
Share your story
Do you have a success story you want to share on this blog? Send your information, plus before and after photos, to success@dietdoctor.com. It would also be greatly appreciated if you shared what you eat in a typical day, whether you fast etc. More information:
Share your story!
More
Keto
Lose weight
Type 2 diabetes