How Virginia's life is different one year after going keto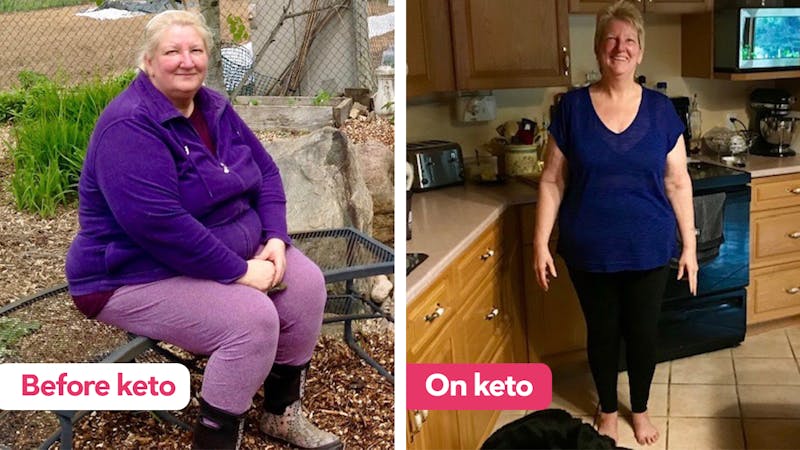 Virginia was suffering from many health issues, including severe arthritis, acid reflux, type 2 diabetes and more. She had tried everything to lose weight but always ended up gaining it all back.
Last year, her doctor told her to visit the Diet Doctor website and she did. After a few weeks of reading as much as she could on the site, she started a keto diet. This is her story:
It is my one-year keto lifestyle anniversary. Before I tell my story, I want to thank my doctor for recommending Diet Doctor and I want to thank Diet Doctor for changing my life!

My name is Virginia and I am a sugar addict (among other things). I am from Eastern Ontario, Canada and I am 56 years old. My highest weight ever was 286 pounds (130 kilos). (I am 5'6" (167 cm) tall) I do not have a date for that, but in January 2016, I began a downward (and upward and downward) trend from 282 pounds (128 kilos).

I've tried many different ways, diet and medication. I would lose a bit and gain. I had a nurse practitioner put me on Victoza (Saxenda at first) to give me a kick start in August 2016. I lost a bunch of weight but it stopped controlling my appetite and I was back up 15 pounds (7 kilos). I started weaning off it and that is when my new doctor recommended DietDoctor.com and The Obesity Code1 by Dr. Jason Fung.

A bit of health history, type 2 diabetic for 12-15 years. On the Victoza, my sugars came down but still couldn't get lower than 5.9 A1C. Severe arthritis in knees was taking Celebrex, extra strength Tylenol and Pantaloc for the resulting stomach/reflux issues and cortisone shots as often as they would give them. At one point I thought the reflux was heart attack the pain was so bad. Those were the biggies. Between cortisone shots in my knees, I would sometimes barely be able to walk across the room! Standing for 20 minutes was the most I could do if I pushed myself. I often felt like an 80-year-old woman (in poor health) and I was in my early 50's.

Early April 2018 I got the Diet Doctor website from my family doctor. I looked at it a week later and started reading and learning. I kept an open mind and remembered Atkins had worked, I just couldn't get back on it once I "took a break". The more I read, the more I wanted to read and I decided I can do this after a couple of weeks studying.

Start date May 7th, 2018, AM blood sugar 7.2, weight 251 (114 kilos) waist 46.5″ (118 cm). In the first few days, I decided to make keto a lifestyle and stop calling it a diet. Then I saw the video by Bitten Jonsson about sugar addiction. Then I absolutely knew I was in the right place for sure… I have addiction problems and am an alcoholic, now over 17.5 years in recovery and quit smoking over 17 years ago. I now know I am also a sugar addict.

It did not take long for the magic of keto to start working. After the first two-week meal plan, which I had to keep an open mind about due to the amount of fat in the recipes, I read only to eat when hungry, which started 16:8 eating habits. If I get hungry, I do eat a snack or leftovers, but on many days, just one meal a day with a couple of coffees. After one month, my weight was 237 pounds (107 kilos) (down 15.4 pounds (7 kilos)) and 5.7 AM sugar. What a great way to stay encouraged about what I was doing!

Within the first month, I noticed a lot of health improvements. I have kept a list as I realized them.

Benefits of keto:

Weight loss
Inflammation in knees gone, able to walk with very minimal discomfort
Bladder leaks rare
Skin — rare pimples
Skin — more hydrated
Brain is clearer
More energy
Able to do much more at a time
Blood sugars are normal – HbA1c indicates diabetes reversed
Kidney function normal (was slightly abnormal last couple of tests)
Eat less
Rare cravings or want to snack
Bowel movements solidifying and stabilizing to once every day or two from liquid and multiple times a day
No heartburn/acid reflux
BP medication cut in half December
Cholesterol is great

This list (and I would imagine there are more I have neglected to mention) is full of reasons to make this a lifestyle rather than a diet… The word diet to me indicates there is an end.

I was able to help renovate a part of our basement recently, doing things I never thought possible to do again. Up and down ladders, standing for hours at a time painting, sanding, it was an amazing experience! My love of life is gardening and I am really looking forward to getting all my seedlings to their new home soon! My other love of life (hubby) is very happy with my health and very proud of me. He eats what I cook but does his own thing above that.

This morning, May 7, 2019 … AM blood sugar 5.3, weight 193 pounds (84 kilos) (down 58 pounds (26 kilos)), waist 40.5" (103 cm). Although the inches for waist was (only) 6" (15 cm), the amount around my roll was very significant. I read to just take the waist measurement but I do wish I had taken more areas! I have gone from 2x-4x to x or L, 20-22 pants to 16 (bought in the normal section of the store!)

I just had bloodwork done for my one year to see my progress. My HbA1c is 5.5. Normal. My doctor marked my chart diabetes: Resolved.

I have examined my cholesterol from a few different angles but bottom line, I expect my doctor will be allowing me to drop my cholesterol medication as my numbers and ratios translate to better than great! (She is away until after posting this)

I have had weight loss stalls but my body kept making changes. Carb creep is real! I have (only) lost 7 pounds (3 kilos) since December 17th but I am still going in the right direction. Tweaked a few carb creeps and I see a new beginning starting of weight loss. Patience is my friend during these times! My advice to new keto people, keep an open mind, be willing to try new things and trust the process (guidelines on the DietDoctor website), and very important, don't compare to others. Everyone has their own journey.

I love this Dietdoctor site… It is my pleasure to pay for the monthly membership even tho I do not take advantage of all it has to offer. I do this because I see the changes, improvements, and want to see it stay gimmick and ad-free. It is clean, healthy and very informative to help me with my journey! The Facebook page is a great addition!

If this post helps just one person, I have done my job! Keto on!
Comment
Congratulations, Virginia, I'm happy to hear about all your success and that your doctor pointed you in the right direction for you.
Best,
/ Andreas Eenfeldt, MD
Get started
Do you want to try what Virginia has done? Sign up for our free 2-week keto low-carb challenge!
DD+ MEMBERSHIP
Most popular success stories
All success stories
Share your story
Do you have a success story you want to share on this blog? Send your information, plus before and after photos, to success@dietdoctor.com. It would also be greatly appreciated if you shared what you eat in a typical day, whether you fast etc. More information:
Share your story!
More
Keto
Lose weight
Type 2 diabetes
Diet Doctor will not benefit from your purchases. We do not show ads, use any affiliate links, sell products or take money from industry. Instead we're funded by the people, via our optional membership. Learn more ↩