The keto diet: "I have come back from the dead"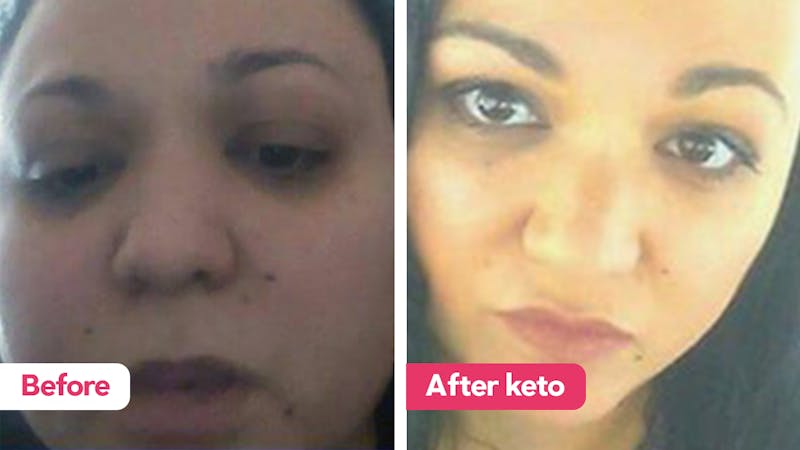 Kellie has lost 187 pounds (85 kg) and reversed type 2 diabetes with a keto diet and intermittent fasting. And as if that wasn't fantastic enough, a test for lupus, an autoimmune disease which previously made her bedridden, came back negative after the diet switch!
Her whole family is now eating keto, and her husband and son have also transformed their health. This is their story:
Dr. Andreas,

I stumbled upon Diet Doctor early on in my journey in 2016. I was 340 lbs (154 kg) and bedridden from lupus. I was a 12-year vegan following the 80/10/10 principal and fruitarian for six months. My weight sky rocketed and I was then diagnosed as pre-diabetic. I decided that I had to change something or I was going to die.

I researched paleo and ate my first fish since 2005. I cried… I felt guilty BUT I also felt something I hadn't felt in over a decade… satiety. Unfortunately with paleo I still had immense cravings and was making paleo brownies daily. Someone in my over eaters anonymous group suggested keto and the rest is history.

I went from bedridden to doing muay thai kick boxing and boxing. Keto and intermittent fasting reversed my pre diabetes and my ANA is now NEGATIVE. I used to have positive SSI and now it's negative. I have come back from the dead.

Thank you for your low carb mission. You have changed lives and given life back to many of us. My entire family is keto now. It has reversed my young son's type 2 diabetes, and my husband lost 140 lbs (64 kg) and was able to get back into the military.

Kellie
Comment
Thank you for sharing your fantastic story, Kellie! It's very inspiring to hear about whole families doing keto together.
Get started
Do you want to try what Kellie has done? Sign up for our free 2-week keto low-carb challenge!
DD+ MEMBERSHIP
Most popular success stories
All success stories
More
How to reverse type 2 diabetes
Keto
Weight loss
Type 2 diabetes
Share your story
Do you have a success story you want to share? Send your information, plus before and after photos, to success@dietdoctor.com. It would also be greatly appreciated if you shared what you eat in a typical day, whether you fast etc. More information:
Share your story!