It's pumpkin season!
Pumpkin, or winter squash, is a versatile member of the same family as cucumber and melon. It has a neutral flavor with a subtle sweetness resembling a combination of carrot and zucchini.
Pumpkin season stretches from August to November in the Northern hemisphere. Around that time you can usually find pumpkins and winter squash in many different colors, shapes and sizes in the stores. If you come across good quality, stock up! Pumpkins keep for a long time when stored in a cool place.
Pumpkin isn't just a delicious thing to eat, they're also relatively low in carbs (4-12 grams per 100 grams). This makes pumpkin a great seasonal low-carb alternative to starchier sides like rice, potato and pasta.
Cooking
All pumpkins and winter squash can be roasted, fried, boiled and even eaten raw (except for spaghetti squash that needs to be cooked first). It can be diced and used in hearty dishes like shakshuka or in a rustic ratatouille. It's a perfect side dish to meat, fish and poultry but also to vegetarian dishes. Try serving it warm with goat cheese and a sauce or seasoning that adds an acidic touch. It balances the sweetness of the pumpkin in a beautiful way.
The sweet flavor of the pumpkin makes it outstanding to use in gluten-free baking. Pumpkin purée, often listed as a base ingredient in soups and baked goods, can be bought ready-made in the grocery store. Make sure to choose a sugar-free brand. You can also easily make your own from scratch. Just peel the pumpkin and scrape out all the seeds and strings from the center. Cut the flesh into smaller cubes and boil in water until soft. Drain and discard the boiling water and mix the pumpkin to a smooth purée.
Don't throw the seeds away! Rinse them to get rid of all the sticky strings they're attached to and toast them in the oven at 350°F (175°C) along with some coconut oil and sea salt for about 30 minutes or until completely dry and golden brown. Serve them as a snack or as a crunchy topping to your soup or salad.
What goes better with pumpkin than pumpkin spice? This fragrant blend of cinnamon, cloves, ginger, nutmeg and allspice is a seasonal must-have for many. Apart from giving baked goods that seasonal touch you can use it to flavor spiced nuts or why not package a batch in a nice jar and give as a gift? If you can't find it where you live or if you feel like making it yourself, here's our recipe for it.
Our favorite pumpkins and squashes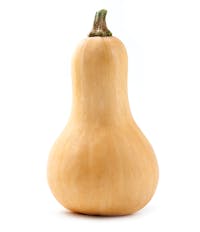 Butternut squash:
Usually quite easy to find, even out of season. Has a mild and nutty flavor and a thick, hard skin. Be careful when cutting it!
Carbs: around 12 g/100 g
---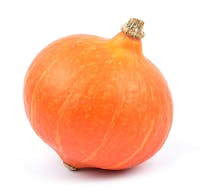 Hokkaido squash (Uchiki Kuri): Has a delicious nutty and buttery flavor. The skin softens when cooked so you don't need to peel it if you don't want to.
Carbs: around 7 g/100 g
---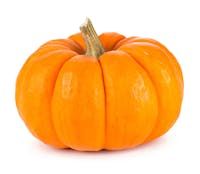 Muscat squash: This can be difficult to find in the US. It can get very big and is often sold in pieces. It has a rich and sweet flavor.
Carbs: around 4 g/100 g
---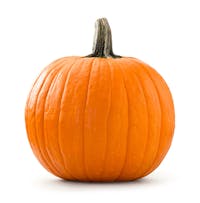 Giant pumpkin (Halloween pumpkin): This one isn't just for making jack-o'-lanterns. It's also good to eat! It's not as sweet as some of the others so it's best used in savory dishes.
Carbs: around 4 g/100 g
---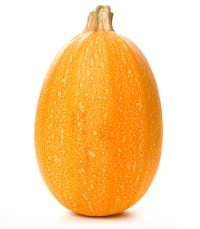 Spaghetti squash: It gets its name from the thready texture of the flesh and is a great gluten-free and seasonal pasta alternative. This squash is easily cooked in the microwave. Puncture it with a knife or fork several times and microwave it whole for 6 to 8 minutes depending on size. When it feels soft, let it cool, slice open and clean out seeds.
But you could also cut it in half and boil the squash in lightly salted water for 20-30 minutes or bake them in the oven at 375°F (185°C). Once cooked, use a fork and shred the flesh lengthwise to make the threads. Tastes amazing served with some butter, salt and freshly ground pepper.
Carbs: around 7 g/100 g
Recipes with pumpkin and pumpkin seeds
Baked pumpkin goods