"Keto saved and changed my life"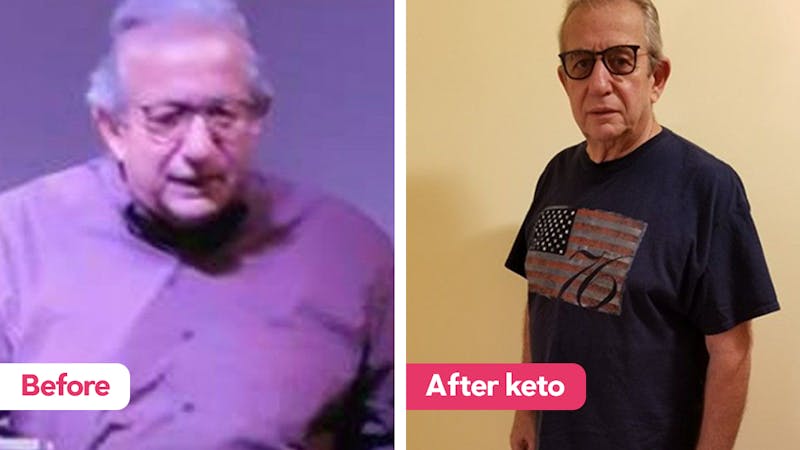 In just one year, Anthony has reversed type 2 diabetes, dyslipidemia and high blood pressure with a keto diet. In the process, he also lost 53 lbs (24 kg). Congratulations!
Here he shares his journey and cholesterol improvements:
Hi my name is Anthony, I am 69 years old and I 4 stents, I had high cholesterol, high triglycerides, high blood pressure, type 2 diabetes and aches and pains. On May 22, 2017 I started a low-carb/keto diet, read the book Fat for Fuel and found Diet Doctor. It has been almost one year and I went from 238 lbs (108 kg) to 185 lbs (84 kg), a size 44-46 waist to a 34-36 waist.

May 2017 lipid panel cholesterol

Total 212
Triglycerides 247
HDL cholesterol 32
VLDL cholesterol cal 49
LDL cholesterol 131

Sept 2017 lipid panel cholesterol

Total 170
Triglycerides 170
HDL cholesterol 40
VLDL cholesterol cal 34
LDL cholesterol calc 96

April 2018 lipid panel cholesterol

Total 221
Triglycerides 79
HDL cholesterol 55
VLDL cholesterol cal 16
LDL cholesterol calc 150

HbA1c went from 7.2 to 4.9

My aches and pains have gone away – I walk 2 to 3 miles a day.

My last blood work some of the numbers came up, but I was away for 3 months in Florida although I stuck to keto I a have a love for lobster and shrimp which I think cause the spike, could be wrong. My blood pressure was way high now it hangs in around 125-130 over 70-80.

What I am saying is that keto saved and changed my life, your web-site is the premiere website for information on keto/low carb.

My wife also lost 35 lbs (16 kg) we cook keto, she bakes the bread and so forth. To be honest I do not miss any of the old foods. I have not had pasta in a years except for at fork full at a special event, I just opt for the low carb, and I track everything with an app on my phone.

I pastor a church and I've done a little seminar got the saying from you I believe "Fat is your friend" – we use all the info from your web and will show short clips to encourage people. We will always bring homemade keto dishes, that friends who the way we do make and people get to sample the foods and deserts.

So over the past year on my journey not I have gotten my health back I was able to help other people as well and always without exception drive the Diet Doctor. I tell them it's $9.00 a month you don't have to join it has a lot of free information, but do the $9.00 a month for a month and watch as many videos as you can.
Comment
Thank you so much for sharing your success story Anthony! It's very heart warming to hear that you are spreading the word about keto and helping others :-)
Get started
Do you want to try what Anthony has done? Sign up for our free 2-week keto low-carb challenge!
DD+ MEMBERSHIP
Most popular success stories
All success stories
Share your story
Do you have a success story you want to share on this blog? Send your information, plus before and after photos, to success@dietdoctor.com. It would also be greatly appreciated if you shared what you eat in a typical day, whether you fast etc. More information:
Share your story!
More
How to reverse type 2 diabetes
Keto
Type 2 diabetes
Weight loss