How Maria finally found her sustainable diet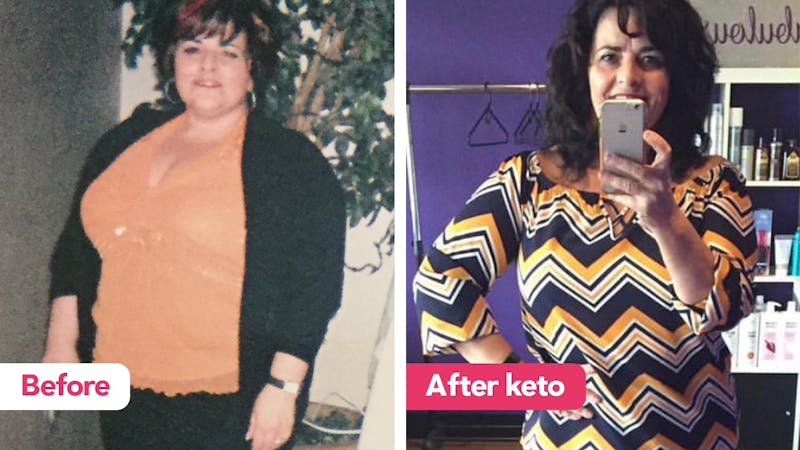 After years of yo-yo dieting and some real health issues, Maria made her usual New Year's resolution — get her weight under control. But this time she found a different approach; a client of hers brought her a book about keto and intermittent fasting. She figured she had nothing to lose so she gave it a shot:
I would like to share my story. If I can help one person with my story, that is reason enough, because I was inspired by so many. Here it goes:

My name is Maria and in January 2016, like every other January, I threw my hands up in the air and asked what diet am I going to try this year to get this weight under control? As a hairstylist, the stress on my body was becoming a huge problem. A lifetime yo-yo dieter, with no lasting results, I was less than hopeful that I would be successful.

I guess someone was listening because within a few days a client of mine brought me in a copy of The Obesity Code by Jason Fung. Well, what can I say, as I flipped those pages, I saw myself in so many of them.

At 56, I was at my heaviest, 300 pounds (136 kilos), lethargic, depressed, pre-diabetic and all around feeling unhealthy. So I thought what do I have to lose? I'm going to try keto and intermittent fasting. So I researched the diet which led me to Diet Doctor and Maria Emmerich. I watched every video on youtube and everything I listened to made so much sense to me. I am insulin resistant, it was as clear as day.

So on January 16, 2016, to keep myself accountable I made myself an Instagram account. From there, I found a community of like-minded people with the same struggles as me. There I found the support to continue on this journey.

As a former chef, cooking and using butter, eating meats, fish and nutrient vegetables were not going to be a problem, my problem is always bread. With my Portuguese roots, bread was a staple at every dinner table. Carbs where going to be the test. But I was determined because all I read made so much sense to me.

So, it has now been two years, I am down 120 pounds (54 kilos), feeling amazing, no longer pre-diabetic, all my health numbers are the best they have been in the last 15 years, I work out six times a week for an hour, so to say that I am grateful would be an understatement. Like my Instagram name says I am code keto for life. I can not imagine going back to high-carb life again.

My biggest challenge is keeping my portions on track (yes at 58 I have to stay within my calories, years of wrecking my metabolism, but day by day I feel that too will heal). Let's face it, I love food, but now it doesn't have to hurt me. Through the process, I have found what works best for my body, because everyone will have their own approach to keto.

From the bottom of my heart, a big thank you Diet Doctor and Doctor Fung for all those Youtube videos, all the information you share with the world. I feel amazing. Through my success, I have mentored a few people on keto life and they are now seeing great results also and that's the best reward when you can give back.

And a big huge thank you to my Instagram ketotribe, you are a big part of my success, your support has meant the world to me.
Maria's Instagram: realfoodliving
Comment
Congratulations, Maria! It sounds like you found just the right path for your health!
Get started
Do you want to try what Maria has done? Sign up for our free 2-week keto low-carb challenge!
DD+ MEMBERSHIP
Most popular success stories
All success stories
Share your story
Do you have a success story you want to share on this blog? Send your information, plus before and after photos, to success@dietdoctor.com. It would also be greatly appreciated if you shared what you eat in a typical day, whether you fast etc. More information:
Share your story!
More
Keto
Lose weight
Type 2 diabetes