How Deborah turned her hip surgery into a lifestyle change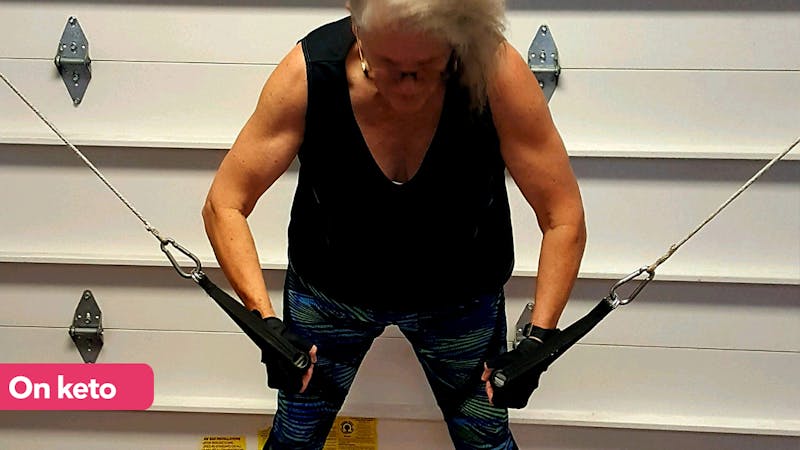 A couple of years ago, Deborah's right hip suddenly stopped working. She had to have surgery. After the surgery, she wondered how she could have let her weight get so out of hand. She made a promise to herself to lose weight and rebuild her body. This is Deborah's story:
On May 21st, 2017, my right hip quit working out of the clear blue. I could not walk without a cane or walker. Prior to that day, I was working full time as an RN at a community hospital. The position I held was in the Information Technology Dept. and sitting at computers was the norm.

I sought orthopedic care and two different physicians were clear with me that only a total joint replacement would resolve the issues and pain.

Fast forward to Sept 27th, 2017, I weighed in on the day of hip replacement surgery at 198 pounds (90 kilos). At age 64, I was clearly way too short at 5'7″ (170 cm)!

How did I let this weight gain get so far out of hand? I was frightened as well as sad. But also very motivated to get my legs back under me! Once hip surgery and initial physical therapy was a great success, I vowed to myself that I would lose the weight, get strong and be brave! So the reinvention began in earnest! A real "turn around" for me.

I joined our local rec center, hired a personal trainer and started the keto way of eating the 2nd week of Feb 2018.

I was slow to adopt/adapt to Keto perhaps because I had been a "bad" vegan for so long…tons of carbs; I was surely a "carboholic". The fat-adapted keto woe became my woe with no cheating on 20 grams carb in May 2018 and I have not looked back! I also started intermittent fasting 22 hours no food/2 hours food x 3 days per week at that time and now today, that is my normal routine. I train on those fasting mornings intentionally.

I was previously on a med for depression for years and with my physicians' help, have weaned off totally x 5 months now. I am on no medications otherwise.
Total weight loss is 40 pounds (23 kilos) with verified muscle gain of 8 pounds (4 kilos), BMI is now 25!

Chest measurement was 46 inches (117 cm), now 40 (102 cm)
Waist was 45 inches (114 cm), now 36 (91 cm)
Hip was 47 inches (119 cm) now 41 (104 cm)…all good!

I have extra energy to spare these days, can walk with no gait/hip roll or limp of any kind, am stronger both mentally and physically than I have ever been in my life.

This past September, as a family, we went on a camping trip in W. VA. As I hiked up the side of a beautiful mountain with my husband and 40-year-old son, we were all laughing but tears were running down all of our faces at the same time. Never thought we'd see such a day!

I live in Northeast Ohio, have joyfully retired, yet still maintain an active nursing license. I have five grandchildren that I can totally keep up with and beyond, and am teaching art classes locally to both children and adults. It's ALL good!

Deborah
Comment
Wow, that's an inspiring story. Thank you for sharing, Deborah, and congratulations on all your success!
Best,
/ Andreas Eenfeldt, MD
Get started
Do you want to try what Deborah has done? Sign up for our free 2-week keto low-carb challenge!
DD+ MEMBERSHIP
Most popular success stories
All success stories
Share your story
Do you have a success story you want to share on this blog? Send your information, plus before and after photos, to success@dietdoctor.com. It would also be greatly appreciated if you shared what you eat in a typical day, whether you fast etc. More information:
Share your story!
More
Keto
Lose weight
Type 2 diabetes