How Cecily, MD, found a sustainable eating pattern that worked for her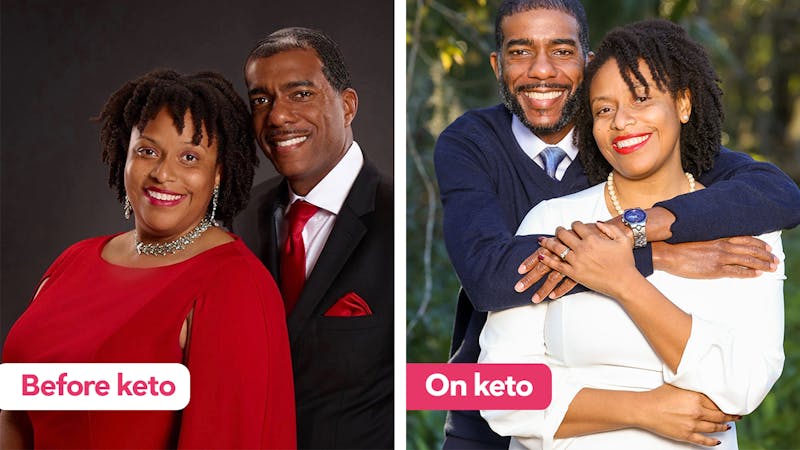 Below is the story of Dr. Cecily Clark-Ganheart, who is FACOG certified both in Maternal-Fetal Medicine and Obesity Medicine. She began her interest in incorporating fasting as a technique to combat obesity after her personal struggles with obesity.  She's personally reversed her own metabolic syndrome (which includes hypertension and glucose intolerance) and lost over 50 pounds (23 kilos) with incorporating intermittent fasting and low carb. 
Her special interests include preconception weight loss, particularly among women with PCOS, in order to decrease the risk of complications during and after pregnancy. You can follow more of her personal story and work on Instagram or via her website. This is her story:
Prior to intermittent fasting and low carb, I struggled with weight for most of my life. In 2014, I met criteria for metabolic syndrome given my hypertension, prediabetes, and waist circumference. I tried traditional weight loss methods, company-sponsored health plans, etc. However, I never experienced lasting results. My highest adult weight of 264 pounds (120 kilos) occurred after the birth of my second son in 2014.

After reaching my highest weight and prediabetes, I knew I needed to make a change. I still believed in eat less, move more and was able to decrease my weight to the 230s (100s kilos). I then joined a company weight loss program and reached 202 pounds (92 kilos) in the winter of 2017, however, my weight began to creep back up. By the summer of 2017, I reached 232 pounds (105 kilos) and was very frustrated.

I came across The Obesity Code.1 The science made sense and I began to implement intermittent fasting. I then read Deep Nutrition,2 which emphasized a more ancestral approach to eating and gradually lowered my carb intake. This helped me to reach my lowest nonpregnant weight of 177 pounds (80 kilos), and I'm still continuing to lose and redistribute my body composition.

My life now is so great! I have more energy, am more active, enjoy playing with my VERY active boys, and am medication free! For the first time in over ten years, I do not require medication to control my hypertension and my blood sugars and HbA1C are completely normal. It is not uncommon for me to have fasting blood sugars in the low to mid 70s.

The biggest challenge for me has been finding the right balance of fruits and treats to maintain a healthy lifestyle, but not set off cravings. For me, artificial sweeteners are a no. I now try and treat fruit as dessert and limit dessert dessert sparingly. With fasting, the greatest challenge was the nonbelievers, and while it's not a competition, I see many of the nonbelievers still struggling with little progress, while I've reversed disease in the same timeframe. It now makes it easier for me to remain unbothered.

I wish I truly knew the wide variety of low carb and how it can truly mean different things for different people and STILL see results. For me, less than 20 gm of carbs a day for life is not realistic, however, it is realistic for many people. Also, low carb does not mean the absence of plants, which is another common misconception. Combined with intermittent fasting, low carb is very doable, enjoyable, and healthy.

Thank you for providing an opportunity to share success stories!
Cecily
Comment
Congratulations, Cecily!
Best,
/ Andreas Eenfeldt, MD
Get started
Do you want to try what Cecily has done? Sign up for our free 2-week keto low-carb challenge!
DD+ MEMBERSHIP
Most popular success stories
All success stories
Share your story
Do you have a success story you want to share on this blog? Send your information, plus before and after photos, to success@dietdoctor.com. It would also be greatly appreciated if you shared what you eat in a typical day, whether you fast etc. More information:
Share your story!
More
Keto
Lose weight
Type 2 diabetes
Diet Doctor will not benefit from your purchases. We do not show ads, use any affiliate links, sell products or take money from industry. Instead we're funded by the people, via our optional membership. Learn more ↩

Diet Doctor will not benefit from your purchases. We do not show ads, use any affiliate links, sell products or take money from industry. Instead we're funded by the people, via our optional membership. Learn more ↩