How to reverse type 2 diabetes and get fitter by the month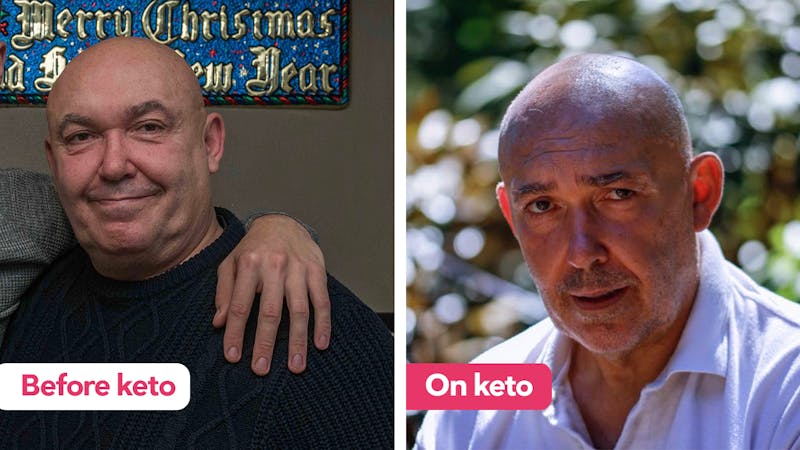 Alan had several health issues and had been overweight for years. He was diagnosed with type 2 diabetes and by coincidence, he found the Diet Doctor website and the keto diet:
Before I found keto and Diet Doctor, I had years in lethargic limbo, not feeling good about myself, unwell, unfit and feeling age was getting the better of me. I retired from my lifelong passion of martial arts after over 45 years of study (6th Dan) because I felt pathetic training while being so overweight. After five years in this state, I was officially diagnosed with type 2 diabetes, very high blood sugars. I looked at the UK Diabetes association, and I had a clinical nurse to monitor my situation, putting me on the usual diets and metformin and other drugs.

By chance research, I found Diet Doctor. Convinced by the articles and videos on the website, the rest is history. In nine months, I went from a 46″ waist to 36″, and 70-84 pounds (32-38 kilos) of weight loss. From feeling lethargic to energetic to feeling good about myself nearly every day.

The biggest challenge was seriously reducing my carbs intake (and beer). I set myself a two-week challenge to get to grips with the new approach for my diet. I've never looked back.

If only I had known how keto could help me. I was aware of keto, but only in the form of the shakes diets, with my sister and niece losing 294 pounds, (133 kilos) between them. If only I could do that. Finding a way to get into ketosis, eating healthy food without the shakes was a revelation to me, it worked!

I now have a new wardrobe, I'm working far more than I ever have, enjoying life and the money this brings to my situation. Living in the UK, I'm 65 years old, getting fitter month by month, as I'm getting out and doing more. No more drugs! Normal blood sugars! I may just get back into martial arts, as I'm sure there is some life in the old dog yet.

Alan
Comment
That's a fantastic story Alan, thanks for sharing!
As always, it's beyond frustrating that people need to do their own research online, that they don't get the support they deserve without finding it for themselves. But at least the message is getting out there more and more.
Type 2 diabetes is a reversible, dietary disease. With the right support and lifestyle changes, it can always improve, sometimes so much that one day… it's simply gone.
Get started
Do you want to try what Alan has done? Sign up for our free
2-week keto low-carb challenge!
DD+ MEMBERSHIP
Most popular success stories
All success stories
Share your story
Do you have a success story you want to share? Send your information, plus before and after photos, to success@dietdoctor.com. It would also be greatly appreciated if you shared what you eat in a typical day, whether you fast etc. More information:
Share your story!
More
Keto
Lose weight
Type 2 diabetes
Support
Do you want to support Diet Doctor and get access to bonus material? Check out our membership.