The keto diet: "What I couldn't believe was how easy it was!"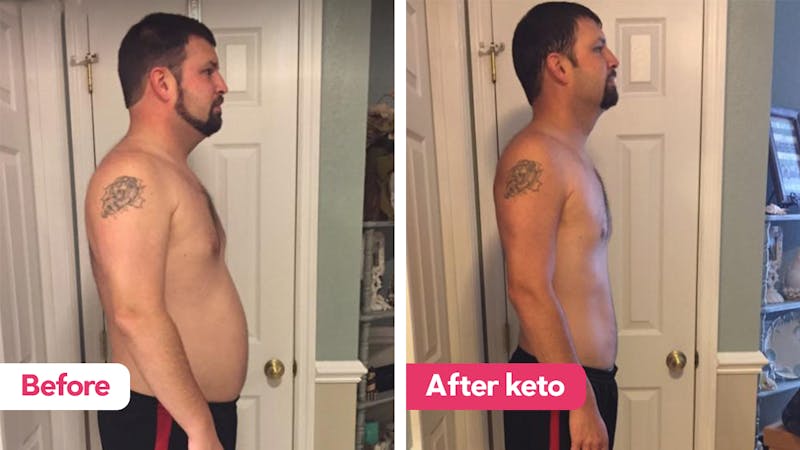 When Ryan looked himself in the mirror one day he saw a miserable guy looking back in the mirror. Having tried diets before and failed he felt hopeless. Luckily he found the keto diet. This is what happened:
I'm not a big fan of posting body shots, but I felt it was important to show others. I've spent the last 6-7 months losing weight to get myself back down to a healthy level. Due to work and other factors, I just kinda let myself go. I woke up one day and was miserable with the fat guy I saw in the mirror. I sooooo dreaded on going on another weight loss program that included me going to the gym every day and restricting my calories and feeling starving all the time. I did this back in 2008! I was miserable but made it through at that time.

This time I decided to take a different approach. I read everything I could about a keto diet and decided to try it. From week one, I saw weight coming off. In fact, I lost 2-3 lbs (1-1.5 kg) almost every week during this time! Even with business trips, I managed to bounce back from them quickly and kept losing weight.

I've lost 58 lbs (26 kg) since December 11th. I reached my goal of being 200 lbs (91 kg) instead of 257 (117 kg). What I couldn't believe was how easy it was! For the first 3-4 months, I wasn't even exercising. I had basically only changed my diet. I was eating really tasty food, was fat adapted and lost weight! What's not to love!

47 pounds came off effortlessly. The last ten pounds took a little longer as I hit a plateau. I just kept eating the same and I started losing again! But this post is not about boasting, it's to show others they can do it too! I am no one special. No, my willpower is not any stronger than anyone else's. And no, you don't have to exercise all the time either! In fact, it's more about WHAT you eat, than HOW MUCH you eat, or how much you exercise. It's a simple as changing fuel sources. Your body can get burn sugar(carbs) or fat. When you switch the body to burning fat instead of carbs, many wonderful things happen!

By the way, I cut my blood pressure medicine in half. Might even get to come off of it altogether. I have attached my before and after pictures. I have also included my chart where I have been tracking my progress. I hope this post inspires someone else to better health!

I want to throw a couple shoutouts to some websites that really help me understand what I was doing and how to do keto right.

www.dietdoctor.com
www.wholesomeyum.com
www.mariamindbodyhealth.com

There are others, but these top two really got me on the journey.
#fattynomore

P.S. – My original goal was to get to 200 lbs (91 kg). After I accomplished that, I decided to keep going. As of the middle of August, I have been weighing in at 187 lbs (85 kg) for a total of 70 lbs (32 kg) lost! For the last month or so, I have been dabbling with IF (intermittent fasting). I was afraid to do this at first because I was afraid there was no way I could skip breakfast and not be starving. But to my surprise, it really wasn't that big of a deal. Now, I practice IF about 4-5 days a week. I even got the courage to try a 5-day water fast in August. I had such an accomplishment when I was able to complete. If you had asked me a year ago if I thought I could go without eating for five days, I would have laughed in your face. I couldn't go two HOURS without getting hangry!

This whole experience and fat adapted lifestyle has not only given me a slimmer and healthier body, but I feel like it has given me control over my own hunger that I never really had before. Diet Doctor has been a huge part of that success for me! Since July I've been asked by 50-60 people what I was doing to lose weight, and I've been able to share with them the keto diet. It's been great to be able to pay it forward!
Comment
Thank you for sharing your helpful insights, Ryan! A big congratulations on your success!
Get started
Do you want to try what Jean has done? Sign up for our free 2-week keto low-carb challenge!
DD+ MEMBERSHIP
Most popular success stories
All success stories
More
Keto
Lose weight
Type 2 diabetes
Share your story
Do you have a success story you want to share? Send your information, plus before and after photos, to success@dietdoctor.com. It would also be greatly appreciated if you shared what you eat in a typical day, whether you fast etc. More information:
Share your story!