How Steve won his life-long weight battle and reversed his type 2 diabetes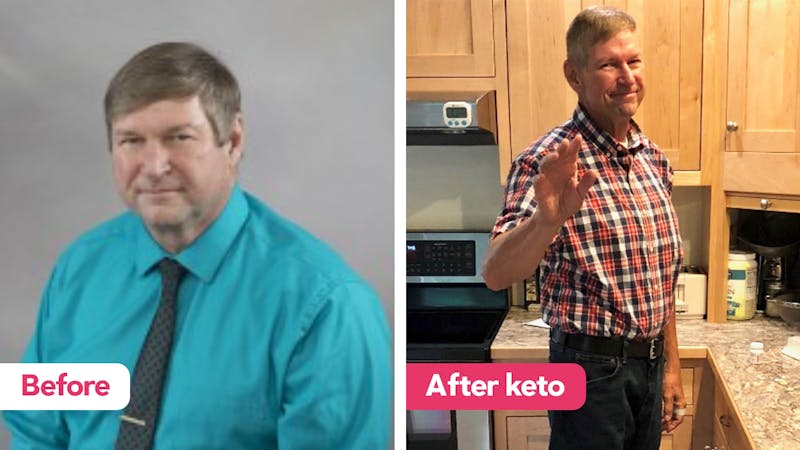 Steve had been fighting weight issues his entire life without finding a sustainable solution. When he was diagnosed with type 2 diabetes, put on metformin and statins, he thought enough was enough.
His sister-in-law recommended a keto diet and it didn't take long until Steve had ended up on the Diet Doctor website. This is his story:
Dr. Eenfeldt,

I have always struggled with some weight issues. After high school (1975), I entered the military and was always near the weight limit. Of course, at that time the military provided meals based on the government guidelines. At times I would eat just once a day to maintain weight and would always gain back afterward. This continued on and on.

After I retired from the service and there was no longer a requirement to maintain my weight, I gained more and more over the years. I would diet at times and once, I did get down to 190 lbs (86 kg) from 220 lbs (100 kg) through calorie restriction but I was constantly feeling hungry so I gained back all the weight and more.

I briefly tried the Atkins diet in the 90s but was frustrated by not being able to know what to eat and the lack of information at the time. I did not stay on the plan long due to not really understanding the diet and there was no internet for more information.

I was identified with mantel cell lymphoma in 2014 and began chemo (Nordic protocol) in Jan 2015 for about eight months. Due to the chemo, I went from about 250 lbs (113 kg) to 200 lbs (90 kg) (not a recommended diet plan). After chemo and a stem cell transplant, I gained back all the weight and more.

Although the cancer has been put into remission I was diagnosed with prediabetes in Feb 2017 with indications of fatty liver and an HbA1c of 7.2. I had no clue what that meant and the doctor did not seem too concerned and said they see that with many people and we would monitor it.

A year later the blood test showed an HbA1c of 9.7 and the doctor listed me as diabetic and put me on metformin and a statin. My sister-in-law had been diagnosed with diabetes shortly before this and had run across Dr. Sarah Hallberg's YouTube discussion on the LCHF diet. I started really researching the LCHF diet and came across Dietdoctor.com and it rocked my world.

I started a keto diet (<20 g carbs per day) on Feb 10th, 2018

I was at 246 lbs (112 kg) that day with a BMI of 32.5.
HbA1c – 9.7
Triglycerides – 368 mg/dL
LDL – 37 mg/dL
Total cholesterol – 134 mg/dL
HDL – 23 mg/dL
Remnant cholesterol – 74 mg/dL
Estimated average glucose (eAG) – 232 mg/dL
TRIG/HDL ratio – 16.0

I still did not know how bad this was and the doctor did not have the expected "hair-on-rire" reaction that would have been appropriate. After much research, I found out why. It has become such a common and expected condition. The medical community and treatment with mainstream medical practices have a very low positive outcome rate. However, it did propel me into a fantastic journey of learning and research.

I have watched just about every video on Diet Doctor and many from related websites. I have looked at many of the drug trial results for myself, which was insightful.

I could go on and on about the quality of the experts on Diet Doctor. My latest find is Dr. Ken Berry and his down to earth explanations of the issues. It is great to take the important information and present it in a form that is understandable and actionable.

All that being said what are my results after 8 months?

165 lbs (74 kg) today with a BMI of 21.8 (middle of the BMI band) — 33% reduction
HbA1c – 4.8 – 50% reduction (good)
Triglycerides – 68 mg/dL – 82% reduction (good)
LDL – 169 mg/dL – 78% increase but expected and doctor agrees not a concern
Total cholesterol – 240 mg/dL – 44% increase but again, expected and doctor agrees not a concern
HDL – 57 mg/dL – 60% increase (good)
Remnant cholesterol – 14 mg/dL – 81% reduction (good)
Estimated average glucose (eAG) – 91 mg/dL – 61% reduction (good)
TRIG/HDL ratio – 1.19 – 93% reduction (good)

I just had a checkup with the doctor and she was very impressed and supportive. She said with these results she no longer suggests any medications. I had already stopped the statins long ago due to the research I had conducted. I also had stopped the metformin about two months before the last blood test to see if it had any impact on the direction of the test results. I could not see any negative impact.

She also said we could remove the diagnosis of diabetes but I choose not to. Two reasons. First, it allows me to continue to monitor the blood test and make sure things stay under control. Second, it is always good to look at your scars from time to time.

Lessons

I did not think there was any diet where I would never be hungry. I was wrong.
I feel empty at times like when I fast but never hungry.
The doctors have great knowledge but it is limited to their training – which at times is wrong.
With the help of websites like Diet Doctor, I have really been able to educate myself and help others.
The government, big food, and big pharma do not always (well actually seldom) have your best interest in mind and any advice needs to be met with a strong, strong sense of skepticism. Look at the research for yourself and don't be fooled by statistics. A little 8th-grade math goes a long way.
Our food bill did not change, it got better, (there was a learning curve and shifting away from cheap carbs at first had a negative effect but then cost came down to below our previous spending levels by quite a bit). Also, because I am not hungry I don't eat out even 10% of what I previously did. Airline trips are much easier. I recently had a flight that started early in the morning and I arrived home at 11:00 pm. I had nothing to eat the whole day and even went to bed with no food. I was still not hungry when I got up the next day. Also, I feel like I am sitting in first class because I have so much more room in the seat.
I would recommend that before, or soon after, you start to get blood work, if possible, to see your starting point. That was so helpful to me because you see proof that what you are doing is working. It also gives your doctor information and a comfort level that things are going well. Even now as my weight has leveled off, my blood work continues to improve which is a strong motivator.

Issues with the diet. "It is not all roses"

With the exception of shoes, socks and hats, I have had to replace my entire wardrobe. And, I even had to adjust my hats somewhat. I was able to scavenge one of my kids' belts from high school they had left behind, but I am down to the last hole on the belt.
Many of my friends are more concerned with my weight now or the lack thereof and I have suffered paper cuts while making copies of the information to hand out.
At one point I thought I had a growth on my chest because I could feel something under my shirt which felt like a lump. Later I discovered it was my ribs. It still feels odd at times.
I tend to lose the TV remote more often because the shelf (my belly) that I use to store it on is gone.

So, I thank you, your team and associates for your efforts. It has changed my life for the good. You are impacting many people and those people are impacting many more. I can't count the number of people I have directed to your website. I keep many copies of the plan on hand to give to people and direct them to Diet Doctor.

Again, thank you,
Steve
Comment
Thank you, Steve for sharing your inspirational story. It's a remarkable and basically complete reversal of type 2 diabetes, just like your doctor implied, by offering to remove the diagnosis. Your blood glucose numbers appear to be entirely normal, without medication.
As you probably know, should you return to your previous lifestyle the type 2 diabetes would likely slowly return, but if you can maintain your new lifestyle it may very well stay away, possibly forever.
Congratulations on your remarkable success!
Get started
Do you want to try what Steve has done? Sign up for our free
2-week keto low-carb challenge!
DD+ MEMBERSHIP
Most popular success stories
All success stories
More
Keto
Lose weight
Type 2 diabetes
Support
Do you want to support Diet Doctor and get access to bonus material? Check out our membership.
Share your story
Do you have a success story you want to share? Send your information, plus before and after photos, to success@dietdoctor.com. It would also be greatly appreciated if you shared what you eat in a typical day, whether you fast etc. More information:
Share your story!