How Emre found a sustainable diet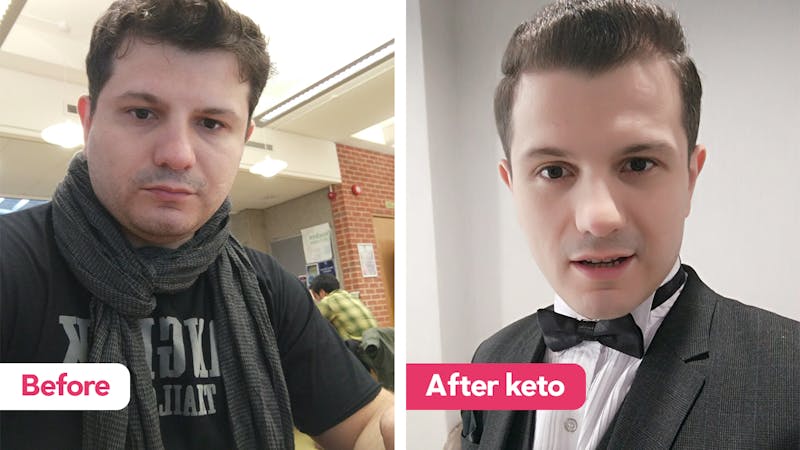 Emre had struggled to lose weight for years without finding a sustainable solution. Even as a regular runner, he found that the "spend more calories than you eat" approach didn't work well for weight loss. Then he found the keto diet and decided to give it a go:
Dear Diet Doctor,

I am 33 years old and I had had weight problems since I was age 18. This time last year, I discovered a low-carb diet and then ketogenic diet when I was searching the web for low-carb recipes. I came across the term ketogenic and then did a great deal of research on it. After feeling confident that I can do this diet, I started the following day.

I have been running for two years regularly. I used to think that if I ran regularly, I would keep my weight at an optimum level. But things didn't go too well for my purpose. After reaching an optimum weight thanks to regular exercise and running, I could not maintain my ideal weight. I was running too much and this made me consume more calories than I spent. I realized that the "spend more calories than you eat" approach was wrong. I had more insulin resistance because I was feeling free to eat everything. I gained weight again, but I kept running. This time I was doing a moderately low-carb diet and I discovered this diet at a time when I was injured from excessive running.

I could not do any exercise for almost two months but thanks to a low-carb high-fat lifestyle I lost a lot of weight. During this time, I bought many books and read many scientific articles. I met a world of low-carb science. The first book that I read was the one called "Low Carb, High Fat Food Revolution: Advice and Recipes to Improve Your Health and Reduce Your Weight" by Dr. Andreas Eenfeldt. When I read it, I got very excited. I learned many things about nutrition and a healthy lifestyle thanks to this book and spread the information that I learned to people that I know.

I kept reading several books written by Dr. Fung, Dr. Stephen Phinney and many other distinguished scientists. I examined scientific articles. There was nothing wrong with a ketogenic or low-carb diet. I was very confident. I reached a weight that I had not seen since I was 18 years old. I was 105 kg and after keto, I weighed 77 kilos (170 lbs).

I have been doing the ketogenic diet for a year together with regular exercise. I had a check-up yesterday and got my results. I am very happy to see that I have low triglycerides and a high HDL. My LDL is a little high but my doctor told me it is acceptable. All my risk factors are good right now.

The most important thing about the diet is that it should fit your lifestyle and meet your needs. As a Ph.D. student, I spend a lot of time reading and sitting at a desk for long hours. This diet fits my lifestyle and I don't feel hungry for long hours. Thus, I can concentrate on my studies better.

Thanks to keto, I can also run better. I call myself an amateur low-carb athlete. I have completed numerous marathons, half-marathons, and 10ks, and I have also broken my own records for these distances.

Everything is going well. I am happy, energetic and hopeful for future. One day people will understand that this is not a diet, this is a lifestyle. Everyone can change their life by reading and doing research on nutrition and we all can make difference spreading evidence-based science among people.

I would like to thank you for raising awareness about a healthy life. People owe you a lot.

Kind regards,
Emre Senbabaoglu
Comment
Congratulations Emre, and low carb is indeed more of a lifestyle than a temporary diet. At least that's the only way to have it work long term. Just like running or any other lifestyle change, it only works when you do it!
Best,
/ Andreas Eenfeldt, MD
Get started
Do you want to try what Emre has done? Sign up for our free 2-week keto low-carb challenge!
DD+ MEMBERSHIP
Most popular success stories
All success stories
Share your story
Do you have a success story you want to share? Send your information, plus before and after photos, to success@dietdoctor.com. It would also be greatly appreciated if you shared what you eat in a typical day, whether you fast etc. More information:
Share your story!
More
Keto
Lose weight
Type 2 diabetes