How Mark finally overcame his sugar addiction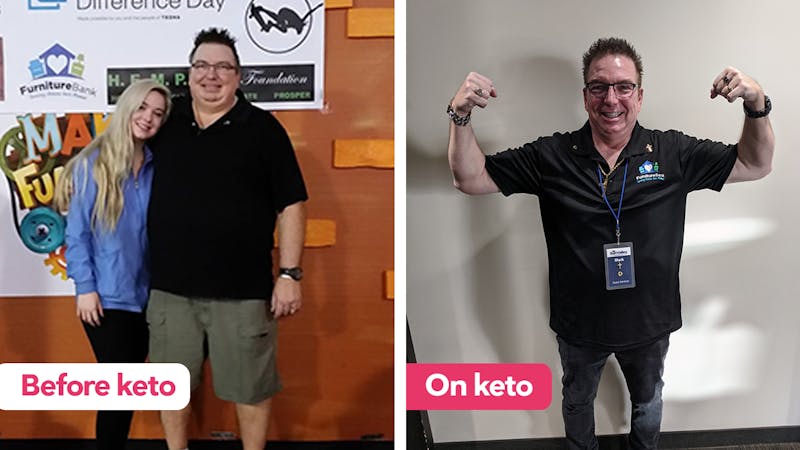 Do you blame yourself for not having any self control when it comes to food? Have you tried every diet out there – including keto – without success? Then you might be a sugar addict.
Bitten Jonsson (Diet Doctor's expert on sugar addiction) sent us Mark's inspiring story. It brings hope if you're battling a food addiction – and makes you realize that you are not alone:
Overcoming sugar addiction
I have been answering questions on Diet Doctor for some years now and there are videos there to learn about sugar addiction. In the end of November 2017 I answered a desperate mail from Mark. He explained that he had tried every diet there is, and nothing happened. He was on-off all the time and his health was deteriorating fast.
I understood that he was addicted and that he needed to heal his brain first before any weight loss would occur. That is the way we work with addiction which is a brain illness. Mark is a recovering alcoholic (since 30 years now), but he never understood how sugar/carbs/processed foods acted as psychoactive drugs on his reward system. Once I explained he understood and could finally adhere to an abstinent/drug-free keto food plan and that's when recovery took place.
Mark has done a remarkable recovery from his sugar addiction and today he is also helping others understand. If you're addicted you need special knowledge and tools in order to handle your illness. Reach out to us, Mark Farley and Bitten Jonsson.
Best,
Bitten Jonsson
Comment
Thanks for sharing! That is an important lesson how what we eat matters, but how we think about food also plays a vital role in our health. Sometimes that healing needs go take priority.
Best,
/ Dr. Bret Scher
---
Ready to lose the weight for good?
Our new 10-week program helps you lose weight in a healthy and sustainable way.
Sign up now!
---
Most popular success stories
All success stories
Share your story
Do you have a success story you want to share on this blog? Send it (photos appreciated) to success@dietdoctor.com, and please let us know if it's OK to publish your photo and name or if you'd rather remain anonymous. It would also be greatly appreciated if you shared what you eat in a typical day, whether you fast etc. More information:
Share your story!
More
Sugar addiction
Keto
Support
Do you want to support Diet Doctor and get access to bonus material? Check out our membership.