How Dr. Huang adjusted keto to Chinese cuisine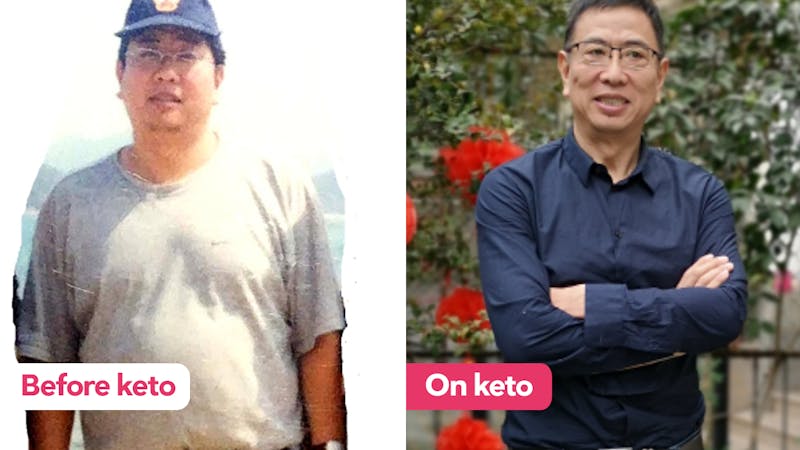 Dr. Huang had tried dietary and lifestyle changes to lose weight but nothing had worked. But last year, he came across the Diet Doctor website and decided to try a keto diet. This is his story:
Hello Diet Doctor!

I live in Nanning, Guangxi, China and I am 56 years old. I am an epidemiologist and have worked for the government for 30 years. Now I am retired.

I was obese when I was young and 110 kilos (243 pounds) when I was heaviest. I tried all kinds of ways to lose weight, such as playing basketball, gym exercise, fasting, vegetarian diet and so on, and all of them failed.

At the end of last year, when I saw your speech on YouTube, I began to pay attention to your website, become a member of it, and started the keto diet.

But our eating habits in China are quite different from those in the West. It's very difficult for me to cook according to your recipes. So, I calculated the carbohydrate content according to the Chinese recipes and started my keto diet. Five months later, my weight is 85 kilos (187 pounds).

It's easy to lose weight with the keto diet, no starvation, no exercise, no calorie calculation. I'm just going to introduce this method to my family and friends.

I also want to introduce the low-carb recipes of China to you and enrich your recipes.

Dr. Huang Chunsong
Comment
Thank you for your story Dr. Huang, and congratulations!
Feel free to send us some suggestions for Chinese recipes. I'd love for us to start offering great Chinese low-carb recipes as well on our low-carb recipes site.
Best,
/ Andreas Eenfeldt, MD
Get started
Do you want to try what Dr. Huang has done? Sign up for our free 2-week keto low-carb challenge!
DD+ MEMBERSHIP
Most popular success stories
All success stories
Share your story
Do you have a success story you want to share on this blog? Send it (photos appreciated) to frida@dietdoctor.com, and please let me know if it's OK to publish your photo and name or if you'd rather remain anonymous. It would also be greatly appreciated if you shared what you eat in a typical day, whether you fast etc. More information:
Share your story!
More
Keto
Lose weight
Type 2 diabetes