"I'm doing things now that I never would have dreamed of doing before"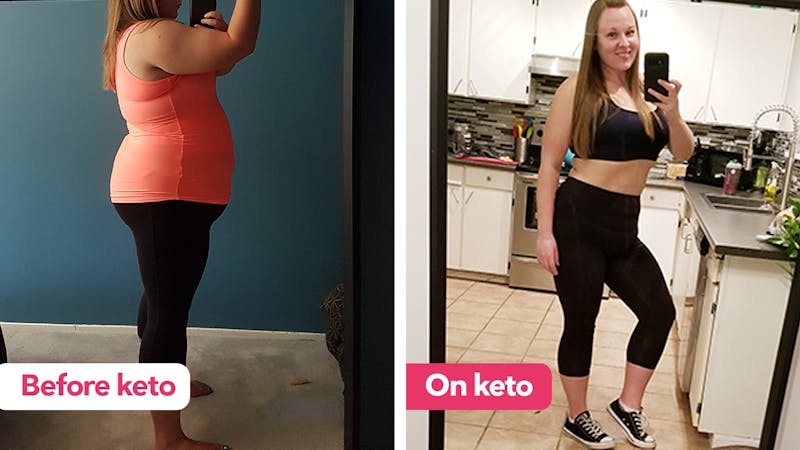 Brittney didn't want to walk into her 30s as the obese person she had always been. She wanted a real and sustainable change. She realized mindset was crucial, but diet and lifestyle equally important. This is her story:
I have always been overweight/obese. From the time I hit school, I knew my body was different. I knew my body was bigger, and I had kids remind me about it all the time.

I have no excuse or reason for gaining weight, I liked food, and if I wanted something I was going to eat it, all of it. Mentally, this weight-loss journey has been crazy. I've tried and failed at more crash diets than I care to admit. I've tried every gimmick and quick fix the diet industry has to offer… none of them has worked.

This time has been different. This time, I've been focusing on the mental aspect of things; I've been actively calling myself out any time I try and justify overeating. I've been stopping my food addiction right in its track!

I started keto in November 22/2017 and I haven't looked back. After turning 29, I knew that I didn't want to walk into my 30s feeling insecure and self-conscious about my body. Keto has been such an easy lifestyle for me to follow and I'm overjoyed with the results.

Keto has not acted alone in my transformation, I've also completely overhauled my habits. I go to the gym typically five days a week, I get enough water, I get enough sleep and I choose to be active anytime I can! At this point, I'm 95 pounds (43 kilos) down and still going!

The biggest struggle in the journey for me has been a mental challenge, not being able to see my results as others see them and still seeing myself as the obese version I was before. This is something that I know will take time. Just like my body, it will not change overnight and some days will be more challenging than others.

The confidence I have gained from this change is unmeasurable. I'm doing things now that I never would have dreamed of doing before. I'm facing new fears and putting myself out there. I'm making new friends and walking into social situations with no hesitation. I'm a 100% different woman than I was and I'm so happy I have been able to commit to being the best version of myself daily!!

@britnewxo on Instagram I'm really hoping to connect with more people who are wanting to change their lives, support is amazing on this journey and I'd love to give that to others ❤

Brittney, 30 years old, Vancouver, Canada
Comment
Brittney,
That's a fantastic story, very inspiring! Thanks for sharing, and congratulations on your success.
Best,
/ Andreas Eenfeldt, MD
Get started
Do you want to try what Brittney has done? Sign up for our free 2-week keto low-carb challenge!
DD+ MEMBERSHIP
Most popular success stories
All success stories
Share your story
Do you have a success story you want to share? Send your information, plus before and after photos, to success@dietdoctor.com. It would also be greatly appreciated if you shared what you eat in a typical day, whether you fast etc. More information:
Share your story!
More
Keto
Lose weight
Type 2 diabetes