How Ashley got rid of all her stomach issues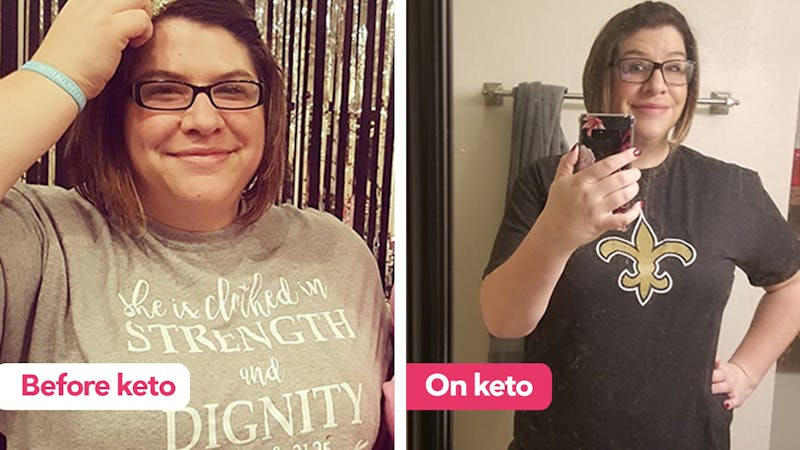 Ashley was on six different medications to ease her many health problems. After having her gallbladder removed, which didn't help with her symptoms, she took her cardiologist advice — she tried a keto diet. This is what happened:
My name is Ashley and I'm 33, from Hammond, Louisiana. I started keto in May 2018.

Before keto, I was on six different medications because in 2010 I had a heart attack. I had high blood pressure, high cholesterol, indigestion. I was having terrible stomach issues and basically lived off Zofran. I was tired all the time and sick to my stomach. I had to get approval from my cardiologist to have my gall bladder removed and he told me that all my symptoms may not go away and he would like me to try keto.

I had my gallbladder removed in March 2018, and I still had the same symptoms. I started keto in May 2018 and have lost 50 pounds since (23 kilos). All of my stomach issues went away and I went from six meds to three. I went from every six-month heart check up to once a year.

My biggest hurdle with keto was lunch. I worked full time so it was hard if I didn't prep ahead of time. Once I started prepping it was a lot easier for me.

This is a lifestyle change for me and I never want to go back to how I felt before I tried keto.

/ Ashley
Comment
Thank you for sharing your story Ashley, and congratulations on your success!
It's always extra encouraging for me with all stories these days from people who were recommended by their doctor to try keto. It's hopefully a sign of things to come.
Best,
/ Andreas Eenfeldt, MD
Get started
Do you want to try what Ashley has done? Sign up for our free 2-week keto low-carb challenge!
DD+ MEMBERSHIP
Most popular success stories
All success stories
Share your story
Do you have a success story you want to share? Send your information, plus before and after photos, to success@dietdoctor.com. It would also be greatly appreciated if you shared what you eat in a typical day, whether you fast etc. More information:
Share your story!
More
Keto
Lose weight
Type 2 diabetes