How Anita transitioned to the keto diet and changed her life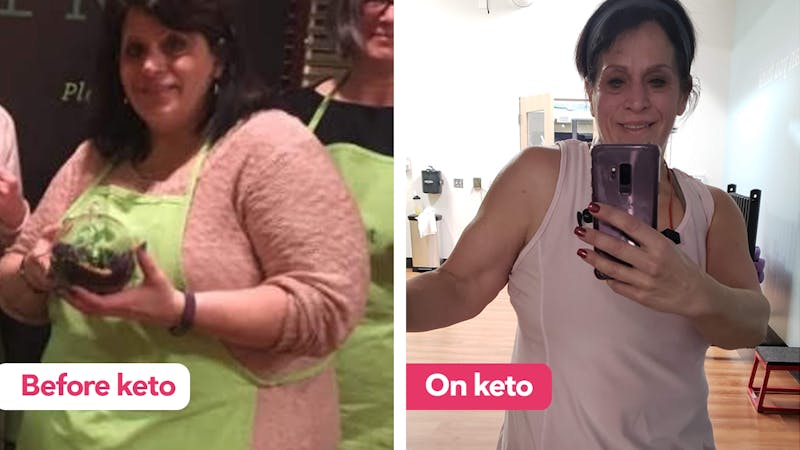 Anita had been struggling with her weight her entire life. She had tried numerous diets, even low carb, but couldn't sustain the weight loss. At 300 pounds (136 kilos) she decided enough was enough and fortunately, she found the keto diet and decided to give it a go:
My name is Anita, and I have been following a ketogenic way of eating since August 1, 2017. Looking back on that day, I just realized I am a much different person today. Not only have I lost 90 pounds (41 kilos), my attitude towards everything has changed, I am no longer depressed, stressed or out of control.

I feel like I was chasing my tail and I did not know why. I could be here all day telling you that I have always struggled with my weight. I knew about low-carb diets and I knew they worked because I was able to lose weight by following a low-carb diet twice; once in 1996 and then again in 2010. I was successful. But I was getting older and menopause had started. That is when the tail chasing started.

On August 1, 2017, I decided it was enough. I was nearing 300 pounds (136 kilos) wearing a size 24/26, tight too, despite all my efforts. I think it was dietdoctor.com and another website I scrolled passed when I said the word keto. I am like "ok what is this?" When I was reading about it I thought to my self OMG this is Atkins which I started to think back to my no sugar no carb days when I was able to successfully lose the weight. That is when I started keto and I have never looked back. And to be honest, I did not struggle giving up pasta, pizza, granola or fruit. It was popcorn that was a killer, but I am over it.

I have lost 90 pounds (41 kilos) to date. I am in my second phase of transformation. I have rediscovered my passion for weight lifting which I have hired a personal trainer to guide me into bodybuilding.

My attitude towards life is so much different, I enjoy my family and myself again. If I had to restart keto from the beginning, I would not change one thing that I do know now. The keto life was an easy transition for me. I knew I had to do it or my health was going to pay the price which it has. I was on the doorstep of so many problems. I had inflammation, high blood pressure, arthritis (still do, but the pain is gone), liver enzymes out of control, not to mention I was always out of breath.

Thank you for letting me share my story. My hope is that if there is someone out there that can relate my words, here they are: STOP PROCRASTINATING. Just do it. This is the new life you've been wanting to live.

Anita
Comment
That's fantastic, Anita, congratulations! And thank you for sharing your story with us.
Best,
/ Andreas Eenfeldt, MD
Get started
Do you want to try what Anita has done? Sign up for our free 2-week keto low-carb challenge!

DD+ MEMBERSHIP
Most popular success stories
All success stories
Share your story
Do you have a success story you want to share on this blog? Send your information, plus before and after photos, to success@dietdoctor.com. It would also be greatly appreciated if you shared what you eat in a typical day, whether you fast etc. More information:
Share your story!
More
Keto
Lose weight
Type 2 diabetes