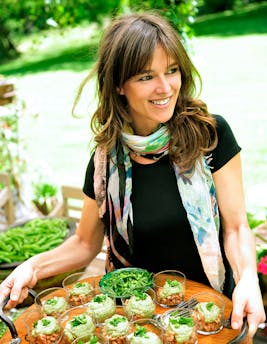 Pascale Naessens is Belgium's bestselling cookbook author. She's an ambassador for pure, healthy, delicious food that is low in refined carbohydrates but high in nutrition, simplicity, and flavor.
Pascale has 10 best-selling cookbooks that have helped create a culinary movement in Belgium, enabling people to once again feel free to enjoy food, while they become healthier and lose weight.
A former fashion model and TV presenter, Pascale battled eating disorders as a young woman in an attempt to keep herself slim. Caught in a vicious cycle of counting calories, constant hunger, craving food, then binging, she finally found a way out.
She removed from her diet the "fast" carbohydrates that rapidly digest to sugar and focused on whole foods – meat, fish, cheese, vegetables – combined with healthy fats like olive oil and herbs and spices. It became not a diet but a way of satisfying eating that can be maintained for life.
She now inspires legions of others, not only in Belgium but Europe and beyond. Her books have been translated into English, French, German, and Chinese.
Her newest book, The Keto Cure, was first released in her home country in 2020 where it became the best-selling cookbook that year. It was translated into English in 2021. Two other recent bestselling low-carb cookbooks featured just four ingredients. She has won the Gourmand World Cookbook Award in Paris and Beijing.
Pascale also writes culinary articles for several magazines and is an acclaimed ceramic artist who has a line of tableware, furniture, and home textiles that are sold worldwide.
You can find out more about Pascale, her books, and her philosophy through her website, purepascale.com. Click on the book covers below to directly order Pascale's cookbooks.
Diet Doctor is delighted to feature Pascale's uncomplicated, satisfying, wholesome low-carb and keto recipes.
---
Pascale's recipes
---
Pascale's books
Click on the pictures if you would like to read more about or buy the books on Amazon.
Diet Doctor receives no payment or other considerations from the sale of Pascale's cookbooks or the publishing of this post.
---
Links
Pascale's website: PurePascale.com