Antonietta lost 150 pounds on the keto diet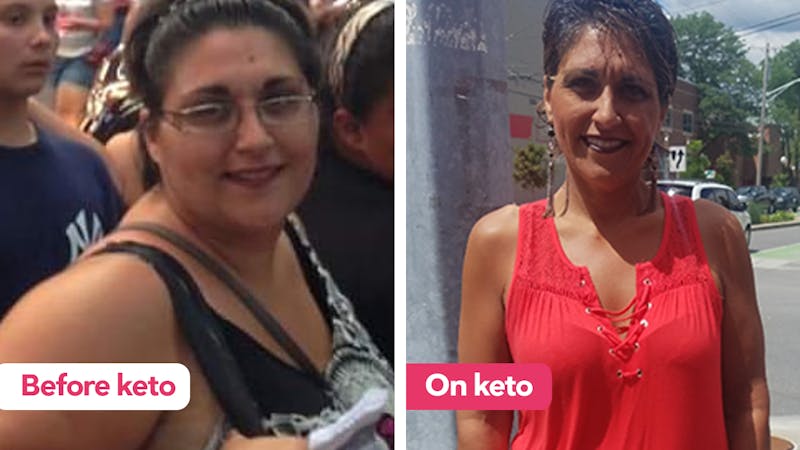 Antonietta was severely overweight with lots of different health issues and was on a long list of drugs to get through her days. After her doctor had suggested surgery for her back problems, she knew the real solution was to lose weight. She started seeing a trainer that recommended the keto diet for optimal weight loss. This is Antonietta's story:
I am currently 48 years of age and began keto in 2015 and in 2017 almost two years later, I had lost a total of 150 pounds (68 kilos). I have maintained my 150-pound-loss as of today… I truly love the keto lifestyle and will never look back. It has been a true lifesaver for me.

I was 321 (146 kilos) when I began my journey to a healthier life. From 236 to 236 pounds (107-146 kilos) I had tried over five different trainers, and always incorporated a low-fat low-calorie diet, none of which worked until I reached out to my trainer Jill Murphy at Mission Fitness. She not only incorporated a physical workout program but also advocated the ketogenic diet in my regimen.

Prior to working out with Jill, I had been on prednisone for the better part of 14 years, for the year prior up to 60 mg a day to treat my eczema. I was taking 800 mg of Naproxen daily and at times 1,600 mg to help my back. My doctor had mentioned possibly having surgery, but after seeing what my father went through with a failed back surgery, I refused. That is when I figured it was time to lose weight. I also was using an inhaler up to four times a day. Within three weeks of following the keto diet plan, I was off the steroids and within approximately a month, no longer needed the inhaler nor the Naproxen. So when I say keto has been a lifesaver, I truly believe it.

At my heaviest, I was wearing a size 24 and my goal was 180 pounds (82 kilos) or a size 10. Well, just a few weeks beyond the two-year mark on June 21, 2017, I weighed in at 180 pounds (82 kilos) and wearing a size 8. I was ecstatic, it was a long road, many times I wanted to quit. There were some cheat days along the way, but I soon realized that it wasn't worth it. The feeling from the carbs and sugar were not worth it. I didn't miss the bread, pizza, pasta, candy or pastries enough to feel like crap. I have found over the last three and a half years that with keto I don't feel deprived, everything can be ketofied and it tastes so much better.

We also recently launched a keto menu at our restaurants, because I truly believe it can change others lives as it has changed mine.

Yes, it takes some commitment and dedication but what doesn't? I share my story daily in hope to inspire and change others. I wake up feeling like I am 25 every day. The energy, mental focus and lack of hunger are unexplainable.

The feeling of being in ketosis is one that surpasses anything I have ever experienced. I say keto is like the perfect vacation, and that experience you would want to share with everyone you meet.

Thank you for all that you and your colleagues do. I love using Diet Doctor as a resource.

Antonietta
Comment
Thank you for sharing your story Antonietta, it's amazing what difference a lifestyle change like this can make!
Get started
Do you want to try what Antonietta has done? Sign up for our free 2-week keto low-carb challenge!
DD+ MEMBERSHIP
Most popular success stories
All success stories
Share your story
Do you have a success story you want to share on this blog? Send your information plus before and after photos to success@dietdoctor.com, and please let us know if it's OK to publish your photo and name or if you'd rather remain anonymous. It would also be greatly appreciated if you shared what you eat in a typical day, whether you fast etc. More information:
Share your story!
More
Keto
Lose weight
Type 2 diabetes