What happened when Dawn found keto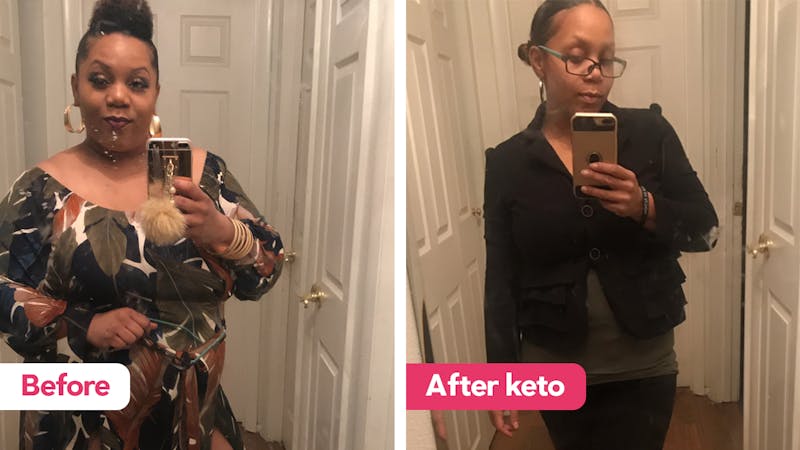 Dawn was unhappy with how she looked and felt. Having tried lots of different diets without success she finally found the keto diet and decided to give it a shot. This is what happened:
Dawn's story has been lightly edited for clarity.
Keto has changed my life drastically and only for the better. Mom of two boys, I was so unhappy with the way I looked and felt in clothes. I always wore sweaters or something to cover my stomach.

As I surfed the web, keto kept popping up, and my sister also mentioned it to me with someone else's success story. I have to admit; I wasn't easily persuaded. This way of eating looked too complicated, and I didn't want to take the time to read up on it or make complex recipes. But I also had a reality check and knew something had to give. I had tried all types of diet pills and eating better, and nothing stuck or helped.

I started keto completely on March 1, 2018, using dietdoctor.com as well as following others on social media — it took a while to make sure I was getting it all right, I didn't start tracking macros until April, and boom I hit ketosis! It was like magic started happening! Now through a pretty strict way of eating with a few bumps in the road (we're human, right?) I've lost 85 lbs (39 kg)! I started at 245 (111 kg) and now weigh 160 (73 kg)! From a size 22 to 8! I still have more I want to lose and maintain this keto life for the long run!!!

Thanks to keto, I now coach others who want to join this journey! And working on expanding service to tell everyone about keto!
Dawn's Instagram: @ketomamad
Comment
Congratulations Dawn, and thank you for sharing your story. Hopefully you'll inspire more people, and if they want to get started in a simple way they can sign up for our updated and free 2-week keto challenge…
Get started
Do you want to try what Dawn has done? Sign up for our free 2-week keto low-carb challenge!
DD+ MEMBERSHIP
Most popular success stories
All success stories
Share your story
Do you have a success story you want to share on this blog? Send your information, plus before and after photos, to success@dietdoctor.com. It would also be greatly appreciated if you shared what you eat in a typical day, whether you fast etc. More information:
Share your story!
More
Keto
Lose weight
Type 2 diabetes