"It has given me my health, happiness, love and livelihood!"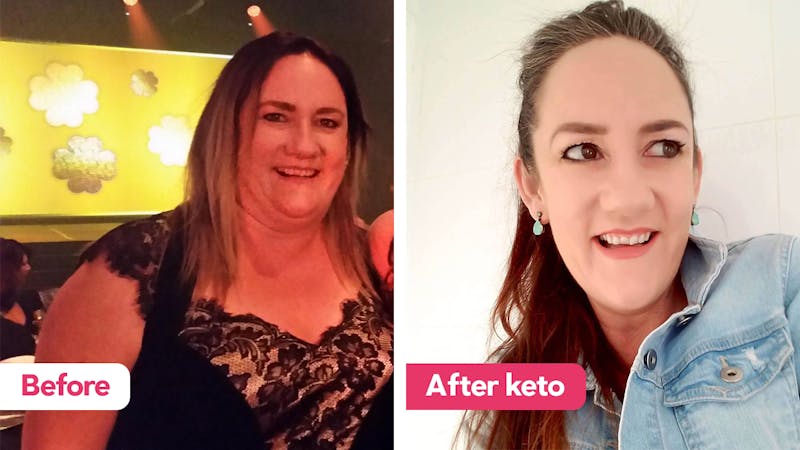 Megan had tried everything to lose weight her entire life but nothing had worked. After having tried to lose weight through extreme exercising she injured herself and had to go to the doctor. That doctor told her about the keto diet:
One of my biggest influences, when I started a keto lifestyle, was the Diet Doctor website. While I traveled in a sales job up and down the state I loved, I literally listened to 100s of hours of your videos over the time I worked until I had enough success with my keto diet and subsequent books that I was able to quit my job and work for myself.

For many years I struggled with my weight – which I'm sure many women can relate to! I've been hovering around 100 kg (220 lbs) most of my adult life. I've tried everything from Weight Watchers to fad diets, to eating "clean"; healthy vegetable and grain-based diets – you name it. But nothing worked.

By in my late 20s, I started putting on even more weight and continued doing so every year up until the age of 45, when I reached an all-time high of 110 kg (243 lbs). Growing up as a skinny kid, I felt like a stranger in my own skin and very depressed. It also didn't help that I had stopped menstruating around 30 years of age, and I put this down to my endometriosis. I suspected I was in menopause so I requested a fertility test and found out my hormones suggested I had already gone through the transition. While I was not always planning to have children, it was still a bit of a surprise to my partner of 29 years, Dave, and me.

No matter what changes I made to my diet, the weight just wouldn't shift. Desperate to lose weight, I started exercising as much as I could. I power walked twice a day, swam daily, and attended weekly boot camp sessions. After months of exercise routines, my body couldn't take it anymore. Not only had I not lost any weight, I ended up with Achilles tendonitis, bursitis and a massive heel spur. When my specialist asked how I injured my foot so bad I told him how I was desperately trying to lose weight and exercising like crazy but couldn't even lose a gram of weight. He suggested that I could be insulin resistant and to not only try a ketogenic diet but to get the testing done to see.

After a series of blood tests, his concerns were confirmed – I was insulin resistant, had a fatty liver and was recommended metformin. While the results were not a surprise, I was actually really happy to have an answer and a plan to see if I could lose the weight and regain my health. I changed my diet immediately and began blogging about it. With a strong background in cooking and recipe development, I dove straight in. In the first week, I lost 3.5 kg (7.7 lbs)! After so long of not even being able to drop any weight, the change was immediate!

The weight kept coming off each week, and considering I am effectively a middle-aged post-menopausal woman, that is just amazing! As my foot injuries healed, I also started walking and swimming again.

Within six months, I'd lost a huge 27 kg (60 lbs). I felt better than ever, my energy levels soared, and for once I felt in control of my body and life. My success and joy in the ketogenic diet-related on my blog and it took off really fast. My partner Dave also lost over 10 kg (22 lbs) and gained great muscle and looks amazing as well. Far younger than his 48 years of age. I have now lost over 30 kg (66 lbs). I have left my old job after the success launch of my first 2 books and now run my own business. All thanks to a keto diet and the inspiring Diet Doctor videos, packed with so much information and breaking it down into information with facts that essentially make you see the sense in it all.

I feel more than amazing now. I fit into normal sized clothes, I can move around freely, exercise without any pain, and my mind has never been clearer. The ketogenic diet has made me so happy, inspired and given me more energy and focus than ever before. Keto is my life in more ways than one. It has given me my health, happiness, love, livelihood, and many more years of life I am sure.

I would like to say thank you to my doctor for suggesting the problem, regardless of risk and persecution (in Australia) for suggesting a keto diet, and I would also like to thank you, Andreas, for such a fabulous site full of inspiration, and other amazing doctors, bloggers, and health professionals, for everyone the world over.

I hope that one day a low-carb diet is something everyone follows and understands that this way of life makes you feel truly invincible.

Thanks, Megan
Comment
Thank you, Megan, for sharing your story! We're very happy that you could regain your health, congratulations on your success!
Get started
Do you want to try what Jean has done? Sign up for our free 2-week keto low-carb challenge!

DD+ MEMBERSHIP
Most popular success stories
All success stories
More
Keto
Lose weight
Type 2 diabetes
PS
Do you have a success story you want to share on this blog? Send it (photos appreciated) to andreas@dietdoctor.com, and please let me know if it's OK to publish your photo and name or if you'd rather remain anonymous.
It would also be greatly appreciated if you shared what you eat in a typical day, whether you fast etc.