Steven got his self-esteem and confidence back!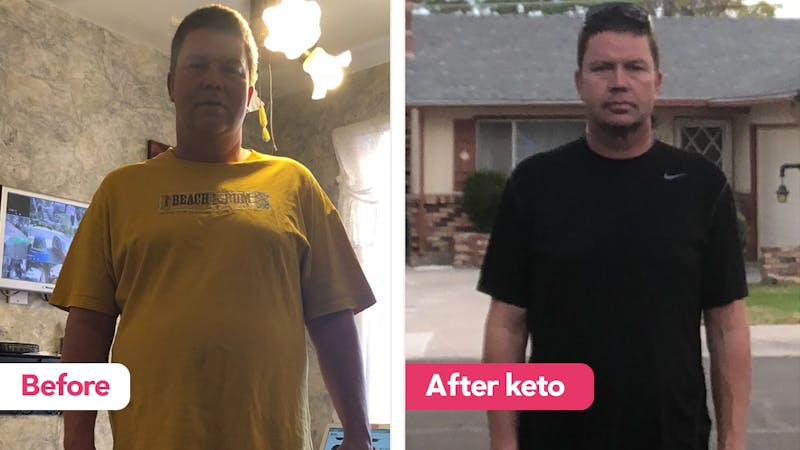 Steven was unhappy and embarrassed after gaining more and more weight over the years. When he had been struggling to lose weight for ten years, he realized that the only one who could change his situation was himself. So, he started a keto diet and this happened:
I would like you to share my story to inspire others that there is a way to lose weight and have a better quality of life!

I have been struggling with my weight for ten years and Diet Doctor taught me what to eat, when to eat and, how to eat. I was very unhappy and embarrassed with my appearance and would never take full body pictures to post to social media. I was rapidly outgrowing my clothes and I did not like to go anywhere. I was unhappy and finally decided that I was the only one that could do anything about it. I have lost just under 60 pounds (27 kg) in three months. I am so much happier and I hope this inspires others to try this diet because it works! I have my self-esteem and confidence back. I have been struggling with my weight for ten years and Diet Doctor taught me what to eat, when to eat and, how to eat.

The biggest obstacle was cutting out sugar, but once I have seen how fast the weight was coming off it was very encouraging to stick with it. I went for walks every day for the first six weeks and it helped a lot with the sugar cravings. I was skeptical at first, especially after so many diets failed or I would lose the weight only to regain it again. Keto is a lifestyle change and I absolutely love almost all of the recipes on your website! Thank you Diet Doctor for your wonderful advice and helping me change the quality of my life!

Thank you, my life has forever changed! I post my picture on FB and promote your website because it works!

Steven
48 years old
Reno NV USA
Comment
Thanks Steven, and congratulations on your success!
Get started
Do you want to try what Steven has done? Sign up for our free
2-week keto low-carb challenge!
DD+ MEMBERSHIP
Most popular success stories
All success stories
More
Keto
Lose weight
Type 2 diabetes
Support
Do you want to support Diet Doctor and get access to bonus material? Check out our membership.
Share your story
Do you have a success story you want to share? Send your information, plus before and after photos, to success@dietdoctor.com. It would also be greatly appreciated if you shared what you eat in a typical day, whether you fast etc. More information:
Share your story!