Minus 125 pounds and no more binge eating on a keto diet
Heather has done the impossible – beaten binge eating and lost 125 lbs (57 kg) on a strict keto diet. But how does she eat exactly? And what had to change in her mindset to make such an incredible journey? This is what she has to say:
As a child, I never dreamed that I would one day find myself in bed, suffocating under the weight of my own morbid obesity. I never dreamed that I would find myself, over and over again, shoveling cake into my mouth with my bare hands, choking on my own salty tears.

My name is Heather, and I'm a binge eater. It has been 652 days since my last binge. This is my story.

On January 4th, 2016 I woke up with renewed sense of determination.

This is the day that I would start something and stick with it. I told myself I owed myself nothing less than perfection for the first 30 days of following a ketogenic diet.

I stepped on the scale. The numbers reflected back at me were 295 lbs (134 kg). I'm 4' 11″ (150 cm). I was nearly as big around as I am tall. I promised myself that would be the LAST time I would ever see those numbers on the scale.

The first two days I lost 9 pounds (4 kg). 18 pounds (8 kg) in the first week. 33 pounds (15 kg) in the first 28 days. I had zero cheats, and decided to keep going rather than have a cheat day, because I was still determined and incredibly motivated by my progress.

By August of 2016 I had dropped 100 pounds (45 kg). By the anniversary of started the ketogenic diet on Jan 4, 2017 I had lost a total of 125 pounds (57 kg). I'm now holding steady at a weight loss of 138 pounds (63 kg).

I lost that weight without much exercise. Now I have to fight to lose a pound, so I'm starting to create a habit of running and weight lifting. I'm signing up for a half marathon in February of 2018.

I've never lost sight of my goal. I've had to constantly create new goals because I feel better and DO better when I'm working towards a goal.

My food is boring. I eat for fuel, rather than entertainment. Meat, eggs, cheese, veggies, and avocado. I don't eat endless piles of bacon and entire bricks of cheese. Calories count, so I count calories, and macronutrients. I eat roughly 1200 calories a day for weight-loss, and 1500 calories a day for maintenance. I have PCOS and likely struggle more than the average woman with a normal endocrine system to lose or maintain my weight.

If you'd like to follow my story, I have shared my journey in kind of an online diary at Facebook.com/HeatherDoesLife.

Sincerely,
Heather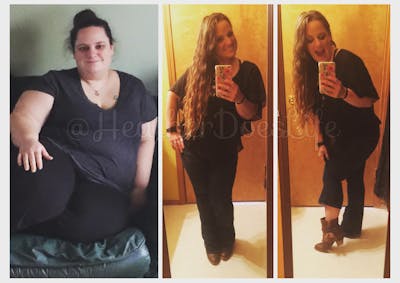 Comments
What an incredible journey, Heather – thank you for sharing it with us! :-)
Get started
Do you want to try what Heather has done? Sign up for our free 2-week keto low-carb challenge!
DD+ MEMBERSHIP
More
Weight loss
Keto
Sugar addiction
More success stories
Share your story
Do you have a success story you want to share? Send your information, plus before and after photos, to success@dietdoctor.com. It would also be greatly appreciated if you shared what you eat in a typical day, whether you fast etc. More information:
Share your story!