Losing weight when older with a slower metabolism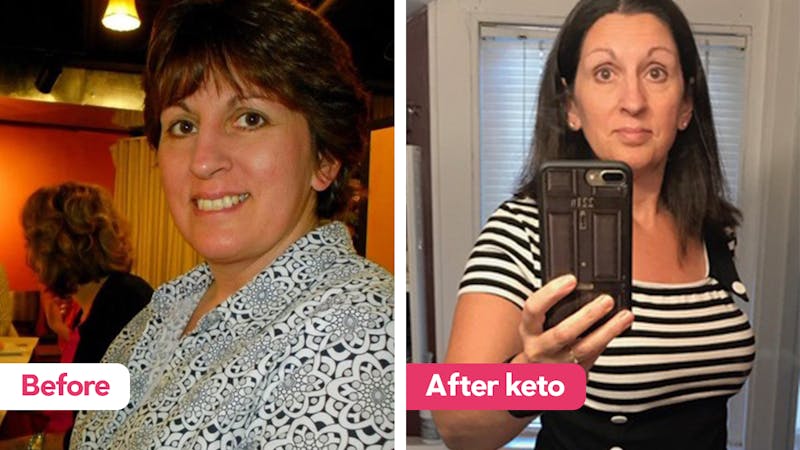 Andrea had been struggling to lose weight after having kids in her early 20's. She and her husband had tried a lot of different methods to lose weight without a sustainable solution. It wasn't until they heard about the keto diet they noticed a significant change, in several areas. This is her story:
My name is Andrea, I am 57 years young. I live in Wisconsin with my husband and keto has become our new way of eating.

Since having children in my early 20's, I have always been 20-40 pounds (9-18 kg) overweight. In 1998, I was able to get down to 130 pounds (59 kg) by not eating, drinking a lot of water, being physically active at a waitress job and once home, I aerobically worked out for another hour. I did not keep that up and slowly my weight increased.

After having surgery during the winter months in 2009, my weight increased again and by 2014 I weighed 189 (86 kg).

I felt guilty that I did not keep on exercising and now the weight was at its worst. All I could think about was all the running and physical activity it would take to replicate the weight loss of 20 years ago. I currently have a desk job and an increased commute of 7.5 hours per week, I did not know what to do.

My husband and I bought the lie that we would not be able to lose weight now that we are older and our metabolism is slower. Since 2014, we have tried to find the right food combination that would help us lose weight. We tried less red meat, only chicken and fish with vegetables. But we were still eating pasta, bread, rice, starchy vegetables, oatmeal and quinoa. We ate two to three meals per day and of course snacks.

In August 2017, my brother and sister-in-law told us that they had lost 50 pounds (23 kg) each on a keto low carb diet. I felt that this had to be the right combination. My brother does not exercise and to lose 50 pounds was enough for me to look into it. I googled keto and found "A ketogenic diet for beginners" by Diet Doctor.

The what-to-eat section is great. The pictures with carb count for each food category, and right under those pictures were the top ten choices in that category. That became my first grocery list on August 24, 2017. The first time the doors opened at the grocery store, I realized just how much of the store I did not need to use.

I had been using MyFitnessPal since 2014. This helped me see how low I could go by starting at a moderate carb level to get used to it. As my weight changed, I lowered the carbs to the strict level. It started slowly but steady. We even lost weight over the holidays in 2017.

In January 2018, I had been talking with my friend about Diet Doctor and she texted me a bit later saying that she was starting the two-week challenge to give this a try. I did not know that Diet Doctor had a two-week challenge, so my husband and I joined the challenge as an encouragement to our friend.

We loved it. It gave us new meal ideas, a simpler one-meal-a-day way to cook and introduced us to different flavor combinations. Many of those recipes are still our favorites.

My husband and I fast independently and only share dinner together. He has a small breakfast and I have bulletproof coffee in the morning. Once in a while, I change up my fasting times; I find that this helps break plateaus.

I pack a weekly Bento lunchbox with a couple hard boiled eggs, sliced cheese, sliced sausage or lunchmeat and keep it in the refrigerator with mayo at work. I also keep a bag of mixed macadamia and walnuts in my desk drawer. I eat only when I am hungry and just enough to hold me over until dinner.

On the weekends or when I am on vacation, I stay busier and lose more weight. I have coffee in the morning, water throughout the day and dinner with my husband.

About halfway through this last year, I noticed that the pain from arthritis in my neck, shoulders, and arms was gone. I used to see the chiropractor every four to six weeks to help open up the pinched areas. I have not had an appointment since April 2018. Because the pain is gone, my weight is down and exercise is easier.

We are blood donors and at each visit they take your pulse and blood pressure. We noticed that our blood pressure was slightly lower each visit.

I am so confident that this is the best and easiest way to eat, stay healthy and keep the weight off, that I have given away all the clothes that do not fit anymore. The few very special pieces that I had kept over the years, hoping that I could fit into again are now part of my wardrobe. I am not keeping any "just in case my weight goes back up" clothes. My current weight is 137 lbs (62 kg); I wear a size 8 pants and small tops. I have more energy, more confidence and enjoy going places.

In the past year, I have been able to share Diet Doctor with family, friends, and co-workers. I have learned so much and I thank you very much for making this information available. I return to Diet Doctor's website all the time for recipes and information. The website is always changing for the better. And I have also enjoyed testing the new App. Keep moving forward and spreading the word.
Comment
Congratulations on all your success, Andrea! And thank you for all the kind words!
Get started
Do you want to try what Heidi has done? Sign up for our free 2-week keto low-carb challenge!
DD+ MEMBERSHIP
Most popular success stories
All success stories
Share your story
Do you have a success story you want to share on this blog? Send your information, plus before and after photos, to success@dietdoctor.com. It would also be greatly appreciated if you shared what you eat in a typical day, whether you fast etc. More information:
Share your story!
More
Keto
Lose weight
Type 2 diabetes