How Javier went from morbidly obese to having a new life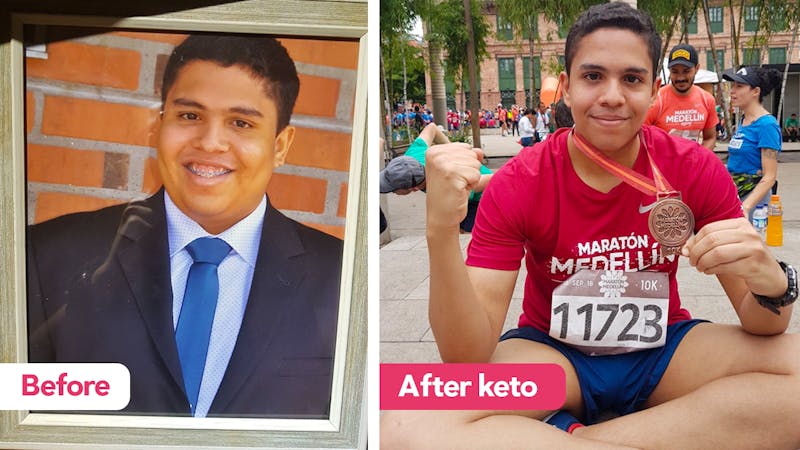 When Javier Pedroza Bustamante graduated from medical school, he found himself morbidly obese and sick. He had tried many different diets during his years in college, but nothing had worked. After graduation, he decided something needed to change.
He went online looking for answers and he found Dr. William Arias YouTube channel and the low-carb diet. Not long after that, he found the Diet Doctor site. This is his story:

Hello folks!

My name is Javier Pedroza Bustamante. I'm a 25-year-old doctor, currently working as the leading physician in a chronic disease program (hypertension, diabetes and chronic kidney disease) in Rionegro, a small city in the state of Antioquia, Colombia.

I started to put on weight in my second year of med school, and by the end of my third year, I was already morbidly obese. I felt horrible about myself. I had awful sleep quality, gastroesophageal reflux disease (GERD), a severe atopic dermatitis and seborrheic dermatitis, abdominal pain and constipation on a daily basis and, I couldn't even walk up a flight of stairs without getting shortness of breath. I had tried some diets during my college years, but I would end up dropping all of them for different reasons: some were very restrictive (I was hungry all the time), and others were very repetitive and boring.

It wasn't until February 2018, when I was at my heaviest weight ever at 104 kg (230 lbs), that I realized that my life was getting out of my hands — metabolic syndrome was winning the battle by far. So in March 2018, I decided to start a healthy lifestyle. My first week without a much-elaborated plan, I just tried to eat like most nutritionists and the infamous WHO's food pyramid said: eat 5-6 times a day, a lot of refined carbs and veggies, moderate protein, little to no fat, and no junk food.

However, if I were to succeed this time I needed to do something different, something that was sustainable and enjoyable in the long run. So, by the end of the week, I was searching the internet to learn about healthy eating patterns, and I found Dr. William Arias YouTube channel. That was the moment everything started. By only following his advice of trying a low-carbohydrate/high-fat eating pattern, and only eating when actually hungry, I had lost 8 kg (18 lbs) by the end of that month! I couldn't believe it at first. How could such a radically different approach to weight loss work so smoothly? Needless to say, my parents and my brother were very skeptical at first, but were still very supportive, as was my fiancé.

I wrote Dr. Arias on Facebook with a lot of questions and he kindly answered every single one of them. About a week after that I found Diet Doctor's site and started to devour all I could from its wonderful content: How to lose weight — it's a MUST read for everyone that's starting the LCHF lifestyle. I decided to sign up for their low-carb challenge to learn more and try some of the recipes, but mostly because I was ready to bring in the heavy artillery: optimal ketosis.

It was hard at first, but it started getting easier and easier the longer I stayed in ketosis. I discovered other magnificent tools like intermittent fasting, and that I wasn't alone: I met a lot of wonderful colleagues and nutritionists that helped me through this path. Special thanks to: Dr. William Arias, because he was my inspiration and my first guide, Dahiana Castillo, my first nutritionist (and the best I've ever met), Dr. Mauricio Arango, who is currently my awesome keto doctor, Paula Rincon, one of the best evidence-based low carb/keto resources there is. And, the most important acknowledgment goes to my wonderful fiancé, the love of my life, Andrea Vega. And a big thanks to my wonderful parents, Javier and Marta, who gave me their unconditional support at all times.

Without further ado:

Before

March 1st, 2018: Morbidly obese at 103 kg (227 lbs), BMI: 34.8, 46% body fat, 14% visceral fat. Junk food lover (craved refined carbs like a junkie), sedentary couch potato, insulin resistant, no quality of life, a bad example for my patients.

After

October 8th, 2018: Healthy weight at 69 kg (152 lbs), BMI: 23.3, 21% body fat, 6% visceral fat.

I've learned to eat real food (said goodbye to sugar and ultra-processed products). I now do intermittent fasting 16-8 almost every day (eat two or three times between 12:30 PM and 08:30 PM).

I'm full of energy, never hungry between meals. I've embraced physical activity as an essential part of my life (calisthenics + running, training 4-5 times a week; currently 10K (6.2 miles) in 01:00:15, training for a half marathon next). And I've beaten metabolic syndrome.

Last, but not least, I rediscovered my life purpose: I've decided I want to dedicate the rest of my life to transform people's lives through lifestyle medicine.

Tips for beginners

Don't go crazy about the scale: I know many of us are guilty of this one, but there are better ways to track your progress: Waist circumference, skinfolds, your neck, your face, how your clothes fit, and the most important one: How do you feel? Remember, low carb isn't merely a weight-loss strategy, it's an amazing tool to fight systemic inflammation and heal your metabolism. Energy levels, mood swings, concentration problems, allergies, gastrointestinal issues (gastritis, GERD, abdominal pain and/or bloating), and sleep quality are only some of the things that will improve and that I encourage you to keep track of as well. If you have the means to do it, it can be helpful to get a body composition scale as well.
Try to not compare your low-carb journey with others: Be consistent, no matter if things are going slower than you'd like, and you'll reap the benefits later.
LEARN TO LISTEN TO YOUR BODY: Every human being is unique, and so can be our body's reaction to different foods. EXAMPLE: Out of all the different vegetables and fruits I've tried, the only ones I can't tolerate are green apples, as they give me a crazy bloating, so I avoid them at all costs.

Low carb/keto works! And it's not only a fantastic tool for weight loss, but it can also actually heal our metabolism and fix most, if not all, the damage done to it by sugar, refined carbs and ultra-processed foods. It might be a little bit hard at first, but if your motivation to change your lifestyle is strong enough, nothing will be able to stop you!

Javier Pedroza Bustamante – MD. Forever grateful for this second chance at life.
Comment
What an amazing accomplishment, Dr. Javier Pedroza Bustamante! Thank you for sharing your success story with us and congratulations on your success!
I hope and believe that you'll help empower countless people to transform their lives, through your practice as a physician.
Get started
Do you want to try what Javier has done? Sign up for our free 2-week keto low-carb challenge!
DD+ MEMBERSHIP
Most popular success stories
All success stories
More
Keto
Lose weight
Type 2 diabetes
Share your story
Do you have a success story you want to share? Send your information, plus before and after photos, to success@dietdoctor.com. It would also be greatly appreciated if you shared what you eat in a typical day, whether you fast etc. More information:
Share your story!