How James came off insulin, after 20+ years with type 2 diabetes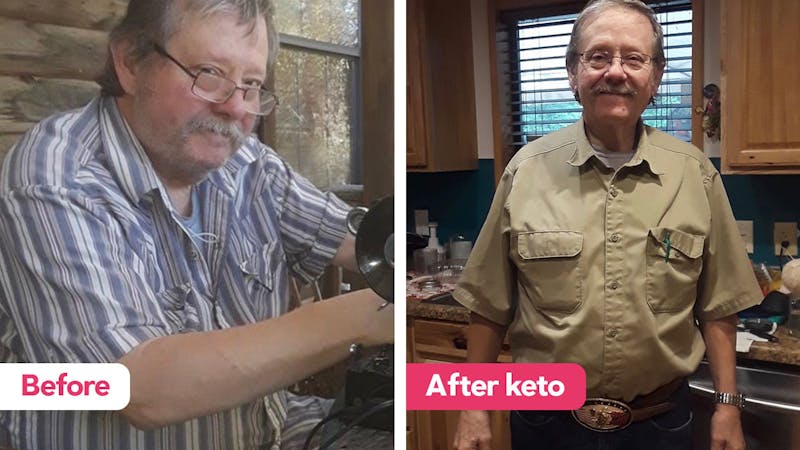 James had been battling his type 2 diabetes for over 20 years and had to steadily increase his medications. When he had to retire due to elevated blood sugar levels, he no longer could afford his insulin. That's when he found a low-carb diet. This is his story, told by his wife:
My husband has had type 2 diabetes for 20+ years. He was a merchant marine and engineer for the State of Alaska – to be able to have his mariner's license renewed by the US Coast Guard he had to keep his blood sugar numbers in check. As years advance and metformin was not doing the job we went to Diabetes Clinic of America for years and the "dietitian" sat us down on numerous occasions and told us a "healthy diabetic diet". The diet consisted of oatmeal and blueberries for breakfast with low-fat or skim milk, lunch would be water-packed tuna and lite mayo on a salad with one slice of wheat toast and for dinner a small steak with red potatoes (because they don't raise your blood sugar like Idaho and other white potatoes do).

After getting on insulin and being fussed at by the doc, as he was unable to control his weight AND blood sugar, they added three more pills and insulin…The clinic said, "if you test and your sugar is high, simply dial up more insulin"!

He battled his weight for years and finally could not get his license renewed as the doc said he had uncontrolled diabetes!

Fast forward to retirement and we could no longer afford the insulin on medicare – so enter the LCHF diet!

Jason Fung has been a godsend to us. We started keto in March 2018 and in six weeks he was off all insulin and only metformin two times a day – now seven months in, we do 20:4 fasting, OMAD and he is down 55 lbs (25 kg) to his goal weight! However, too late, as he lost his license to work on a ship. Faster forward – he woke up three weeks ago blind in his right eye. Now he is seeing a retinopathy doctor who is trying to save his eyesight. With luck, he will not lose his sight but it is touch and go. He has had one series of shots in both eyes to try and stop the blood vessels that are going over the retina – two more shots, then laser – plus eye drops to keep the pressure down in his eyes.

If people could only understand that long-term diabetes is so critical to control because of the destruction of internal organs! I share Diet Doctor, Jason Fung, Ken Berry, Dr. Berg and Dr. Axe repeatedly on Facebook and in our peer group.

Bless all of you in the LCHF community!

Mary and James Burnette, age 69
Livingston, Texas
USA
Comment
Mary and James, thank you for your story! Unfortunately there is a high risk of complications from decades of type 2 diabetes with high sugar levels, including impaired vision and many other things. I really hope that James' vision can be saved! It would truly be ironic to suffer such a complication after finally getting the disease mostly under control.
Hopefully, in the future, and thanks to stories from people like you, all people with type 2 diabetes will get better advice and support about effective lifestyle changes, to help reverse the disease before any complications develop.
Get started
Do you want to try your own success story? Sign up for our free 2-week keto low-carb challenge!
DD+ MEMBERSHIP
Most popular success stories
All success stories
More
Keto
Lose weight
Type 2 diabetes
Share your story
Do you have a success story you want to share? Send your information, plus before and after photos, to success@dietdoctor.com. It would also be greatly appreciated if you shared what you eat in a typical day, whether you fast etc. More information:
Share your story!