The keto diet: "Not only do I love it, but it has changed my life and body"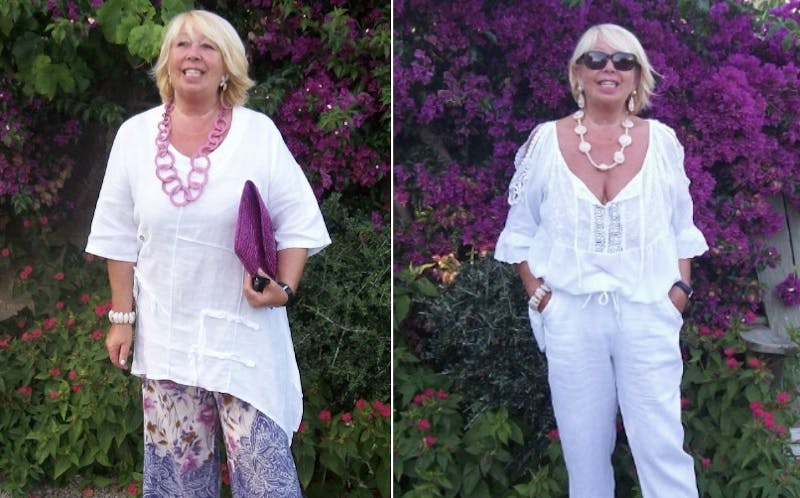 Jenny wrote to us to share her fantastic success:
MY SUCCESS STORY/ JOURNEY THAT MAY GIVE OTHERS HOPE.

June 21, 2016
My journey started on a hot sunny morning here on the island of Mallorca.

After doing my daily 4 km (2.5 miles) brisk walk with a friend around the beautiful bay of Pollensa, feeling fit and healthy, my friend popped into the local drug store for her blood-sugar test. She asked when I had my last test, to which I replied "never". My friend persuaded me to take a blood test, and this is where I had an out of the blue shock surprise, high blood sugar at 191 mg/dl. Random, "albeit high normal" was below the 200 mg/dl cut off. I was informed it was high, told to be careful and inform my doctor of the result. What they did not know, I had for two days happily enjoyed five or six tropical fruits in a blender assuming this was healthy; mango, pawpaw, pineapple, kiwi and banana which I have since found out is a "cocktail of unhealthy sugars", obviously, contributed to the shock surprise high-sugar test result.

I was surprised, as I was always active surfing, ate healthy organic where possible, not a fan of chocolate or cakes, sweets or added sugars, the odd ice cream, natural frozen yogurt, and no symptoms to indicate my sugars were high with or without a test, how could this happen to me?

Based on this, I immediately cut down on carbs, exercised more, cut back on fruits, especially tropical.

August, 2016
Curious as to how my new eating habits with less fruit may have changed my sugar status, I went to the local diabetes Association, who was offering free testing. It was 189 mg/dl. Still "diabetic range" – see doctor, even though below cut off 200 mg/dl.

September, 2016
Saw a doctor. Another blood test – result 180 mg/dl, prescribed Metformin, HbA1c test. I declined Metformin on the basis that I was not over the threshold, confused as to why medications were prescribed, and continued instead with a changed diet and lifestyle.

November, 2016
Hba1c test result: 8.1%, informed that this is within diabetic range. Turned out there may be a possible lab error. Review to take place.

Lifestyle change
Dramatically changed my diet from December 2016 to April 2014, cutting out potatoes, bread pasta, rice completely, and had no fruit.

April, 2017
Second HA1c test result: 6.6%, lowered from 8.1%. I asked if 6.6% was prediabetic, raised awareness of my dramatic change of diet lifestyle, had this contributed to reduction? The doctor said that the dietary change did not make difference, results were a result of the medication. I informed the doctor that I had decided not to take Metformin, instead challenged conventional wisdom preferring a change in lifestyle eating habits. The doctor was not impressed – don't drink coffee, take Metformin.

I suddenly fell victim to the fact that it depends on where in the world you are at the time of diagnosing. In New Zealand, 6.6% falls in the pre-diabetic and not the diabetic range. Basically, one day here in Spain labelled diabetic, jump on a plane back to New Zealand and I became pre-diabetic. I was left in limbo, was I pre-diabetic and/or diabetic – the two countries have different diagnosing criterias.

May, 2017 WEBSITE DIET DOCTOR, KETO LOW CARB
I continued to search for valuable knowledge for my situation, and I thankfully came across the wonderful website Diet Doctor.

Since that moment, I have only gone forward. Yes, I am still a victim of two countries' diagnosing systems, yet have followed a keto eating plan, following amazing exciting recipes noted on the website, exploring new foods and ways to eat that I had never tried before and has proved worthwhile to date, along with an exercise routine that included four simple lifestyle changes. The change and results speak for themselves. Here's what I did:

Followed recommendations on the Diet Doctor website, keto eating plan. Continued to skip potatoes, pasta, rice and bread.
Exercising on a treadmill 10 minutes after breakfast, lunch and dinner daily, along with other walks depending weather /commitments, and surfing.
Intermittent fasting, following Dr. Jason Fung's recommendations. Two days no breakfast i.e. an 18-hr fast. One day no breakfast or lunch, i.e. a 24-hr fast. No snacking between meals.
No medications.

May 2, 2018 RESULTS SPEAK

HbA1c fasting state: 5.8%, 5.3%, and 5% – all non-diabetic range. Reversed from 8.1% to 5% – no medications.
Fasting blood sugar: 90 mg/dl – normal range
Postprandial 2 hrs: 89 mg/dl – normal range
Random at any time after breakfast: 84 mg/dl – normal range
Weight loss: 50 pounds (23 kilos)
Waist-circumference 9 inches smaller (23 cm)

Thankfully, my HbA1c results have proved to be in the normal, non-diabetic range, both in Mallorca and New Zealand.

Although exciting results, my journey is not ending, in fact just restarting with more determination due to my good results. There is no relaxing of my lifestyle change, in fact, I am more motivated now than ever. If asked if I would go back to old eating ways, NO is the answer. Keto low carb is a style of new eating habits and ways that I shall continue for the rest of my life. Not only do I love it, but it has changed my life and body. Thank you, keto low carb.

Ultimately, hopefully my journey within will indicate, together with will power, motivation, determination, that reversing high sugar levels and taking control is possible with knowledge and tools. My results above are living proof and prime examples, perhaps an incentive to others out there to follow and try.

Finally, after reading an amazing book, I recommend that all of you out there with type 2 diabetes or insulin issues get a copy of Dr. Jason Fung's new book The Diabetes Code. It talks about how to prevent and reverse type 2 diabetes naturally, a wonderful book, understandable for all who can read, above all else gives you hope.

Every doctor on this planet should have a copy of this book on their book shelves.

Last but not least, thank you, Diet Doctor website for helpful, motivating information provided.

Jenny
Comment
Thank you for sharing your inspiring story, Jenny!
Get started
Do you want to try what Jenny has done? Sign up for our free 2-week keto low-carb challenge!
DD+ MEMBERSHIP
Most popular success stories
All success stories
More
How to reverse type 2 diabetes
Keto
Type 2 diabetes
Share your story
Do you have a success story you want to share? Send your information, plus before and after photos, to success@dietdoctor.com. It would also be greatly appreciated if you shared what you eat in a typical day, whether you fast etc. More information:
Share your story!