Sugar addiction meets keto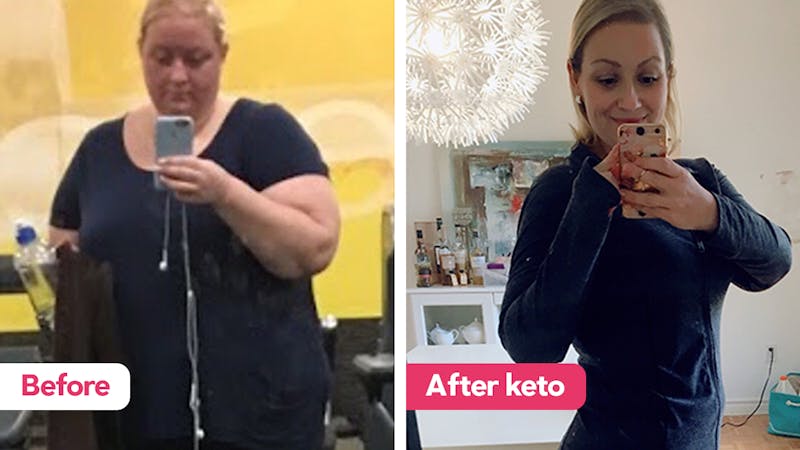 Sarah had always been battling her weight without much success. After undergoing fertility treatments, her reproductive endocrinologist told her that going keto might be helpful. So, she did and lost some weight. Unfortunately, she gained it all back and then some. On the verge of getting bariatric surgery, she tried keto one more time. Read Sarah's story to find out what happened:
Hi, my name is Sarah,

I'm a 39-year-old from Toronto, Ontario, Canada and keto has helped me shed 170 lbs (77 kg) over the last two years.

My weight has been a lifelong struggle. I was a chubby kid who was 250 lbs (113 kg) by my late teens. I feel like I have been on a diet my whole life. I attended my first weight-loss meeting at 13 years of age.

I was first introduced to the ketogenic diet and the Diet Doctor website by a reproductive endocrinologist. I was undergoing infertility treatments and with the help of keto, I shed 60 lbs (27 kg). Sadly, our infertility journey came to an abrupt unsuccessful end. In an emotional spiral, I gained it all back and more.

Two years ago this January, feeling trapped in an unhappy marriage, I was depressed and totally desperate. When I stepped on the scale I was shocked to see that I was at an all-time high of 344 lbs (156 kg). I knew something had to change. I went to my doctor for a complete physical and asked to be referred for bariatric surgery. With borderline high blood pressure and a multitude of aches and pains, I knew my lifestyle was finally catching up with me. I could feel my body breaking down. Everyday tasks were becoming difficult.

I decided to recommit to keto. The wait time for surgery can be one-two years here in Ontario. My plan was to take 20-30 lbs (9-13 kg) off and coast until surgery could "fix me." I realize now how flawed that thinking was. I jumped with both feet and took it one day at a time, then a week at a time, before I knew it a year had passed and I was down 100 lbs (45 kg).

On my one-year ketoversary, I nervously called the hospital and canceled my appointment with the surgeon. I asked to be removed from the list. I had to believe in myself enough to believe I could continue to do this on my own and I can proudly say that I was down 70 lbs (32 kg) a year ago.

Life today is so much different than I could have ever imagined. I feel like a whole new woman. My body and mind are in great shape. I'm at peace with my past and I feel like I'm who I was meant to be all along.

This lifestyle just works for me. I love that it doesn't feel like a diet at all. I wish I had known so many years ago that I am a sugar addict. Removing it from my diet has given me the balance I always craved but couldn't find. I know one thing, this girl is keto for life.
Sarah's Instagram: @keto.cute_eh
Comment
Congratulations, Sarah! That's a journey to be very proud of indeed.
Get started
Do you want to try what Sarah has done? Sign up for our free
2-week keto low-carb challenge!
Most popular success stories
All success stories
Share your story
Do you have a success story you want to share on this blog? Send it (photos appreciated) to success@dietdoctor.com, and please let me know if it's OK to publish your photo and name or if you'd rather remain anonymous. It would also be greatly appreciated if you shared what you eat on a typical day, whether you fast etc. More information:
Share your story!
More
Keto
Lose weight
Type 2 diabetes