"I lost 100 pounds on low carb from 2009 to early 2010"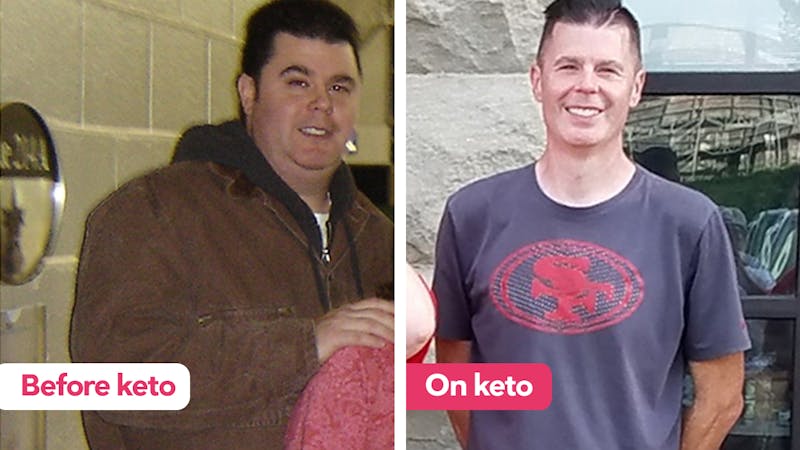 Can you maintain weight loss on a
low-carb diet
in the long term? Yes! Brian Wiley has done so for more than a decade.
We first spoke to Brian, 46, of Dayton, Ohio, in 2017. At that time, he had lost 100 pounds (45 kilos) eating low carb and had kept it off for seven years. "I lost 100 pounds (45 kilos) on low carb from January 1, 2009 to early 2010," Brian tells Diet Doctor.
Now, nearly three years after our first interview with Brian, we decided to follow up with him and see where he's at on his low-carb journey.
Keep reading to learn about Brian's inspiring story. This interview has been lightly edited for length and clarity.
Has your lifestyle changed since you last talked to Diet Doctor?
Brian: My lifestyle is pretty much still the same since last time we talked. I stay at 20 to 50 gram carbs per day, prioritize protein, and consume enough fat for satiety from dairy, nuts, and beef. I fast every day for 16 to 18 hours.
How would you describe your experience with keto so far?
Brian: I have been eating low carb for over 11 years now and my experience with keto has, so far, been very positive. I continue to maintain my 100-pound (45-kilo) weight loss and I eat until satisfied. I haven't had to make any major changes to my diet over the past decade.
To date, it has been the only thing that has worked for me. I am thankful that I found this way of life when I did.
What has been the most rewarding part of low carb?
Brian: The most rewarding part of low carb has been the health benefits. I was obese and on the verge of being prescribed medications for high blood sugar, high blood pressure, and high cholesterol levels at only age 35. All of that was very scary, but reversed within a year with low carb, and the 100-pound (45-kilo) weight loss was a bonus.
I wanted to spread the word of low carb and I am now doing that. I spent last year studying to be an ACE-certified personal trainer and health coach, and now have a dream job helping others working for Dr. Tro Kalayjian and his amazing staff in his medical weight loss clinic.
Would you recommend others to eat low carb?
Brian: I would recommend others give low carb a try. For the last 11 years, I have seen so many people reverse obesity, diabetes, heart disease, seizures, and a host of other medical conditions just by going low carb. There's nothing more rewarding than seeing someone who has struggled all their life finally take back control of it.
What would be your advice for those just starting out with low carb?
Brian: My best advice for someone just starting eating low carb is to pick a plan and give it a chance, stick to it, and don't jump from one person's advice to the next.
Also, be patient. Not everyone loses weight at the same rate, and the scale should be secondary to how you feel and how your clothes are fitting.
You should also focus on real food to satiety, and not worry about intermittent fasting right from the beginning. Once you know what foods fill you up and which don't, it's easier to fast and adjust.
What is the most difficult part of eating low carb for you?
Brian: The most difficult part of eating low carb for me is probably during social situations. My family and friends love to go to restaurants on occasion, some of which have very limited options.
Luckily, my years of navigating and researching what to eat at just about every place imaginable, and my experience dealing with peer pressure and attempts to sabotage my hard work has prepared me to survive these situations.
Sometimes, I have to order a little different and ask for double or triple meat, or ask for things be put on the side, substituted, or sauces and spices to be left off my food. But most places are very accommodating and it's worth it.
With regards to foods I miss, I would say it's only pasta, noodles, and flaky pastries. I have learned to pretty much make a low-carb version of anything, but those are the foods I've never come close to replicating.
Learn more about Brian
You can follow Brian on Instagram @living_lchf and on Twitter @BrianWileyCHC.
Comment
Congrats on your sustained success, Brian! You are inspiring, not just from your personal journey, but also that you now can help others as a low-carb health coach. Thanks for helping spread the message of the benefits of low-carb living!
Best,
/ Dr. Bret Scher
Most popular success stories
All success stories
Share your story
Do you have a success story you want to share on this blog? Send it (photos appreciated) to success@dietdoctor.com, and please let us know if it's OK to publish your photo and name or if you'd rather remain anonymous. It would also be greatly appreciated if you shared what you eat in a typical day, whether you fast etc. More information:
Share your story!
More
Low carb
Weight loss