'I feel like a new person!'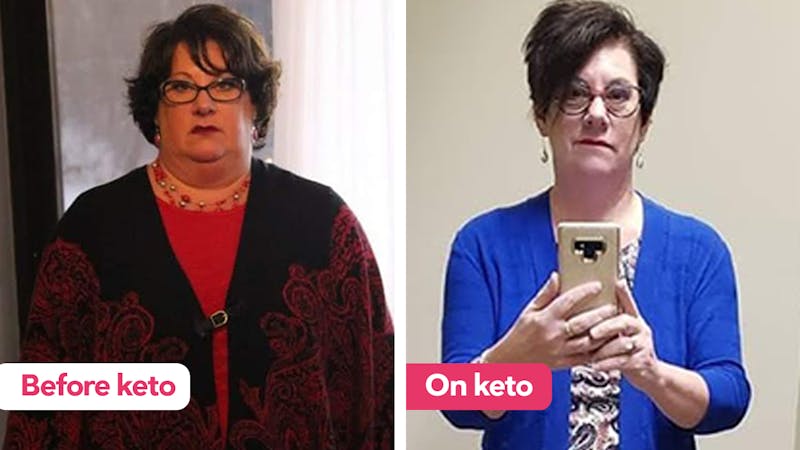 When Ruth, 59, carried her first child, she went from trim to obese in a short span of time. And even after giving birth, she just couldn't get back to her pre-pregnancy weight. What's more, her health also worsened, and she ended up with a long list of health concerns over the years.
To lose weight, Ruth "tried all the diets," but nothing worked — until she finally went on the keto diet in 2017.
Here, Ruth shares her full story, which has been lightly edited for length and clarity.
Ruth's struggle prior to finding keto
In 2017, I was met with a serious crossroads decision. Either I had to get serious about taking on my obesity and diabetes head-on — or face the very real possibility of losing my beloved husband and marriage.
When my husband and I first married in 1984, I weighed around 116 pounds (53 kilos). At 5'2″ (157 cm), I was very trim.
Three years later, we had our first child, and I was diagnosed with gestational diabetes, a type of diabetes that's diagnosed during pregnancy.
I often told my husband that my metabolism had changed during my pregnancy. I was unable to lose weight no matter how or what I tried. And I tried all the diets. The Cabbage Soup Diet, Weight Watchers, TOPS (the "take off pounds sensibly" diet), and I even did a 500-calories-a-day diet. Nothing worked.
Fast forward through 35 years of marriage — and roughly 116 pounds (53 kilos) gained — plus, type 2 diabetes, high blood pressure, super high cholesterol, IBS, recurrent diverticulitis (I had two colon resections, a temporary colostomy, and was facing a third colon resection).
On top of my many health issues, I realized my husband had over time become emotionally removed from our marriage. My world fell apart. My husband is very fit and health-conscious. He foresaw his future as having to take care of my failing health, or of me dying an early death, like my mother, because I wasn't taking care of my body.
A new beginning — thanks to keto
In order to save my health (and my marriage), I decided to finally go keto on June 26, 2017. With my diabetes, I knew this was how I should be eating anyway. At that time, I was on three diabetic medications, which were not working anymore, and my doctor wanted to add insulin.
I was also on cholesterol meds, blood pressure meds, and on and off very strong antibiotics for my diverticulitis infections, as well as, daily ibuprofen as I was in so much pain and my body was so inflamed. Needless to say, it was a lot to handle physically and emotionally.
So at my heaviest weight of 232 pounds (or 105 kilos), I started my keto journey.
I quickly found out that my body thrived on this way of eating. Within the first three months, I dropped 35 pounds (or 16 kilos), and after adding in intermittent fasting, I dropped 90 pounds (or 41 kilos) by my 18-month mark.
Drum roll, please … I was able to eliminate ALL of my meds! No more high blood sugars, blood pressure, and my lab work is perfect.
The added bonus that I did NOT expect, is that it has completely healed my IBS and recurrent diverticulitis, which is an inflammatory disease of the colon. I have not had a flare-up in over three years.
I am currently at 150 pounds (or 68 kilos), and still want to lose another 20 pounds (or 9 kilos). However, my health was the main reason for my starting keto — and I've never felt better.
I will continue following keto for life. Oh, and I'm happy to report that our marriage is 100% better than back when I was an obese, unhappy, and unhealthy person. In fact, we now do lots of physical activities together that I couldn't possibly have done before.
I wish I had known way back, 35 years ago, after my first pregnancy, that there was a "thing" called insulin resistance. It's the reason so many other diets failed me. And it's also why keto worked.
I feel like a new person!
Comment
Congratulations, Ruth! Your inspiring journey is a perfect example of how this is about much more than just weight loss. For you, it started with food and ended up being a whole life transformation. More people need to hear your story to see what is possible. Thanks for sharing, and keep up the great work!
Best,
/ Dr. Bret Scher
Most popular success stories
All success stories
Share your story
Do you have a success story you want to share on this blog? Send it (photos appreciated) to success@dietdoctor.com, and please let us know if it's OK to publish your photo and name or if you'd rather remain anonymous. It would also be greatly appreciated if you shared what you eat in a typical day, whether you fast etc. More information:
Share your story!
More
How to reverse your type 2 diabetes
Type 2 diabetes
Weight loss