How Sue stopped her lifelong battle with food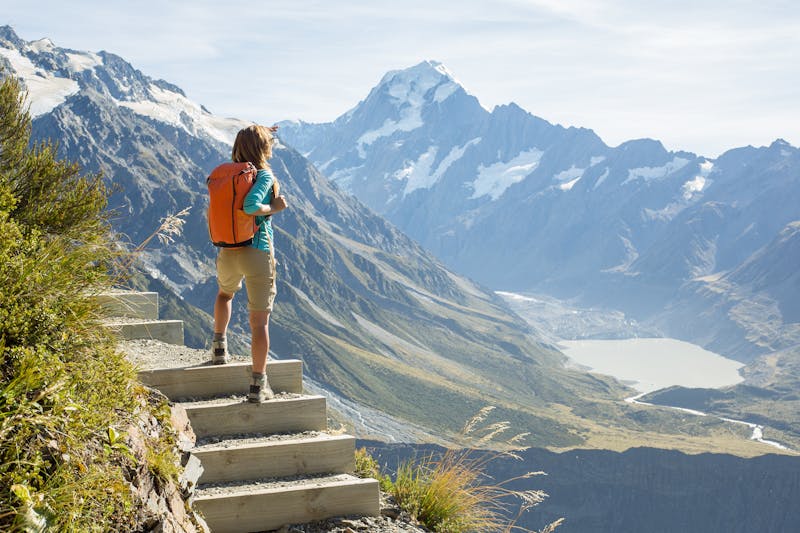 Not Sue in the picture: "I've never felt comfortable with having my picture taken. I'm a selfie free zone."
Sue had been battling her weight since her early teens. She had tried every diet in the book without success when her doctor recommended her to try a keto diet. That later led her to the Diet Doctor website. This is what happened:
Hi everyone. I'd like to share my story.

I'm a 60-year-old woman lucky enough to live in the beautiful Bay of Plenty in New Zealand. Great grass-fed animals here! Glenn and I have been married for over 30 years. Unfortunately, Glenn was diagnosed with diabetes in his early 40s. He takes a lot of insulin every day.

Since I was in my early teens, I was obsessed with becoming more attractive. AKA skinny. As my natural physical build is basic hearty English peasant stock, that realistically was never going to happen. Yet every morning, the first thing I would think about was how ugly and fat I was. It affected my social relationships and I become introverted and withdrawn. It all sounds rather narcissistic but I was a sucker for those fashion magazines. Plus I had acne, braces and glasses in my teens. Oh, joy!

Over time as I tried (like us all) every diet plan known to (wo)man, my metabolism slowed. I've never really been much of a drinker but love eating. My go-to for emotional happiness was Planet Carb. The big planet.

I wasn't fat as a kid – my mum was very good with knowing what and how much to eat on a tight budget. Dad had a monster vegetable and fruit garden so we were well fed.

My weight really started to come on after I left home in the late 70's and discovered boys and takeaways. I had periods of lighter weight during my forties when I was doing significant hiking in NZ.

Fast forward to December 2017. I'd had six months as a vegetarian and I felt like death warmed up. I was pale, depressed and the heaviest I'd ever been in my life. Arthritis in my feet was stopping me from doing anything interesting and I found out I was pre-diabetic with ghastly blood results. I was horrified.

Then my luck changed. I visited my doctor who told me about What the Fat – a New Zealand version of what Diet Doctor does. Magic. I bought their book and was on my way. And I found your amazing website.

I've lost about 13 kg (29 lbs) and I'd like to lose another 7 kg (15 lbs). I'm doing this moderate low carb and I don't track anything apart from sticking to the basics I've learned from you. I've had a wonderful loss of various annoying symptoms – reduced arthritic pain, reflux, exhaustion etc and a resurgence of general happiness. I can also hike now for a few hours.

In June this year, I got shingles. Not a pleasant experience but I'm convinced my improved health and immunity from LCHF helped me fight it off quite quickly. I was able to return the pain drugs six weeks after diagnosis and feel great. Wow.

Obviously, I want Glenn to convert to LCHF too, but it's a slow process. I'm leading him into it (through good dinners, small changes like butter and olive oil etc.) and leaving The Obesity Code lying around. He knows I feel better so he's interested. Plus my sister and a good friend are intrigued by it too. I try hard not to oversell this new eating plan – too easy to sound like a cult member I'm so keen (did someone say vegan?). But it's so damn good!!! Life is wonderful now. I never worry about food – just 'yum what shall we eat tonight?'.

My biggest starting challenge was in my head. It took me a little while to accept the new look eating (low carb and more fat) – I had been brainwashed by all the nonsense I'd picked up over the last 40+ years. Of course, I wish I'd known all this earlier but I'm just so grateful I know now. I wish I'd known how relatively easy it would be, and how those in the diet industry really do not give two hoots about us.

Apologies, but I'm not a paying member of Diet Doctor. I used the free challenge and one paid month to learn as much as I could, but we're on a fixed income. I do really appreciate the generosity of those wonderful people who do pay and allow me to read your website – their and your support is so very much appreciated.

Thank you to everyone in the Diet Doctor team for all your hard work – it is truly amazing.

Kind regards,
Sue
Comment
Thank you for sharing your very inspiring story Sue! And a big congratulations on your success!
Get started
Do you want to try what Sue has done? Sign up for our free 2-week keto low-carb challenge!
DD+ MEMBERSHIP
Most popular success stories
All success stories
More
Keto
Lose weight
Type 2 diabetes
Share your story
Do you have a success story you want to share? Send your information, plus before and after photos, to success@dietdoctor.com. It would also be greatly appreciated if you shared what you eat in a typical day, whether you fast etc. More information:
Share your story!