How Brian lost 140 lbs in 12 months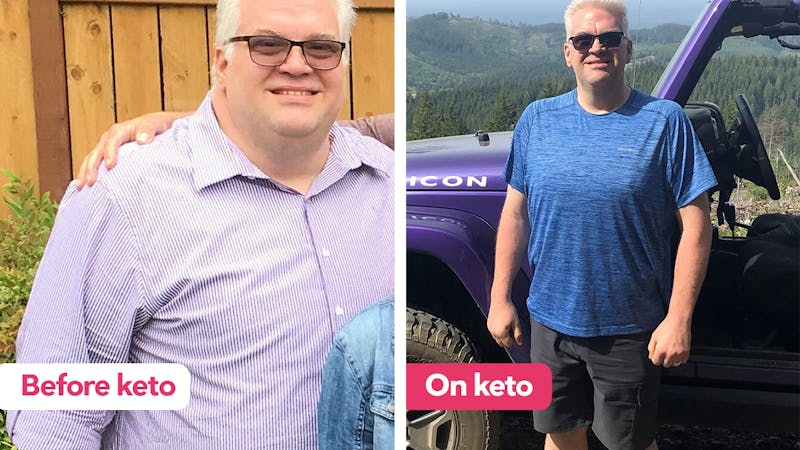 When Brian couldn't even fit into his SUV anymore he knew he had to lose weight. He was feeling tired all the time, was on blood pressure meds, his body ached, and he felt miserable. He started googling for weight loss and found Diet Doctor and immediately gave it a try. This is his story:
Starting the month of May 2018 at the age of 45 I began my online research on weight loss sitting on my couch watching TV in Olympia, Washington and came across dietdoctor.com. What led me to begin my research was the fact that I could barely fit into my SUV because even with the seat all the way back, my stomach was touching the steering wheel.

I was also tired all the time needing a nap every evening when I arrived home from work, I simply was not participating in life. I've been a sales engineer for 20+ years and have eaten just about every restaurant prepared food available in the US, there really wasn't anything that excited me about food anymore because I had already eaten it.

My wife and I didn't even want to go out to a restaurant anymore because we simply felt miserable eating and gaining more and more weight. I probably drank four to five full sugar sodas a day, along with a big breakfast before work, all you can eat buffets for lunch, a huge dinner of multiple hamburgers or a large pizza and of course some sort of dessert. Throughout the day, I would snack on candies at work or some sort of protein bar (aka candy bar).

I couldn't even walk our recently rescued American Staffordshire Terrier any further down our flat neighborhood street than about a half mile before I became too exhausted. I was on three different blood pressure medications, consuming Ibuprofen on a daily basis for aches and pains, had gout in both feet, skin tags showing up everywhere, was recently diagnosed with plantar fasciitis, I was miserable.

Over the last 25 years, I have tried every weight-loss plan imaginable from low fat, high carb, portion control, you name it. In 2006, I actually lost 100 pounds (45 kilos) on the very caloric restricted pre-packaged food Jenny Craig diet program that was unsustainable because the day I stopped eating their food I started gaining weight. Over the next 12 years, I put on 160 pounds (73 kilos) until I topped out at 360 pounds (163 kilos).

Beginning of the second week of May 2018 after finding Diet Doctor, I went cold turkey in regards to eating carbohydrates, no gradual transition period at all. I immediately was eating no more than 20 g of carbs a day. I was really diligent in tracking all food that went into my mouth and what my daily macros looked like shooting for a 75% fat, 20% protein, 5% carbs for the first month or so.

Towards the middle of June, I started intermittent fasting, eliminating breakfast and not eating until the afternoon. I saw an immediate jump in weight loss and over the next couple weeks and I was able to adjust my eating to one meal a day.

The only thing I track today is my weight loss on a weekly basis, currently today, May 14, 2019, I weigh 221 pounds (100 kilos) down 139 pounds (63 kilos) in 12 months. I intermittent fast every day at least for 16 hours, if I'm hungry I eat, if I'm not I may fast for as long as 40+ hours.

I rarely eat lunch except for the occasional business lunch salad with fresh salmon or steak. I haven't set a final weight goal yet because I figure I will decide when I get closer, probably another 25-30 pounds (11-14 kilos).

The US Government says I'm obese over 185 pounds (84 kilos) for my 5'9" (175 cm) frame but I no longer believe much of anything they say anymore regarding nutritional health. I would like to comfortably fit into an XL shirt and possibly a 32-inch waist, that may change, but I do have my grandfather's barrel chest so we will see.

I have gone from 4XLT, sometimes a 5XL shirt and a 44-inch pant that was tightly tucked under my overhanging belly, no belt needed because you couldn't see it anyway! I now wear loose-fitting 2XL shirts 36-inch pants (which are almost too big) that I need a belt for because they aren't worn just under my belly but on my actual waist!

I no longer take any medications, can easily walk our dog 3+ miles every couple days over hilly terrain in less than an hour without even breaking a sweat. My blood pressure was 190+ over 120+ at times with medication before I started eating a healthy keto diet. Today I'm in the low 130s over low 80s without a bunch of chemicals attempting to regulate it.

I don't currently exercise at a gym, but my wife and I have taken up hiking. The longest hike so far has been an 8-mile hike with 600+ feet of elevation change. Surprisingly, we did it with ease last fall after breaking the 100 pounds (45 kilos) weight loss mark. We are looking forward to longer overnight hikes this summer. Hoping someday to hike the El Camino de Santiago and the Pacific Crest Trail.

We took a vacation to Mexico this spring and I was able to snorkel some reefs for about three hours, I was amazed at how much energy I still had when the boat captain called us back to the ship to leave for the marina. I feel I could have easily gone another three hours. When people ask me how I feel today I always answer with the question "How would you feel and how much energy and strength would you have if you were no longer carrying around an extra 130+ pounds (60+ kilos) every day?"

I still participate in life by not restricting what I eat at celebratory social events with our family and friends. What really surprised me is when I took a couple of days off during Thanksgiving and Christmas time last year. I ate the normal traditional US foods that are offered at those times with the rest of our family. You know, pumpkin pie, sweet potatoes covered in melted marshmallows, homemade fudge, and cookies, honey ham, etc. I was knocked out of ketosis and gained a couple of pounds of water weight but immediately went back to eating a keto diet and intermittent fasting lifestyle starting Monday morning. I lost all the water weight in a couple of days and wasn't craving any of the sugary food that was still around the house.

During our Mexico vacation in April for a week this year, I ate regular street tacos and fajitas with corn tortillas, some black beans, and rice, as well as many other freshly made Mexican meals with carbs and quite a few Margaritas. I gained 3 pounds (1.5 kilos) over the course of that week not eating keto. When I arrived back home, I fasted for 40 hours which kicked me right back into ketosis and have since lost eleven net new pounds (5 kilos).

I know now that this is not just a temporary diet but a sustainable, healthy way of eating for the rest of my life.

Brian
Comment
Great work, Brian! Thank you for sharing your story. I am most impressed by how you have regained the joy in your life. Even your dog is benefitting from your new lifestyle with longer walks! Congratulations to you for being proactive and finding the solution that works for you.
Best of luck on your continued journey!
Best,
/ Bret Scher, MD
Get started
Do you want to try what Brian has done? Sign up for our free 2-week keto low-carb challenge!

DD+ MEMBERSHIP
Most popular success stories
All success stories
Share your story
Do you have a success story you want to share on this blog? Send your information, plus before and after photos, to success@dietdoctor.com. It would also be greatly appreciated if you shared what you eat in a typical day, whether you fast etc. More information:
Share your story!
More
Keto
Lose weight
Type 2 diabetes