'The weight loss has given me a new life'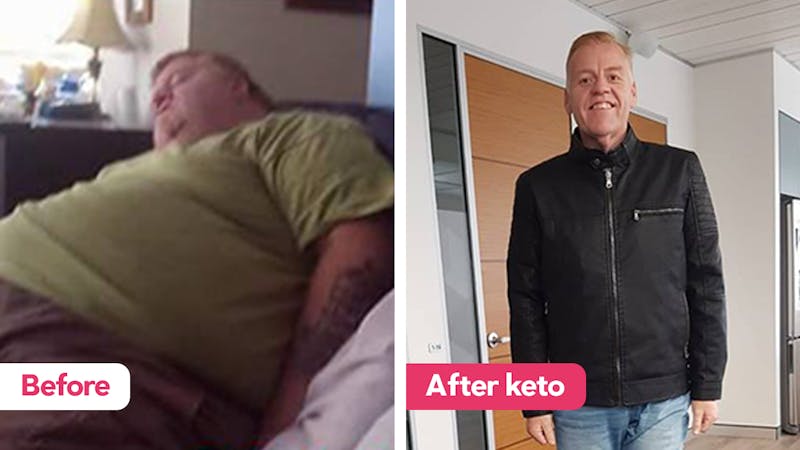 Lee struggled with his weight throughout his whole life, even though he followed the conventional high-carb, low-fat dieting advice.
At his heaviest, Lee weighed 458 pounds (207 kilos). That's when he finally came across the low-carb diet back in February 2017. Since then, he has lost an impressive 247 pounds (112 kilos).
Congratulations, Lee!
Lee's low-carb story
My name is Lee. I'm 44 and throughout my life — from my younger years through adulthood — it has come to my attention that there's always been an elephant in the room … ME!

I've struggled with my weight all my life, and when I say struggled … I mean struggled.

It wasn't something that just happened or that I let happen (well, for the most part at least). It was something I never really understood, but just sadly accepted. I was born big, and have always been BIG.

After turning 35, I was advised by doctors I could never lose the weight. I worked with a dietitian, who put me on a low-fat, high-grain diet, which caused my weight to go from 423 pounds (192 kilos) to 456 pounds (207 kilos) in under six months.

After years of failed diets, including starvation, calorie counting, over the counter weight loss products, three and a half years of gym workouts with zero success, I turned to the LCHF lifestyle in February of 2017. My starting weight was 458 pounds (or 207.6 kilos).

One year and two weeks later I hit my goal weight of 209 pounds (or 95 kilos), meaning I had lost 247 pounds (112 kilos) in the process. It was an incredible year. I learned to love myself, which is something I have never been able to do.

The weight loss has given me a new life. I am now doing things I had always wanted to do. I have lots of energy to play with my children and I get to wear nice clothing — something that I've always dreamed of doing.

This year, I will compete in two marathons and am doing cross-fit three times a week, since I now want to elevate my health even further and gain some real fitness stamina.

I no longer have an unhealthy relationship with food or obsess over my weight. I no longer weigh myself. I have reverted to using my clothes to guide me.

Be well,
Lee
More with Lee
Lee's blog: It started with a piece of birthday cake
Comment
What a fantastic journey Lee, and a big congratulations to your success! I'm certain you'll be an inspiration to many people out there :-)
Get started
Do you want to try what Lee has done? Sign up for our free 2-week keto low-carb challenge!
DD+ MEMBERSHIP
Most popular success stories
All success stories
More
Low-carb basics
Weight loss
Share your story
Do you have a success story you want to share? Send your information, plus before and after photos, to success@dietdoctor.com. It would also be greatly appreciated if you shared what you eat in a typical day, whether you fast etc. More information:
Share your story!