The low-carb diet: The savior after regaining weight after bariatric surgery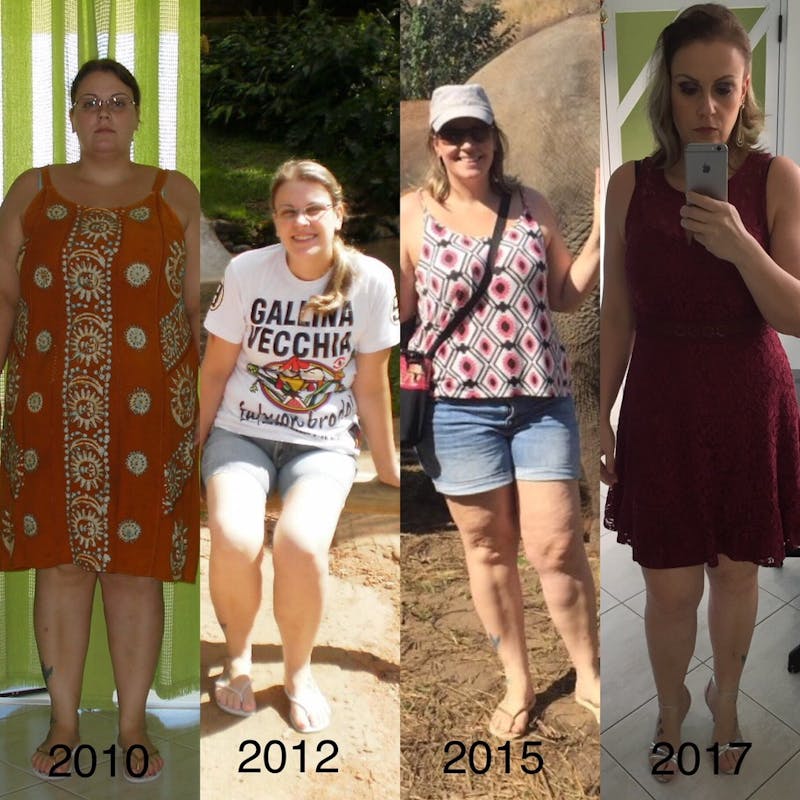 Daiane had been struggling for years with her obesity and even went through bariatric surgery. She started to regain weight after the surgery so she began to look elsewhere for answers. This is what she found, and how her life changed:
Hello

My name is Daiane and I am 36 years old. I am a nurse and work in public health in the South of Brazil in the state of Santa Catarina. I have to thank you for your site which is helping many people to lose weight in a healthy and effortlessly way.

In my college education, I learned about calorie-restricted diets and so I spent my life fighting the scales. I would always lose weight and then fatten back up again. I could never sustain a diet or any weight loss. I was obese, I weighed 130 kg (287 lbs) for my 170 cm (5'5″). After not succeeding with diets, I underwent bariatric surgery in 2010. After the surgery, I lost a lot of weight and I weighed 70 kg (154 lbs) in 2012. Three years after surgery, I regained weight again. Surgery did not teach me how to eat properly, but to restrict quantities. When my body, tolerated larger amounts of food again I started to regain weight and ended up weighing 94 kg (207 lbs) in 2015. That's when I decided to change! I started to study insulin, carbohydrates and started to put all the learnings into practice. Without any starvation and only by eating in a tasty way for eight months I reached 65 kg (143 lbs) and I have maintained this weight ever since. The site helped me a lot because, with the visual guide, everything gets easier! I have been following this diet for two years now and I want this for life! If I could, I would shout out to the whole world how easy and simple it is to lose weight and to keep the weight healthy, without any sacrifices, just by eating delicious and satisfying foods. Unfortunately, as a nurse, I see that many of my colleagues in the health area are not up to date and continue to guide patients in the wrong way. This is very sad and revolting, however, I do my part. Whenever I can mentor people and give my life as an example, I do.

Congratulations on your site and thanks again for helping people!
Daiane
Comment
An amazing success story! Congratulations on your success, Daiane and thanks for sharing!
Get started
Do you want to try what Daiane has done? Sign up for our free 2-week keto low-carb challenge!
DD+ MEMBERSHIP
Most popular success stories
All success stories
Share your story
Do you have a success story you want to share on this blog? Send your information, plus before and after photos, to success@dietdoctor.com. It would also be greatly appreciated if you shared what you eat in a typical day, whether you fast etc. More information:
Share your story!
More
How to reverse type 2 diabetes
Keto
Lose weight
Type 2 diabetes