'Life is good again'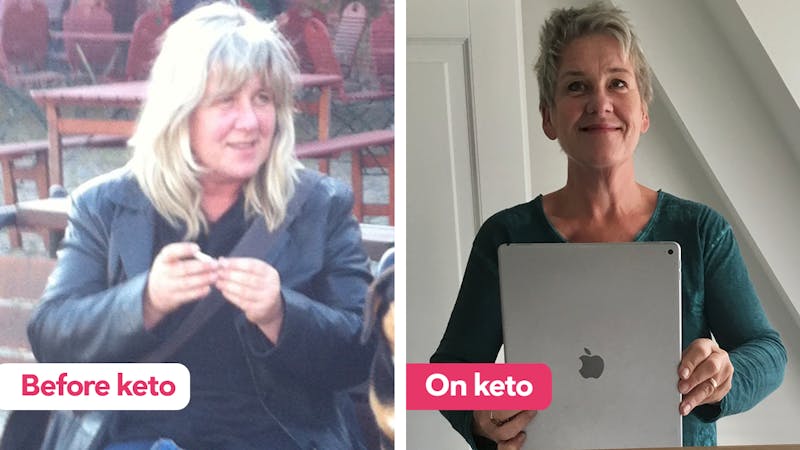 Terry struggled with her weight her whole life. But it wasn't until she was diagnosed with type 2 diabetes two years ago that she realized she needed to do things very differently.
She immediately cut out sugar, pasta, potatoes, and rice… and started researching! Very soon she stumbled upon Dr. Fung and Diet Doctor.
Since then she has kept her intake between 30-50 grams of carbs per day, and had some amazing success doing so. This is her story:
Terry's story
Dear Diet Doctor team,
As the success stories of other people motivated me so much I would like to share my own story – perhaps it motivates someone else. When I started reading on Diet Doctor I promised myself that "I will be a success story, too!" So, 12 month later – without any cheat and without falling off the wagon, this is my story for people who are a bit skeptical and hesitate to jump directly into keto like me.
On October 27th 2018 I was diagnosed with type 2 diabetes at a HbAc1 of 13.7. I left my GP with a piece of paper "Eat 100-140 g of carbs a day" in my hand and a lot of rage in my stomach about myself and about life. Seven years of caring for family members, who were seriously ill and cleaning their life up after they died, left no time for caring for myself. I didn't have a personal life during those years, I gained 30 kg (66 lbs) in 3 years at that time. Ok, I was struggling with my weight my whole life, but this amount in such a short time was the result of incredible emotional stress combined with a lot of emotional eating. It felt so unfair to have diabetes now! When I was 35 I saw the doctor writing down PCOS on her paper, but she didn't tell me. It was not common at this time – she put me on a low-fat 30 diet that led me directly to diabetes as it seems. But the rage gave me the energy to change something in my life.
I felt a light panic when I imagined to take insulin as a next step. I'm not good at mathematics – I will never succeed at calculating the right dose! I immediately stopped any kind of sugar, potatoes, pasta and rice. Then I started researching. Had heard years ago about the Glycemic index, but – to many numbers for me… Heard about LCHF with one ear, but only thought "Hey guys, I'm over 50, I'm not willing to try another fad diet." Here in Germany LCHF is still seen as a diet to lose a few pounds quickly before your summer holiday – but not as a way of life. And keto? No way!!! All this meat and fat! Finally after a few days I found Dr. Jason Fung's book The Diabetes Code. It was just released on the German market. Lucky me!
Never read a book like this one!!! It was so good to hear, what all this sugar, insulin, cortisol and adrenalin were doing to my body. The sentence "Don't snack!" I heard at first when I was 5 years old from my mother – but now at the age of 54 I understand why. Then I found Diet Doctor and read and watched as much as I could. Every. Single. Day. With my school English I didn't use for 30 years I was so glad about your transcripts of the videos. Google translator became a good friend of mine. After 14 days I
became a member of Diet Doctor
. All this knowledge from all over the world at one point! I learned so much and I wanted to say "THANK YOU!" by supporting this great work!
I was eating under 100 carbs the first two months, the next months under 50. Lost 14 kg (31 lbs) during this time. I tried a few recipes from Diet Doctor but they don't fit for me. Today I know I was not fat adapted at the beginning and cooked keto meals, it was awful – I thought I had to die with all this fat in my stomach. So I had to find my own way to get used to all this meat, cheese and fat stuff. Sometimes I was lying hungry in my bed (not enough fat) sometimes I fell asleep after the dinner (too much protein), if I find myself still walking through the kitchen after 6 AM there were to many carbs in the veggie part of the meal.
Before I had a carb intake of 650 g per day (thanks to fruit juice, pasta, bread, sweets and cookies). I wasn't a fast-food type, but the whole-grain type. 50 g carbs meant very low carb for me, because two pieces of my favorite bread already had 32 g. Bread was the biggest fight, I needed over three months to let it go. To learn about all this new food was hard work, I remember myself standing in a shop which sells only organic products and tears came up, because I didn't know what all the things are good for and how to manage cooking with them. Today I don't use all this exotic stuff, there is no need for erythritol or exotic flours. I decided to keep it simple and eat real food.
I was on the maximum dose of Metformin/Januvia at the beginning and I got heavy nausea when I tried to eat around 50 g of carbs. After three months when the HbAC1 was 7.1 my doctor allowed me to take half the dose and nausea went away. After 4.5 months I could get rid of all meds. My HbAC1 is now after 12 month at 5.7!!! Since then I stay between 30 and 50 carbs, but the carbs come from veggies and yoghurt. As a sugar addict I avoid all kinds of keto desserts and sweeteners, but I eat 95% chocolate and I think this has to leave my house again… To have the option to go strict keto under 20 g is like a safety belt for me, if the sugar rises in future for any reason (stress is still a reason). I count only carbs, no micros, no macros… I hate sports and movement only for the sake of movement, but I walk between 5-8 km (3-5 miles) with my dog every day and do gardening, painting, renovating a lot, and take the bike instead of the car, so there is useful exercise everyday.
The picture on the left side is at my highest 115 kg (253 lbs) in 2014. Now I am at 80 kg (177 lbs) and still on my journey. Weight loss is slow now, every 6 weeks 2 lbs (1 kg), but it is still a loss! And my goal is 78kg (172 lbs) – not so far away anymore.
I can't express how thankful I am for the work of Diet doctor and the Facebook group that helps me to stay motivated. And for my new life, 2014 I had given up thinking life could change for better and now life is good again! Thank you Dr. Eenfeldt, Dr. Fung and the whole Diet Doctor team!
Terry
Comment
Hi Terry. Thank you for sharing your inspirational journey! We love to hear how we have helped amazing people like you regain your health and your life. Keep up the great work and thank you for being such a vocal supporter of our work!
Best,
/ Dr. Bret Scher, MD
Most popular success stories
All success stories
Share your story
Do you have a success story you want to share on this blog? Send it (photos appreciated) to success@dietdoctor.com, and please let us know if it's OK to publish your photo and name or if you'd rather remain anonymous. It would also be greatly appreciated if you shared what you eat in a typical day, whether you fast etc. More information:
Share your story!
More
Low carb
Type 2 diabetes