'I've never felt or been better!'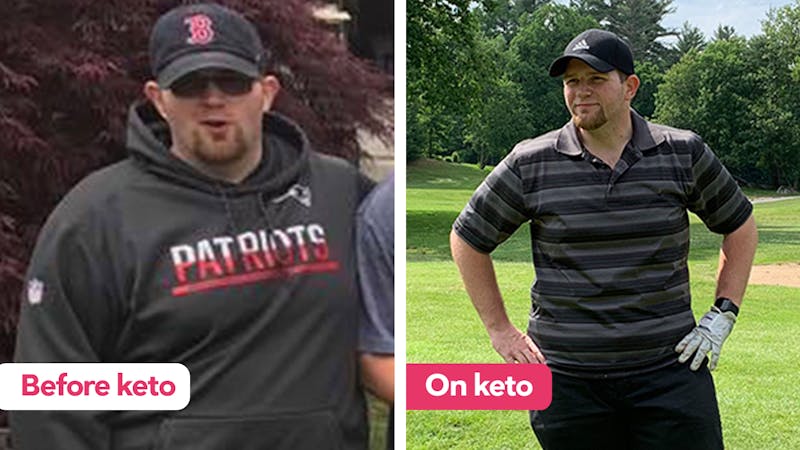 Since his youth, Chris had been large for his age. Throughout his life, he had lost weight multiple times before inevitably rebounding. Not that long ago, however, he found himself scouring keto success stories on Reddit. Even though they sparked his interest, he never thought that he could give up carbs.
At his wit's end in March, 2019, he decided to give it a try. This is what happened:
Chris' keto journey
Well, to start, my name is Chris, and I'm originally from a small town in Southern New Hampshire. I've always been a large individual: I was 180 pounds (82 kilos) in the fourth grade and 350 pounds (159 kilos) as a senior in high school. I had herniated disks in my back (L4 & L5) when I was 11 years old and had to wear a back brace for six months. I was always active in playing sports, and football has always been my favorite. As a kid, I was too heavy to play in pop warner [youth football], but I did play all four years of high school football.
I ended up having right knee surgery my senior year to repair meniscus damage from a dirty block I took early in the football season. The summer after my senior year, I lost about 70 pounds (32 kilos) working outside and cutting out soda; I was "a slim 280 pounds (127 kilos)". I was proud of myself. I was starting college and felt like a new man; I even found a girlfriend! My back began giving me a great deal of trouble to the point where I couldn't stand, sit, or lay down without shooting pains down my leg all the way into my ankle. I had a laminectomy for pinched sciatic in my back shortly after starting college at UMass Lowell, which ultimately made me drop out because of my recovery. This was the beginning of a recurring cycle in my life where I would lose a great deal of weight, get hurt or injured, and spiral into a great depression, and blow up like a balloon again. This happened in 2006, 2011, 2017, and each time I'd lost more than 70 pounds (32 kilos).
The lowest I was able to get to was 235 pounds (107 kilos) in 2011, where I was using PEDs [performance-enhancing drugs] and busting my butt at the gym six days a week for at least two hours each day, AND I would have two separate cardio sessions every day. I eventually got hurt and spent three months going to doctors for my back before seeing a great back specialist in Lowell who formerly worked on Michael J. Fox. He examined me, gave me some bad news for down the road (hips, knees, more back surgeries), but he wanted me to get an MRI on my knee, and I thought this guy was a crackpot. It turns out he wasn't, and my right knee was absolutely shredded. I dodged a major bullet during surgery and my recovery time went from a year to two months. Still, I had already slipped into a deep depression and started abusing alcohol and recreational drugs.
I didn't have the greatest childhood growing up, my parents were both extreme alcoholics, and I was basically raised in a bar. I was never given any steady routines, and my dinners were often a pack of Oreos and a two-liter bottle of Coca-Cola. I lost my mother when I was eight to cancer, and it not only ruined my life, but it destroyed my entire family. Family roles were blurred, and my sisters took on the heavy burden of raising a large and volatile young boy, and they were still kids themselves. Sadly, we all had to grow up far faster than we should have. I mention this piece because it may be the biggest key to unlocking my newly found healthy lifestyle, but it all started with KETO!
I had been lurking on
Reddit's keto sub
for about eight months, and seeing everybody's success really made me want to try it out, but I NEVER thought I could actually give up carbs. I would think about creamer in my coffee, pasta, bread, home fries, and of course, ALL the sugar. How could I possibly give it all up?
I had fallen into another deep depression and was on the verge of losing a job that I worked extremely hard to get. I literally couldn't leave my house and was paralyzed with so much anxiety. I hated myself, so very much, I cry just thinking about those days. On Mar. 7. 2019, I decided if I would be fat and lazy on the couch all day every day, I might as well TRY and not eat carbs. I was 300 pounds (136 kilos) at the start of my keto journey.
I kid you not, I lost close to 20 pounds (9 kilos) in about two weeks, with no exercise other than short walks with my dog to do his business. And then it happened, my head was clear, and I knew what I needed to do, something I had put off for a long time. I saw a mental health provider who led me to a psychiatrist, who quickly diagnosed me with bipolar disorder type 2 and post-traumatic stress disorder stemming from early childhood trauma and additional trauma that followed me throughout my adult life. I truly believe keto helped save my life and led me to some answers I desperately needed.
What did you personally do in your first ten days of keto?
I swapped the sugary delicious creamer in my coffee for coconut oil, which may not sound like much, but I drank a minimum of four cups a day. That's a ton of sugar that I literally started my day with. I stopped eating the bread, all the bread. I took out the milk and cereal that was a staple in my life. I struggle with the hungry horrors late at night, so I replaced the sweets with pepperoni and cheese. Eggs, bacon, breakfast sausage, deli meats, and bun-less bacon cheeseburgers became my life. After the ten days, salads and veggies got incorporated, and I finally gave up drinking.
Do you count and track macros strictly?
Absolutely not! I try to keep myself under 20 grams of carbs a day. I guess they call it lazy or dirty keto.
How has your life changed since going keto?
I've never felt or been better! My head is clear, and my energy levels are through the roof. My confidence and self-esteem are 100% better, and I can hardly recognize myself from just three months ago. My back, feet, and knees all feel better, and I can actually sleep throughout the night. Keto single-handedly pulled me out of one of the darkest places I've ever been in my life.
Have you ever encountered a plateau? If so, how did you get over it?
I actually hit my first plateau almost four months in after losing 48 pounds (22 kilos). I just started back at the gym, and I think it's mainly my body converting into muscles. I pay close attention to the scale, but I love the NSV (non-scale victories) so much more. It wasn't until putting the before and afters together I really saw how much my body is changing. I've heard many people talk about using IF (intermitting fasting, 18:6) as a way to break through plateaus.
What is your WHY or drive to keep on track and stay focused?
Honestly, seeing how much my father is struggling in his not-so-old age is a big motivating factor for me to live a healthier lifestyle. He's 72 years young and can't walk. He doesn't have a condition that hinders him; he just never took care of himself and has given up. I refuse to accept that kind of fate.
What is your favorite keto recipe?
Hmmm, I like easy, so a roast beef and cheese rollup is so wonderfully simple and delicious! I also love chicken parm with or without spaghetti squash and low-carb sauce.
What advice would you give someone who is just starting on keto?
First and foremost, please love yourselves; I can't stress this enough. Don't worry about ketosis and whether you're in it or out of it. Just take it slowly and watch your carb intake daily. If you fall off the wagon, get right back on the next day, none of us are perfect!
Chris
Comment
Congratulations, Chris, that's a powerful story! I hope your head will stay clear and your energy levels high so that you can reach your life goals and keep inspiring others.
Best,
/ Andreas Eenfeldt, MD
Get started
Do you want to try what Chris has done? Sign up for our free 2-week keto low-carb challenge!
DD+ MEMBERSHIP
Most popular success stories
All success stories
Share your story
Do you have a success story you want to share on this blog? Send it (photos appreciated) to success@dietdoctor.com, and please let me know if it's OK to publish your photo and name or if you'd rather remain anonymous. It would also be greatly appreciated if you shared what you eat on a typical day, whether you fast etc. More information:
Share your story!
More
Keto
Lose weight