"Having a control over food is wonderful!"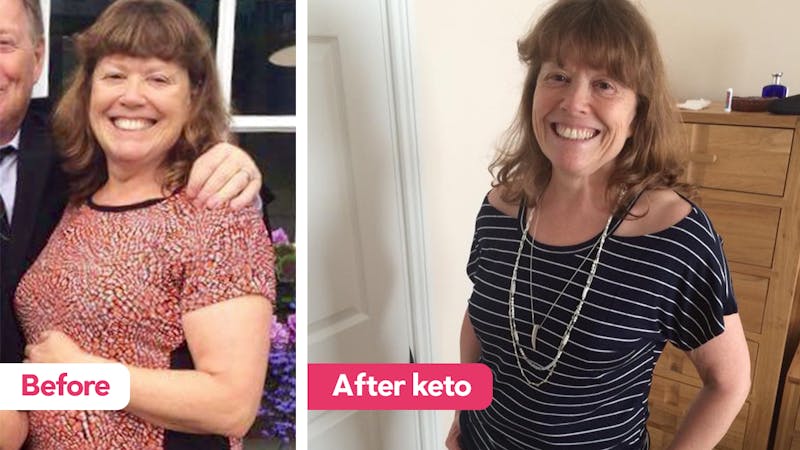 Sally was on a low-calorie diet and exercised every day without getting any results. She was overweight, suffered from joint pain, digestive issues and more – she needed a change. After reading up on different diets she ended up at the Diet Doctor website and found the keto diet. Read on to find out what happened!
My name is Sally, I live in the South West of England. I started LCHF a year ago, very slowly and with a great degree of skepticism – how could a high fat, or as I now say – healthy fat diet, cause weight loss? I was overweight at 182 lbs (83 kg), not sleeping, pain in my joints, miserable, problematic digestive issues, no energy and brain fog. I was following a low-calorie diet and going to the gym every day, with very little payback. Eat less, move more I was told but it left me feeling hungry all the time and so exhausted.

So I started reading about different diets, found a low-carb blog and then Diet Doctor. It still took me six weeks to believe the science, to buy full-fat butter, cream, cheese, yogurts and fatty meats which I had avoided for over 30 years. I had done every diet known to man and woman with initial success but then it piles straight back on. How could LCHF work!?

Now one year on I'm 140 lbs (64 kg), sleep all night, no joint pain, no longer hungry, no brain fog, IBS symptoms are diminished and I'm back doing a dance class! Do I miss certain carbs? The memory of the extreme sweetness of a doughnut never leaves you but the loss of pain, cramping and bloating – it's worth it! To be able to do my yoga classes without a large belly getting in the way is good too! Taking on a 5k run was a surprise as well! Having a control over food is wonderful!

If I had known how I feel today I would have done this 30 odd years ago…by the way, I am 61, so you can teach an old dog new tricks.
Comment
Thank you for sharing your inspiring story, Sally, and a big congratulations on your success!
Get started
Do you want to try what Sally has done? Sign up for our free 2-week keto low-carb challenge!
DD+ MEMBERSHIP
Most popular success stories
All success stories
More
Keto
Lose weight
Type 2 diabetes
Support
Do you want to support Diet Doctor and get access to bonus material? Check out our membership.
Share your story
Do you have a success story you want to share? Send your information, plus before and after photos, to success@dietdoctor.com. It would also be greatly appreciated if you shared what you eat in a typical day, whether you fast etc. More information:
Share your story!