"Within days I knew that it would work for me!"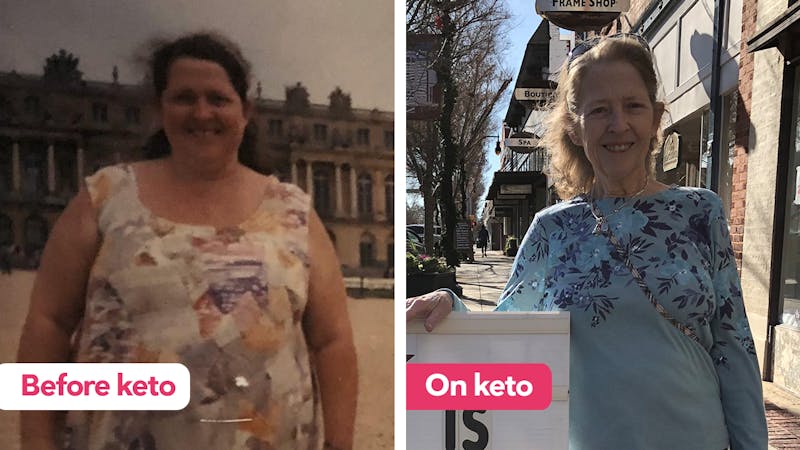 Brenda's weight struggles began when she was only 11 years old, but her first diet didn't start until a few years later when she was in high school. A doctor put her on a diet of what seemed like only carrots, celery, and radishes, and she lost 25 pounds (11 kg). But since she wasn't able to keep the weight off, it simply marked the start of decades of yoyo dieting.
In college she gained weight, and then tried to lose in the summers. She put on even more weight during her pregnancies after she graduated. In 1993 she reached her highest weight of 225 pounds (102 kg), after gaining 50 pounds (23 kg) rapidly on a medication used to treat perimenopausal symptoms. She went on the Atkins diet and lost 35 pounds (16 kg), but when her cholesterol went up a bit, her doctor discouraged her from staying on the low-carb diet.
She lost weight on Weight Watchers and SlimGenics while rigidly restricting calories, but then she got thyroid disease and dealt with some weight gain. She adopted a no-sweets, no-alcohol, no-salt regimen while walking 10,000 steps a day, but she didn't get her weight fully under control.
Finding keto
After a trip to Scotland in 2019, where she indulged in too many high-carb treats, she returned to the US with even stronger cravings and realized that she needed to try something more powerful. Fortunately, a friend's spouse told her about Diet Doctor. He was a medical doctor and had come back to his college weight with the help of a keto diet.
In August 2019, she started the diet, and she says that "Within days I knew that it would work for me!" Since then she has lost 25 pounds (11 kg) and is thus down to 115 pounds (52 kg), which is within the ideal range for her height.
Her arthritis has also improved significantly. At different points it was so severe that she couldn't walk, but now it has improved so much that she can go out for a jog. She's got more energy and has started spontaneously moving more. But she's noticed that exercise isn't necessary anymore, as she lost most of the weight while being quite inactive. And it's very freeing to no longer have to obsessively walk 10,000 steps per day to keep her weight down.
A typical day of eating
Brenda drinks coffee with a dash of heavy cream in the morning. It's amazing to her that she can have cream in her coffee on keto, as her mother always said that it should be the first thing to go on a diet.
Then she usually eats two meals a day, the first one around 11 AM. She has some protein (often eggs), vegetables, and cheese. Sometimes she makes yogurt from milk and heavy cream in a crock pot. If she needs a snack, or knows that she'll be eating dinner later than usual, she'll have a slice of cheese after a few hours.
She typically eats dinner around 4 or 5 PM. She combines protein like beef, salmon, or jumbo shrimps with more greens. For variation and enjoyment, she often tries out new Diet Doctor recipes. Brenda thinks it is a good idea for her to avoid the taste of anything sweet, and so she stays away from artificial sweeteners. But every once in a while she may have a low-carb dessert, like the keto cheesecake she treated herself to on her birthday.
Advice for people just getting started
Brenda lives by the quote 'Be silly. Be honest. Be kind.' By Emerson. It's also a great mantra to keep in mind if you are just starting keto.
'Be silly.' Try new low-carb recipes, experiment, and don't be too hard on yourself.
'Be honest.' Brenda thinks this is the most important part. Be truthful about what you're eating and keep a food journal if you're struggling. Listen to your body, don't just blindly follow other people's advice. Do you keep trigger foods at home? Throw them out!
'Be kind.' Especially to yourself. We're often our own harshest critic, and this can undermine our long-term success. If you make a mistake, forgive yourself and move on.
Comment
Thanks for sharing your story with us, Brenda. Congrats on finding your path to health and regaining so many aspects of your life. Be silly, be honest and be kind. Fantastic life lessons!
Best,
/ Dr. Bret Scher

DD+ MEMBERSHIP
Most popular success stories
All success stories
Share your story
Do you have a success story you want to share on this blog? Send it (photos appreciated) to success@dietdoctor.com, and please let us know if it's OK to publish your photo and name or if you'd rather remain anonymous. It would also be greatly appreciated if you shared what you eat in a typical day, whether you fast etc. More information:
Share your story!
More
Keto
Weight loss